What is eToro
What is eToro The eToro cryptocurrency exchange is more than a brokerage platform. eToro has it all – stocks, futures, forex, indices, CFDs and ETFs. In fact, eToro is a hybrid broker that works with classic markets on the usual terms, as well as working with the cryptocurrency industry on its terms. It is very important that a number of solutions include both directions and provide new opportunities for all market participants.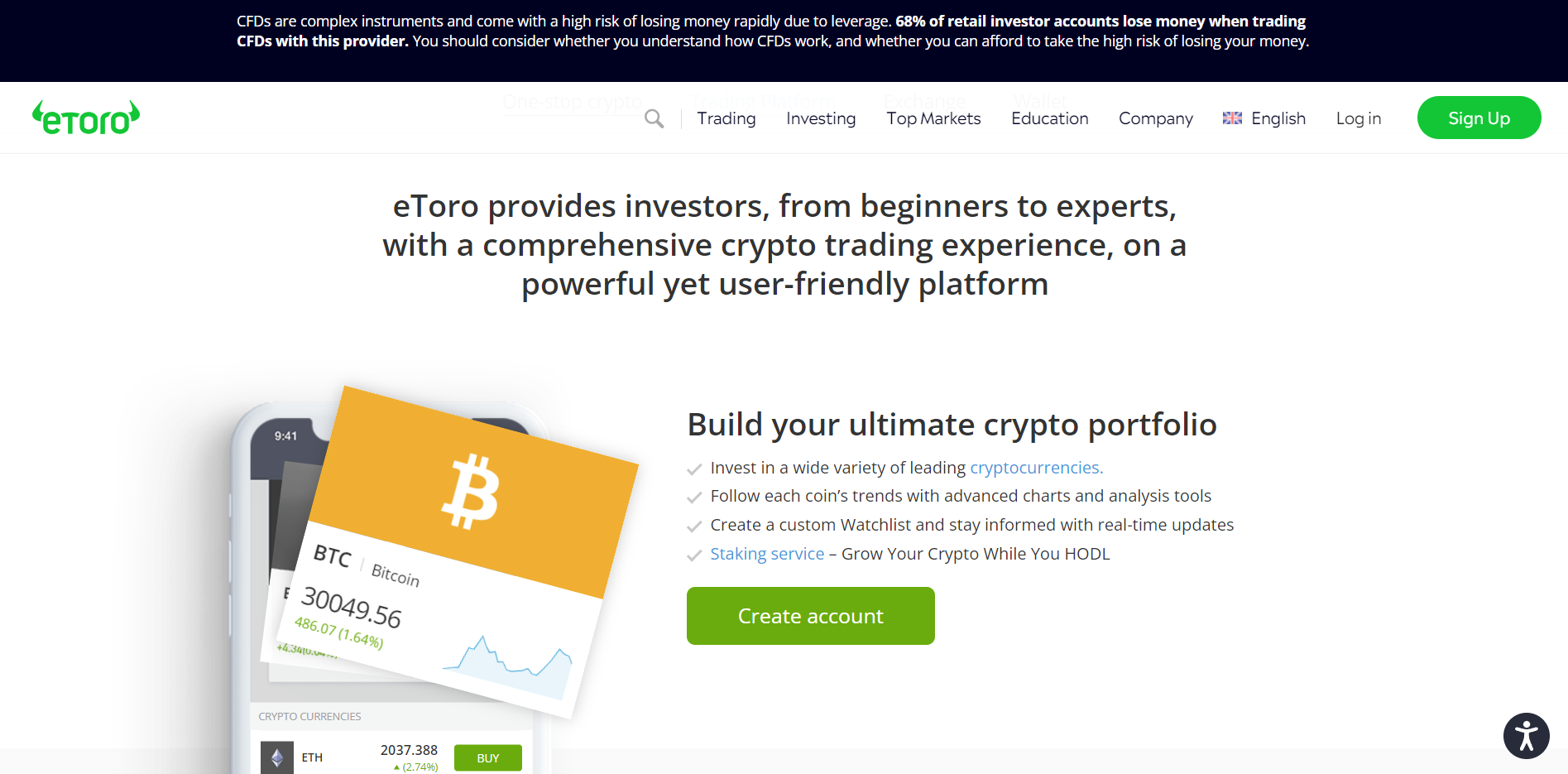 An important aspect of the eToro cryptocurrency exchange is the social component. Exchange users actively interact with each other, copy trades of successful traders and enjoy other benefits of live communication. eToro is recognized as a great place to learn trading in all its forms.
How eToro works
eToro is one of the unique projects that combines the best of both trading industries. At the same time, attention is paid to the most "difficult" category of users – US residents. Consider the features of the eToro exchange:
Social network of eToro users. It distinguishes the project from any other company. Each member of the community can express their opinion and forecasts on any instrument, conduct an analysis and demonstrate the result. For beginners, this opportunity provides a lot in terms of learning and decision-making, much more than various courses;
Copy Trader – the ability to copy transactions of any investor, placing their assets according to his portfolio;
A demo account is a relic of classic stock and Forex trading, which is considered by most trading gurus to be more evil than good for a novice trader. In theory, everything looks great – virtual money (100,000), which is not afraid to lose while you learn to make decisions and work with risks. But in fact, the subconscious feeling that the work is being done with candy wrappers expands the trader's opportunities and he makes unreasonable decisions, because he does not lose anything in case of a mistake. When the work switches to real money, the tactics change dramatically and the deals that need to be closed continue to drag the deposit at a loss, and those that make a profit and could make it much larger are closed. Therefore, having a demo account is a controversial decision.
Available for trading 50+ cryptocurrencies. Against the background of other companies, the assortment is small, but it is covered by an abundance of markets and additional tools for work. Every coin listed on eToro has high trading volumes in the market and good liquidity for any trading volume.
There is also a moment that darkens the picture – a high commission on transactions. It is 1% of the volume, which is much higher than any other company on the market.
Key features and benefits of eToro
For a better understanding of what eToro offers to clients and how the interaction process is built, let's briefly consider the main characteristics of the cryptocurrency platform:
Convenient interface;
Mobile application for iOS and Android;
Demo Account – Practice trading with $100,000 worth of free virtual money. The statement is highly questionable;
50 different cryptocurrencies available;
eToro Money cryptocurrency wallet for safe storage of your coins;
Staking – earn interest on your coins;
CopyTrader – automatically copies trades of the best investors;
CopyPortfolio – invest in ready-made cryptocurrency portfolios;
A social media platform that allows you to interact with other traders;
Deposit without commission using PayPal, online banking, debit/credit card or bank transfer;
Safe, reliable and regulated cryptocurrency broker;
Cons and disadvantages of eToro
Despite the idiosyncrasies of eToro, there are some things that eToro does not do so well:
US residents cannot access stock or CFD trading;
Live chat is only available to members of the eToro Club;
High transaction fees.
What services does eToro offer?
Now let's look at the services and features that the eToro cryptocurrency exchange offers to its customers.
Friendly interface
The interface of the main page and sections focused on new customers is as simple and intuitive as possible. The most important coins and trade recommendations are placed here to show the focus on working with clients. In the process of getting to know the platform, users will discover a large number of features and capabilities.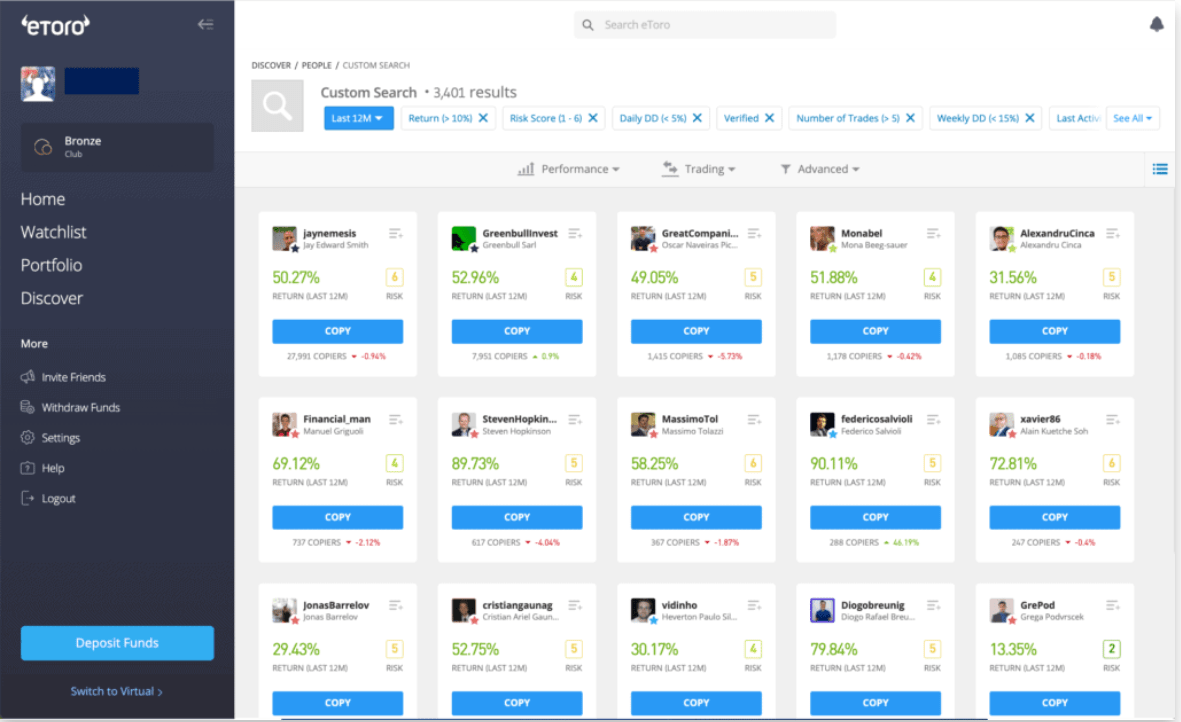 Mobile application for iOS and Android
The mobile application is an integral part of the processes of modern trading. eToro has released apps with over 10,000,000 downloads according to Google Play. The rating is 4.3 stars based on 95,000 reviews. The functionality allows you to do all the necessary actions to open / close transactions, monitor markets, news and other points important for the trading process.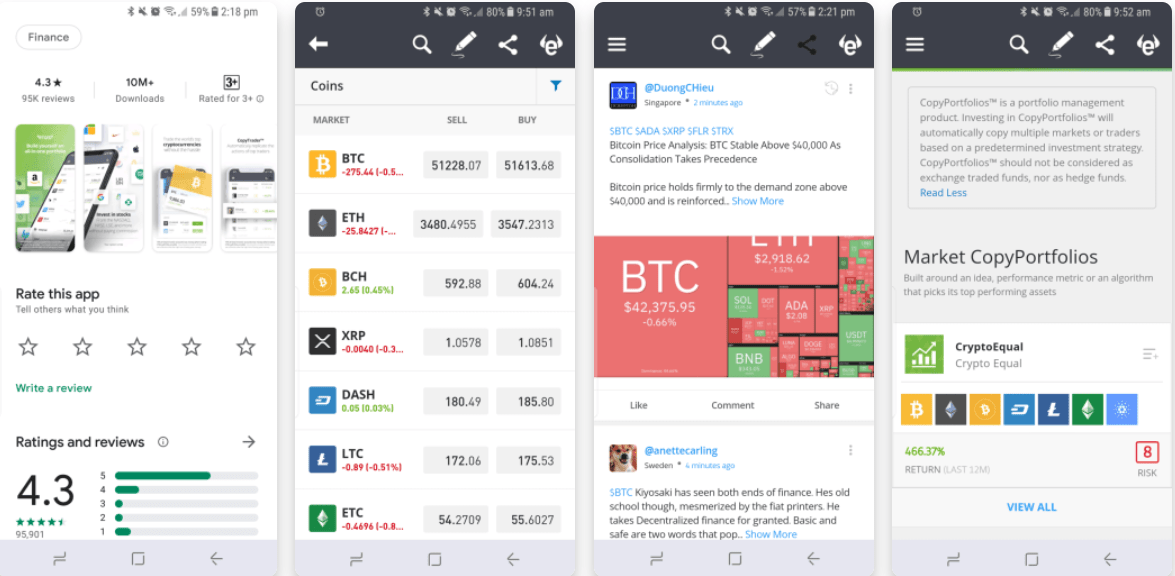 eToro Demo Account
As mentioned above, this is a relic of the classic Forex trading. It is a relic, because all major brokers refuse it because of the psychological component of trading. Nevertheless, it is present on eToro and motivates users to register on the project in order to be able to experience the fullness of trading without risk.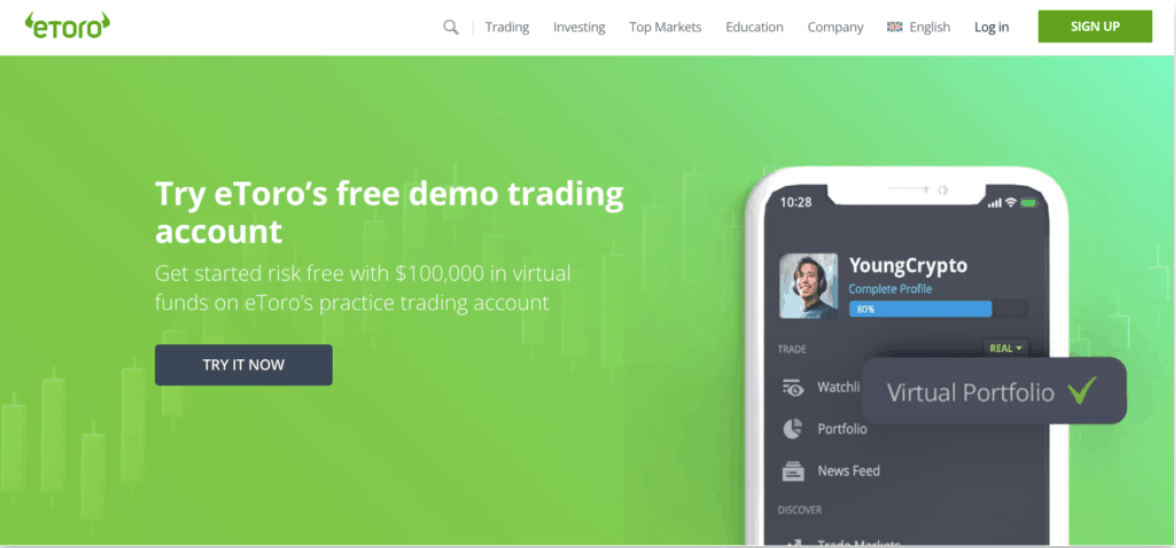 50 different cryptocurrencies available
The list is small compared to some platforms, but the emphasis on the most stable and traded cryptocurrencies justifies itself. The high liquidity of the coins listed on eToro allows you to trade in large volumes without serious risks of a market drawdown.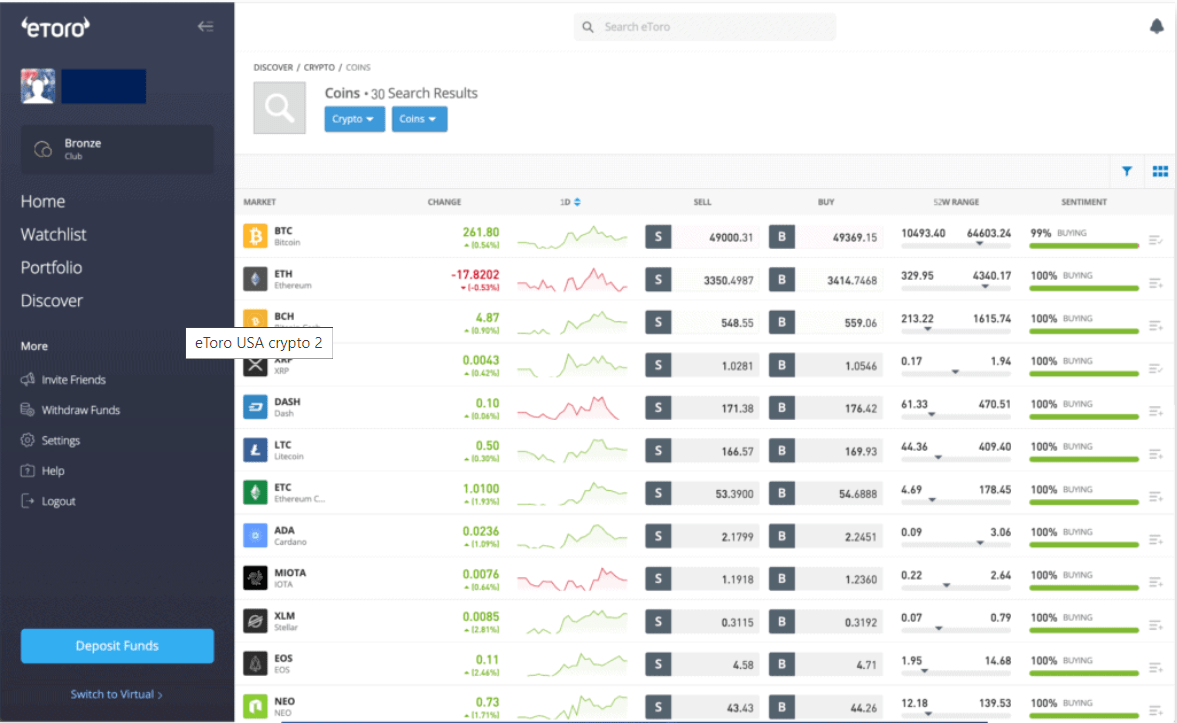 eToro Money Cryptocurrency Wallet to securely store your coins
Cryptocurrency exchange eToro offers its users a secure crypto wallet as a standalone app on Google Play. The functionality fully satisfies the needs of all categories of users of online wallets:
Storage of any supported assets;
Crypto deposit/withdrawal on eToro;
Receiving / sending from any wallets online;
Automatic conversion in real time;
Support for 120+ cryptocurrencies.
Staking – passive income
Passive investors, as well as those who buy coins on a long-term basis, actively use staking as an investment in the future due to its benefits. Even the lowest interest is profit, do not forget about the compound interest, when the remuneration is accrued for short periods, and in the next period the accrual is already for a large amount. And the fact that interest is paid in the staking coin, which increases the deposit and, with the active growth of the coin on the market, the amount of capital. eToro only offers listings for a few classic coins – Cardano (ADA), Tron (TRX) and Ethereum (ETH).
CopyTrader – copy trades of efficient investors
The function of copying trades brought from the classic Forex. Allows everyone from inexperienced novice traders to investors diversifying their portfolios to earn additional profits. You need to select the most relevant traders with a profitable history and add it to the copied section so that the robot duplicates transactions and earns you money.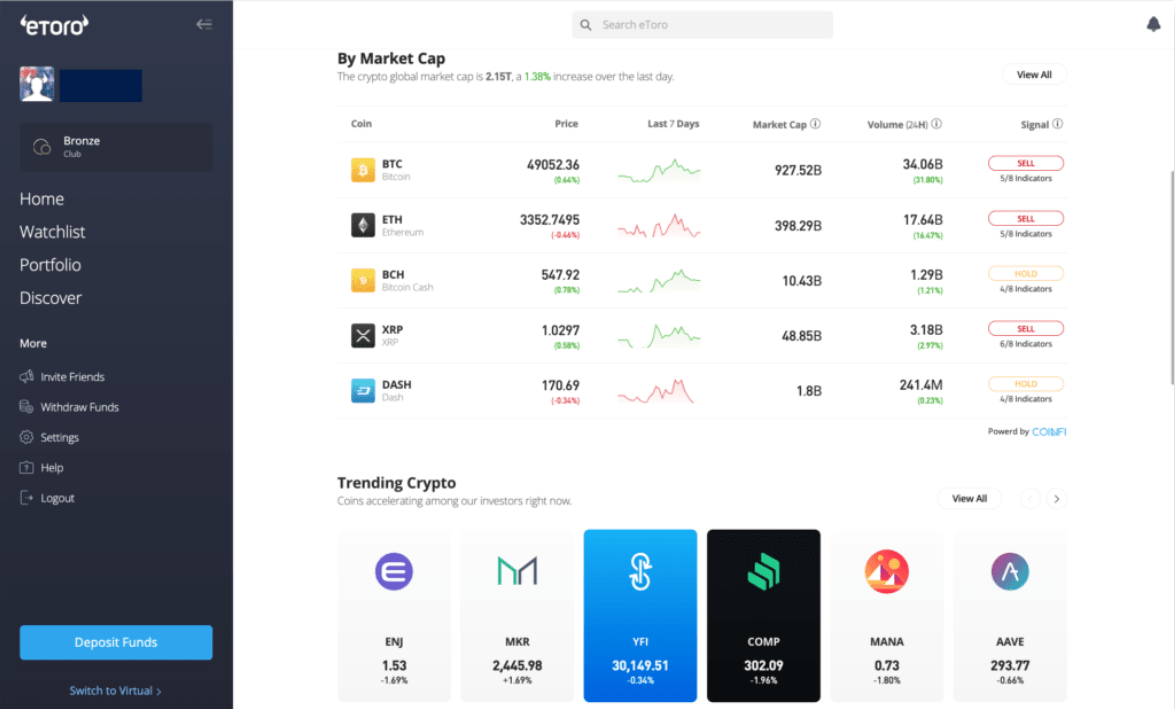 CopyPortfolio – invest in ready-made crypto portfolios
For those who find it difficult to choose from a variety of coins, eToro offers to copy ready-made portfolios of professional investors, sorting them according to the parameters of profitability and reliability, as well as balance. No management fees or hidden fees, great customer service from the eToro cryptocurrency exchange.
eToro social network
News feed, own blogs, analytics, communication and discussion of everything that happens in the cryptocurrency world – available in the social network created by the cryptocurrency exchange eToro.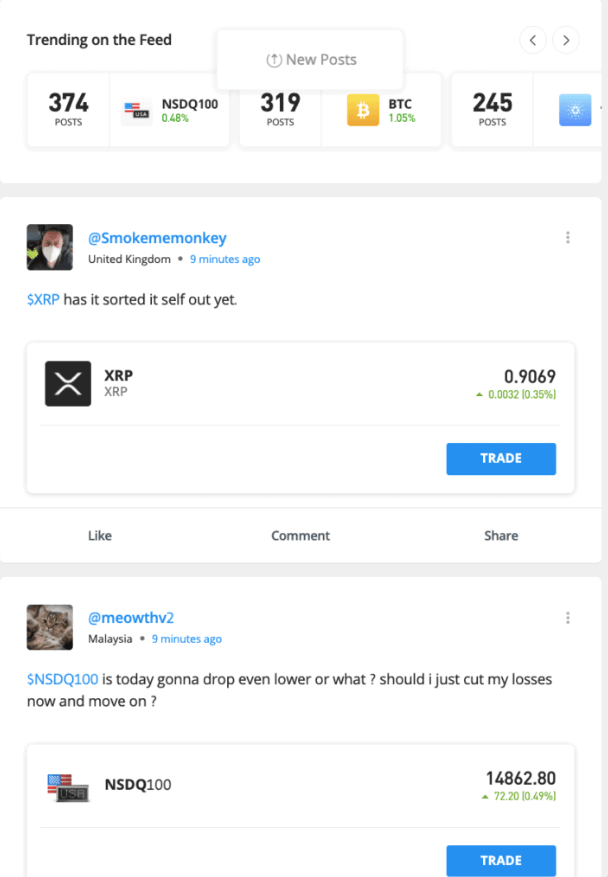 Many, especially novice traders, suffer from the fact that the bulk of the information on the network is aimed either at attracting them as clients somewhere or focused on selling services or outright deception. The ability to communicate in real time on any issues and track the literacy of speakers is a great opportunity.
Downsides of eToro
There are also a number of shortcomings with eToro that you need to pay attention to when deciding whether to register and get started.
US residents can only work with cryptocurrency
Forex markets and their derivatives are not available to US residents, since obtaining licenses for working with classic trading instruments is an extremely difficult task due to legislative complexities. The situation is ambiguous, since many cryptocurrency exchanges cannot even offer crypto trading to US residents. As for stocks and CFDs, they can be traded in the US without problems outside of eToro.
Online chat is available only to members of the eToro Club
The situation is that 24/7 live support is only available to those who are members of the eToro Club. This achievement is awarded for accumulating a capital of $5,000 or more. Accordingly, novice traders who have the most questions and difficulties in working with the platform are forced to solve them through online forms or through the eToro social network.
eToro fees
They play an important role in planning trading strategies, therefore they are always considered separately.
eToro deposit fees
Replenishment of the account in USD is not subject to commission. However, for those Non-US citizens or non-USD deposits may incur currency conversion bank fees. Cryptocurrency input is not subject to commissions.
eToro Transaction Fees
Transaction fees are 1% for both parties to a transaction. At the same time, there are no options for reducing it either from staking or from an increase in trading volumes within 30 days.
eToro Withdrawal Fee
US residents withdraw funds for free. For non-residents there is a commission of $5 per trade.
eToro Cryptocurrency Transfer Fee
When transferring cryptocurrencies from eToro, a fee of 0.5% is charged, the minimum fee is 1 USD, and the maximum fee is 50 USD.
Other eToro fees
Cryptocurrency exchange eToro charges what is known as an account inactivity fee. It is 10 USD per month from the available balance. If there are open trades, they will not be closed for commission. Inactivity is the absence of trading activity for more than 12 months.
Pros and cons of eToro
To make a decision on working with the eToro platform, you need to weigh the pros and cons. Let's put them in a list for understanding.
eToro Pros:
50+ Reliable cryptocurrencies;
Staking;
Fully functional mobile application;
eToro Wallet;
Social network of traders;
Demo account;
Copying transactions;
Portfolio copying.
Minuses:
Commission of 1% per transaction for each participant;
For US residents, only crypto transactions are available;
Online chat support only for those. Whose deposit is above $5,000.
Can I trade stocks on eToro?
The eToro crypto exchange is known for its exchange component, which attracts a lot of attention due to the ability to transfer capital from traditional instruments to cryptocurrency assets. But for US residents, there is no opportunity to trade anything other than cryptocurrencies.
What if I'm not from the USA?
The exchange operates in more than 100 countries around the world. Before registering an account and replenishing your account, check if your country is on the lists. For non-US residents, full functionality is available with the classic stock and commodity markets.
Verdict
The eToro cryptocurrency exchange is an excellent example of the possibilities of creating a hybrid service for working with classic instruments and cryptocurrencies, as well as their derivatives. The project is implemented in such a way that it is convenient for both novice traders and investors, and for experienced ones. Each category finds for itself what is needed. An important role is played by the social network eToro, which will replace a huge amount of resources and services. There are also functions of copying transactions and entire portfolios redesigned for crypto trading, which increases the profitability of investment portfolios of many clients. For those who want to dive into the world of crypto trading, but are not ready to risk money, there is a demo account with $100,000 of virtual money to practice. There are some questions about the small number of coins listed on eToro, but this is partly offset by the fact that each coin has high liquidity and has proven itself to the whole world as a trading and investment tool.