What is Gemini
The Gemini cryptocurrency exchange is known for being founded by the Winklevoss brothers. In fact, it is named after them. The brothers at one time became famous due to litigation with Mark Zuckerberg over a stake in Facebook. Further, several times they flashed in the news about the successful purchase of BTC and the like.


As a result, Gemini was born, which is extremely different from all competitors. The main difference is regulation by the New York State Department of Financial Services (NYSDFS). Gemini maintains the highest standards of security and operational compliance by passing the SOC 1 Type 1 & Type 2 and SOC 2 Type 1 & Type 2 exams and achieving ISO 27001 certification. Gemini is the world's first cryptocurrency custodian and exchange to demonstrate this financial and compliance standard security requirements and has never been hacked, making it one of the most secure cryptocurrency exchanges in the US
How Gemini works
The main emphasis of the Gemini cryptocurrency exchange is on security. This word means not only the storage of assets in cold storage, which everyone is used to, but also the security of the entire company in terms of finances. Being regulated in New York State, Gemini is protected by the laws of the financial sector. Regular security checks, bank checks and cybersecurity tests make it possible to say that all elements of protection are at a high level. Gemini was the first to pass the SOC 1 Type 2, SOC 2 Type 2 exams and obtain ISO 27001 certification. In addition to security, a lot of time is devoted to user experience, new tools for generating profit are constantly being created and modern trading solutions are being implemented. There are three key things people say about Gemini:
The interface is conventionally divided into two types. The first for beginner traders, easy, intuitive, with a small number of basic elements. For advanced traders, the ActiveTrader option has been implemented, providing full access to analysis tools, trading assets, advanced chart display and reduced transaction fees;
90+ cryptocurrencies in the company listing. This is not a lot, but not a little, in comparison with the companies, reviews about which you could read on our website. After careful checks, new assets are added to the Gemini listing so that the range is not one-sided;
The functionality of the Gemini cryptocurrency exchange goes far beyond the limits of banal trading. In addition to investing and staking, it is proposed to spend your crypto in retail stores through the Gemini Pay application. The mobile application of the exchange itself allows you to fully use all its functions on the go.
The situation is slightly overshadowed by the fact that the Gemini crypto exchange does not have a number of coins included in the TOP 10 capitalization, for example, ADA, XRP and BNB. The answer to the question why they are not included in the listing has not been received. And if with BNB it can be clear that Gemini does not want to promote a competitor's token, then other coins that are not included in the listing are very strange.
Key features and benefits of Gemini
In addition to the above advantages, the company offers a number of other features and solutions that together make it one of the most convenient digital asset placements. And the attitude to safety only reinforces it. So:
Buy and sell cryptocurrencies with instant buy/sell;
Free fiat withdrawal and free cryptocurrency withdrawal (10 per month)
90+ cryptocurrencies in the listing;
Mobile application for iOS and Android;
ActiveTrader option with advanced features for experienced traders;
Gemini Earn – earn interest on cryptocurrency;
Gemini Pay – spend cryptocurrency in retail stores;
Gemini Wallet – securely store cryptocurrency with theft insurance;
The Gemini Dollar (GUSD) is a stablecoin backed by the US dollar;
Gemini Custody – institutional-grade crypto storage with insurance;
Industry-leading security and compliance;
Cons and Disadvantages of Gemini
Despite the seemingly bright prospects for working with Gemini, it is worth paying attention to what users note as the company's shortcomings:
Cryptocurrencies from the TOP 10 market capitalization are not available;
Commissions are higher than on other sites;
No live chat for support.
What services does Gemini offer?
Considering the key services and comparing them with similar ones for other platforms, when choosing the best solution for starting a cryptocurrency trading activity or looking for a fallback option for placing a deposit, is the main task of each user. Consider what we will be offered in Gemini.
Easily buy and sell cryptocurrencies with instant buy/sell
Instant purchase is available to all Gemini customers. It can be carried out from a fiat balance through an exchange machine at a market rate and instantly received on your wallet inside the platform. You can also set up the service for periodic purchases of selected coins for averaging prices and investment, by commanding automatic write-off and conversion of the desired coin for the specified amount.


The exchange machine also works in the opposite direction, when you need to quickly submit the currency at a bargain price.
Free fiat withdrawals and ten free crypto withdrawals per month
The Gemini cryptocurrency exchange offers customers free fiat withdrawals in several ways. This decision has been requested for a long time, but it was implemented only recently. Cryptocurrency withdrawal can be made up to 10 times a month completely free of charge, even the cost of mining is covered by the company.
Over 90+ different cryptocurrencies
The list is quite extensive and covers a range of coins used in investment portfolios as well as in DeFi. But among them there are no coins included in the TOP 10 capitalization, such as XPR or BNB.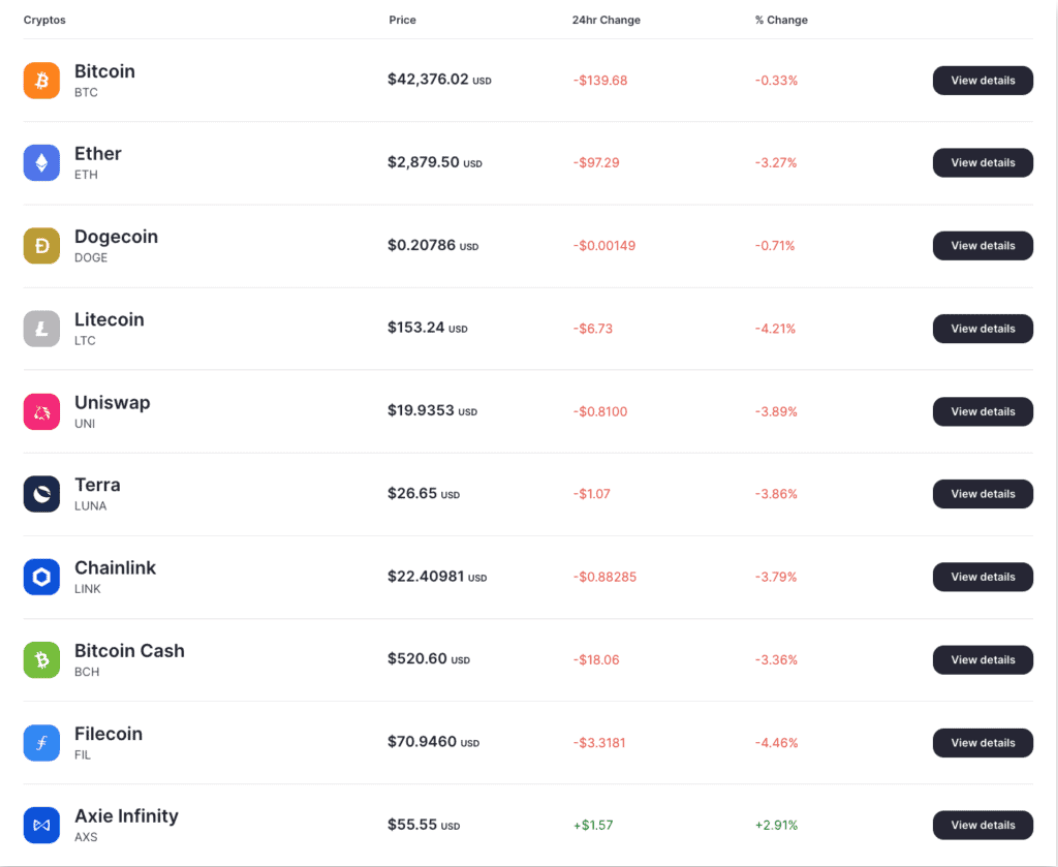 Mobile application for iOS and Android
It is impossible to imagine modern trading without a mobile application. Gemini has a very good app, fully functional, but not overloaded with details and unnecessary elements. Downloaded over 1,000,000 times, it has a rating of 4.5 with 22,000 reviews.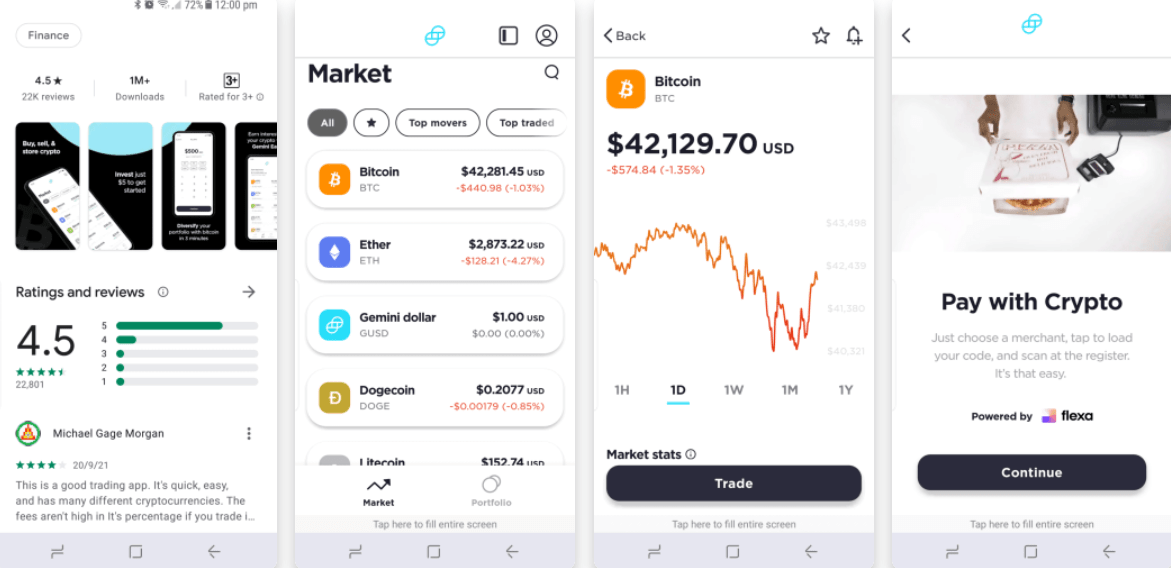 The original function is that through the application you can pay for purchases in stores, in the Gemini Pay format.
ActiveTrader option with all order types and advanced charts
Experienced traders who understand the principles of the platform and require a higher level of charting and analytics are encouraged to activate the ActiveTrader setting. It is activated through the menu "Account" => "Settings" => "Active Trader". The interface changes dramatically and receives a lot of additional settings and tools for profitable and comfortable work. When working with this type of interface, smaller transaction fees are charged.

Gemini Earn – earn interest on your cryptocurrency
For those who buy coins for growth and do not make transactions often, a passive investment model with compound interest in the storage currency is suitable. Payment of accruals occurs daily, which constantly increases the deposit, therefore, the amount of interest increases daily.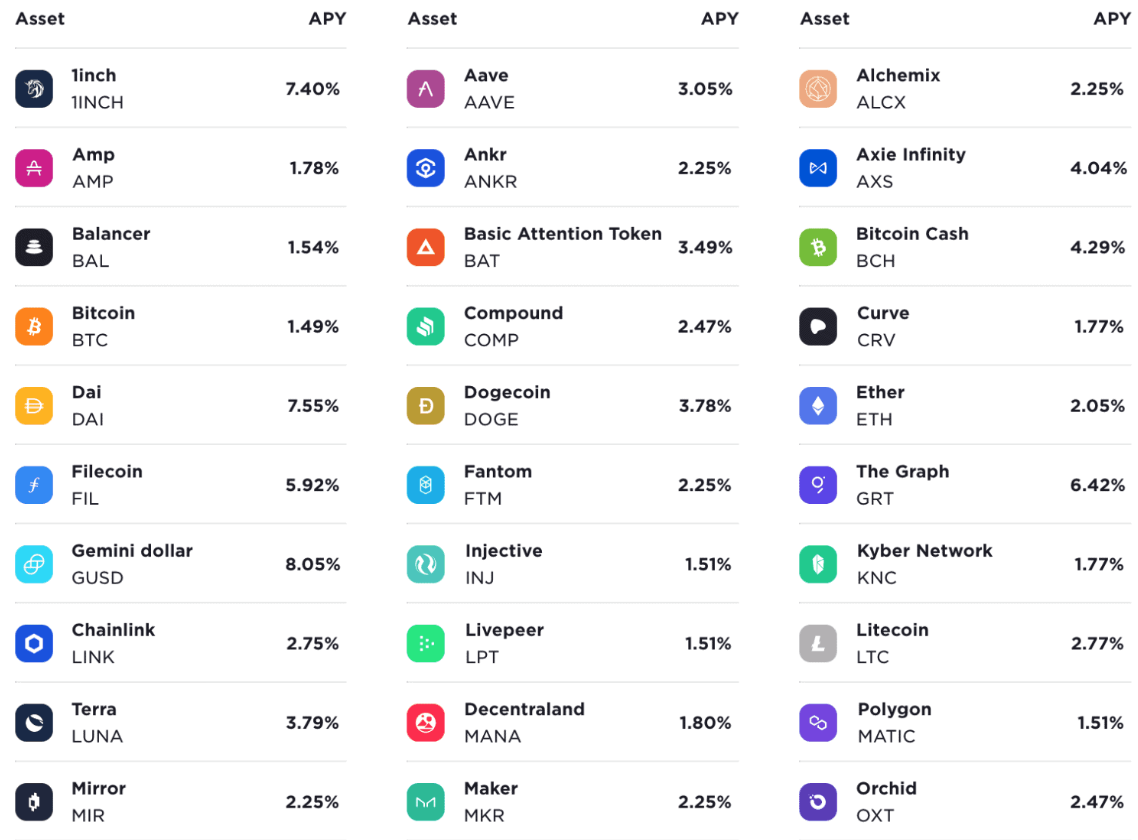 Gemini Pay – Spend Cryptocurrency at Retail Stores
Built-in algorithm to pay for purchases in more than 30,000 outlets across the US. No commissions, in the format of private transactions. You just need to touch the "Pay" icon, select the desired coin and bring your smartphone to the scanner.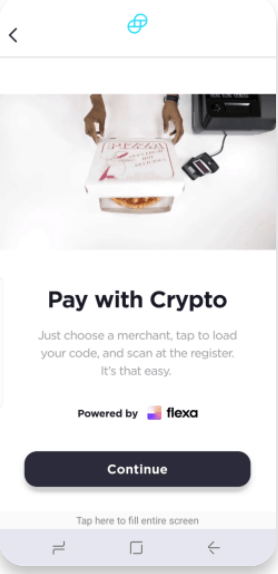 Gemini wallet – securely store your cryptocurrency with theft insurance
Storing crypto in the Gemini exchange wallet is completely safe and secure, as the company takes security very seriously.
Gemini Dollar (GUSD) is a stablecoin backed by the US dollar
Gemini's own stablecoin, GUSD, is pegged to the US dollar at a ratio of 1 to 1. It is fully liquid on all markets of the exchange, available for purchase / sale, Defi staking, or it can be paid through a payment application. This cryptocurrency is FDIC certified and backed by $250,000. Gemini Custody – Institutional-grade, Insured Cryptocurrency Vault For investors with large crypto portfolios focused on long-term storage of assets without movement, Gemini offers bank-grade crypto-currency storage. Its creation was carried out on an individual order of the exchange with the involvement of leading experts in all key areas of cryptography and banking security. Implemented vault as a trust company with a $200,000,000 insurance fund – a record for crypto investments. Setting up the storage is free, the price for using it depends on the amount of assets and the timing of placement. Each client of this service is served individually and can count on unique solutions.
Industry-leading security and compliance
Cryptocurrency exchange Gemini from the first day of its existence has been focused on the maximum level of security. The facts of hacking or hacking attempts that led to any disruption of the services in the entire history have not been established. The safety philosophy of the Winklevoss brothers is based on three main areas:
Protection against external threats;
Protection against human error;
Protection against the use of unauthorized access from within the company.
The SOC and SOC 2 exams that Gemini voluntarily takes confirm that it is safer than anywhere else. What I don't like about Gemini There are a number of things that cause confusion and dissatisfaction among customers. To make things worse, Gemini doesn't explain their decisions.
Some major cryptocurrencies are not available
More than 90 cryptocurrencies are traded on the Gemini cryptocurrency exchange, while there are no coins included in the TOP 10 by market capitalization, for example, XRP, BNB or ADA. To invest in these assets, you will have to choose another platform from those offered on our portal
Higher trading fees than some other crypto exchanges
The base trading fee on Gemini is 0.35% for a taker and 0.25% for a maker. Fees are very low, but above the market average of 0.2%, however, there are quite a few platforms where the maximum fee is 0.1% and it can still be significantly reduced.
Lack of chat support
With all the advancement and use of sophisticated technology, Gemini neglected the banal human communication of a support employee with a client who had something happen. The bot acting as online support only offers links to materials from the help section. Any questions beyond this level should be described in the contact form. Accordingly, the time for solving such issues is noticeably increased.
Gemini fees
They were mentioned in the article earlier and it's time to consider this issue as substantively as possible.
Deposit fees
Cryptocurrency can be deposited without additional fees. Fiat deposits via ACH are free of charge, as is bank transfer. Replenishment from a debit card will cost 3.49% additional commission.
Gemini exchange machine fees
A purchase through the Gemini service without entering the market is subject to an additional fee of 0.5%. Buying coins through the market has a fee shown below.


If the transaction volume exceeds $200, the fee will be 1.99%.
Withdrawal fee
Withdrawal of fiat from the platform without commissions. Cryptocurrency withdrawal is carried out without commission a limited number of times – no more than 10 per month. At the same time, Gemini independently covers even transaction fees for any direction, which no other exchange offers. Transfers above the free limit are subject to fees, according to the current information in the section dedicated to the list of coins.
Fees on Gemini transactions
The base trading fee is 0.25% for the maker and 0.35% for the taker. It can be reduced in a number of ways:
Switching to the pro trader mode through ActiveTrader;
Increase trading volume within 30 days from a private account.
Gemini pros and cons
Let's summarize the company before making a decision on whether to use it as a main operating platform or an additional one:
pros
Absolutely safe and multifunctional cryptocurrency exchange service;
Free fiat and crypto withdrawal 10 times every month;
A fully functional mobile application with a high user rating and more than 1,000,000 downloads;
90+ coins in the listing;
Insurance against any force majeure;
Gemini Pay and Wallet for those who are accustomed to using crypto comfortably in everyday life;
Fully available in the USA;
He is certified by the financial regulator.
Minuses
Some key assets are not available;
Trading commissions are higher than the market average;
No chat support.
FAQ
Is the Gemini cryptocurrency exchange a reliable service?
The Gemini cryptocurrency exchange has proven to be a reliable partner for many thousands of traders and investors, primarily because of its commitment to security. These requirements are in the first place in front of their customers, so you should not worry about safety.
What are the main benefits of Gemini?
There are many positive nuances. The insurance of each coin in case of theft also plays an important role in the decision. The offer of free withdrawals every month and multiple additional services for the convenience of customers allow us to conclude that Gemini is a clear candidate for the position of the main exchange for trading and investment activities for those who do not yet have such an exchange. For those who have already decided on the main platform, Gemini will be an excellent fallback site.
What weaknesses of Gemini are users identifying?
The only fact that overshadows the work with Gemini is the absence of several key cryptocurrencies, which are considered almost mandatory for portfolio investors and long-term retention. Perhaps popular anger will force the leaders to include coins in the listing, but so far this has not happened.