What is Phemex
The Phemex cryptocurrency exchange is one of the most actively developing platforms in the world. It has united more than 2,000,000 clients from all over the world on its services. The name Phemex is associated with the concept of reliability and prospects in the world of crypto trading. The main goal of the company is to create the most convenient and simple conditions for trading cryptocurrencies, as well as risk management.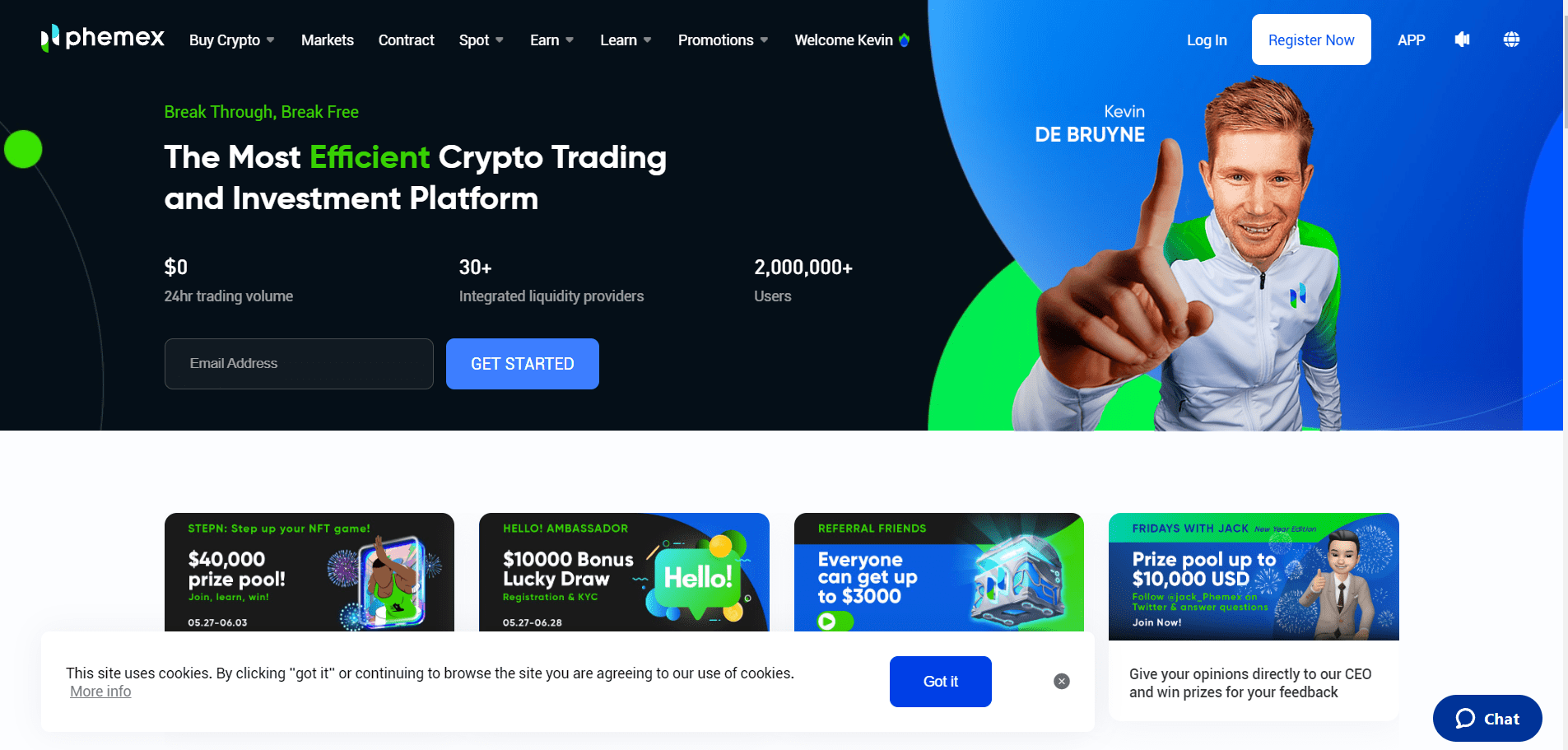 Phemex approached their activities from the point of view of what the client needs, how to submit it conveniently and safely, and only then they took care of their needs and how to implement it at the programmatic and legislative level. The main office of the company is located in Singapore. The employees are hundreds of people working around the clock to create the most comfortable working conditions for their customers. A large number of services and directions that are present on the Phemex exchange are aimed at reaching the maximum number of users. But from the whole variety of functions, it is worth highlighting three key areas that generate the largest flow of new registrations:
Ease of buying crypto. No lengthy verifications and complex checks. The transaction takes place in just a few minutes. Those who appreciate efficiency when investing or buying for hold, arbitrage – Phemex is the ideal solution;
A wide range of markets to work. The most popular, of course, is the spot market, but for others, for example, margin, perpetual assets, and others, there are quite a few who want to. Of course, such markets are more complex to work with and require some experience, but Phemex will provide each trader with sufficient information and tools for analysis;
Staking is a classic tool for passive investors and those who buy coins with growth. Interest accrued for short periods is added to the total amount and the final result may surprise even experienced investors.
To be fair, it should be noted that the Phemex platform is not perfect. There are disadvantages, which we will dwell on a little lower. But the company actively overcomes them, focusing on the opinions of users, and not moving as fashion dictates.
What Phemex Offers
The Phemex cryptocurrency exchange offers its users a huge range of features and benefits, collected in one service. The simplicity of the main interface does not mislead beginners, and for professional traders, accounts open the maximum opportunities for profitable trading. Let's take a quick look at the key aspects of Phemex that make it stand out from the competition to create a basic impression. Further, we will analyze each of the aspects in more detail, so that the reader can make his own choice:
Very fast order execution;
50+ cryptoassets in Phemex listing;
Contract and spot trading;
Full-featured, user-friendly mobile applications;
Charts with advanced functionality for professional traders;
Staking for passive income;
Simple registration;
Options for earning on affiliate programs;
An extensive portal with educational materials, both on working with the exchange and on the crypto industry as a whole;
Efficient customer support team;
The highest level of security.
There are several points that need to be addressed, according to customers, especially large ones:
Small selection of cryptocurrencies;
The inability to make OTC transactions in many countries.
What services does Phemex offer?
The Phemex cryptocurrency exchange is one of the leaders in the financial services industry. The company has an absolute reputation for honesty and reliability. They continue to develop in the areas most requested by customers, and each new service is of the highest quality. In addition to the simple interface of the first sections that meet new clients, which are mostly novice traders, Phemex offers a lot of serious analytical and trading tools for those who have enough experience to use them. In addition, the platform's low fees attract large market participants. For premium customers, the commission can generally be zero. Consider the key advantages and disadvantages of the company:
Instant purchase of cryptocurrencies
Due to various restrictions on the activities of crypto companies in the world, not all platforms provide the ability to instantly purchase crypto coins. Any delays depend only on the operators accepting fiat money. Phemex works with a range of trusted gateways that allow you to make transactions to buy cryptocurrencies almost instantly.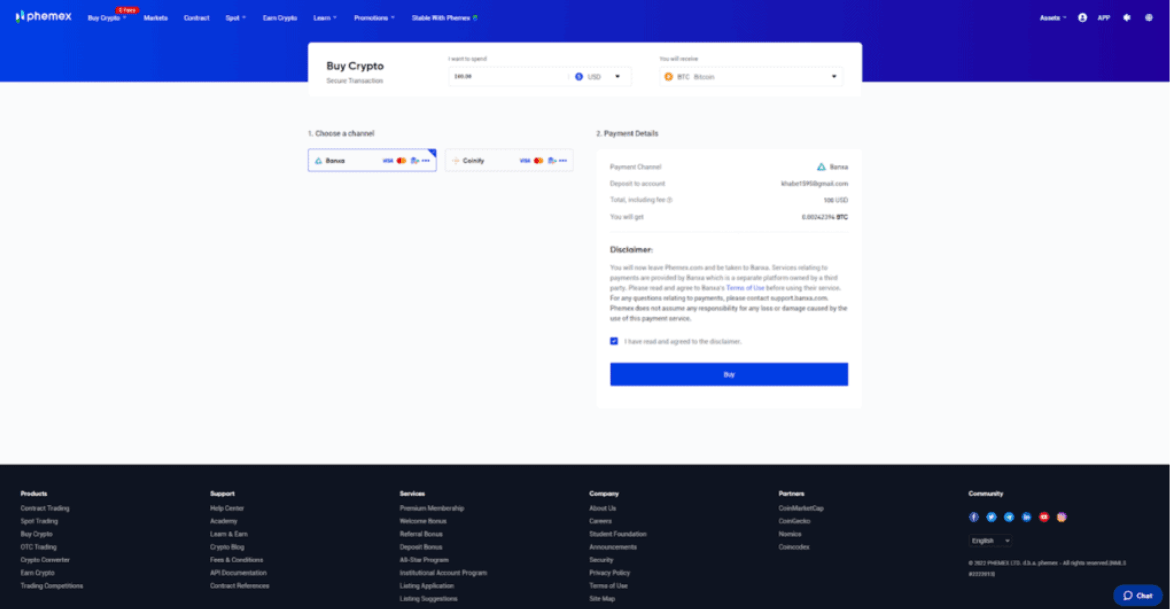 You can make such transactions using any bank cards. For some countries, bank transfer is also available, allowing users to transfer money very securely and receive coins almost instantly. Support for all major fiat currencies by the Phemex exchange allows you to save large amounts on conversions.
50 Popular Crypto Assets
The abundance of trading instruments is not always good, especially for a company that is focused on providing the highest quality and reliable trading instruments. The small number of coins is justified by the fact that they have a long history of trading, good volatility and liquidity, and are also popular among investors. Phemex carefully selects coins for listing, therefore, its clients do not have problems with the scam of new tokens, their replacement, compensation and other situations that are unpleasant for investors and traders.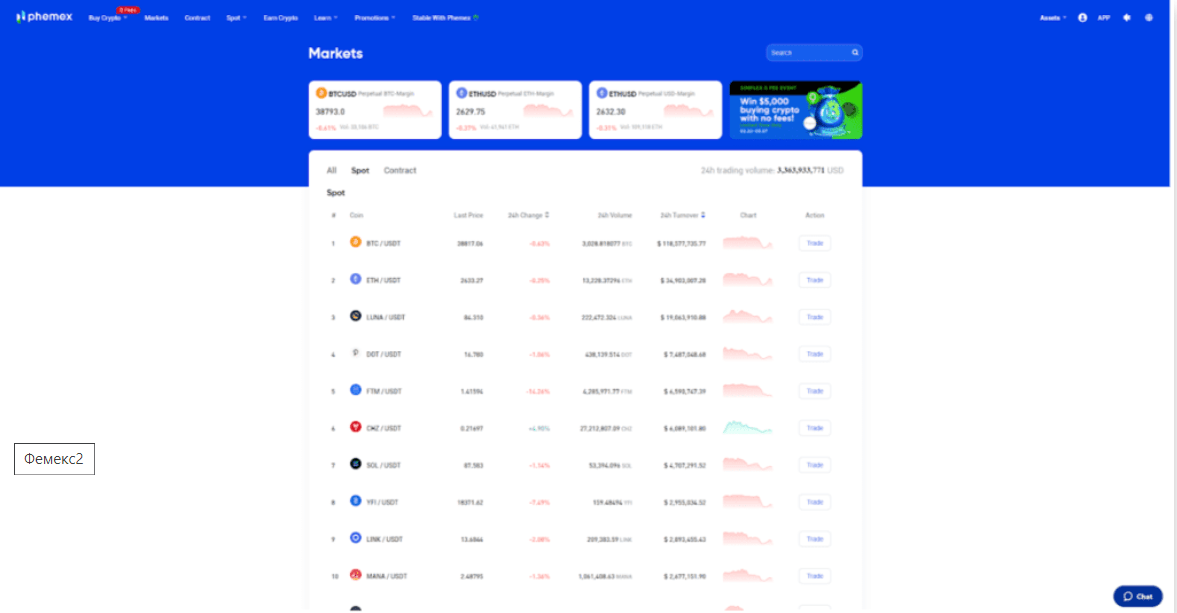 Spot and contract markets
Classical spot trading brings the main profit of the company. It is clear, transparent and, if done properly, is very beneficial. Phemex pays enough attention to the development of this area, since all traders, without exception, start working with the platform from it.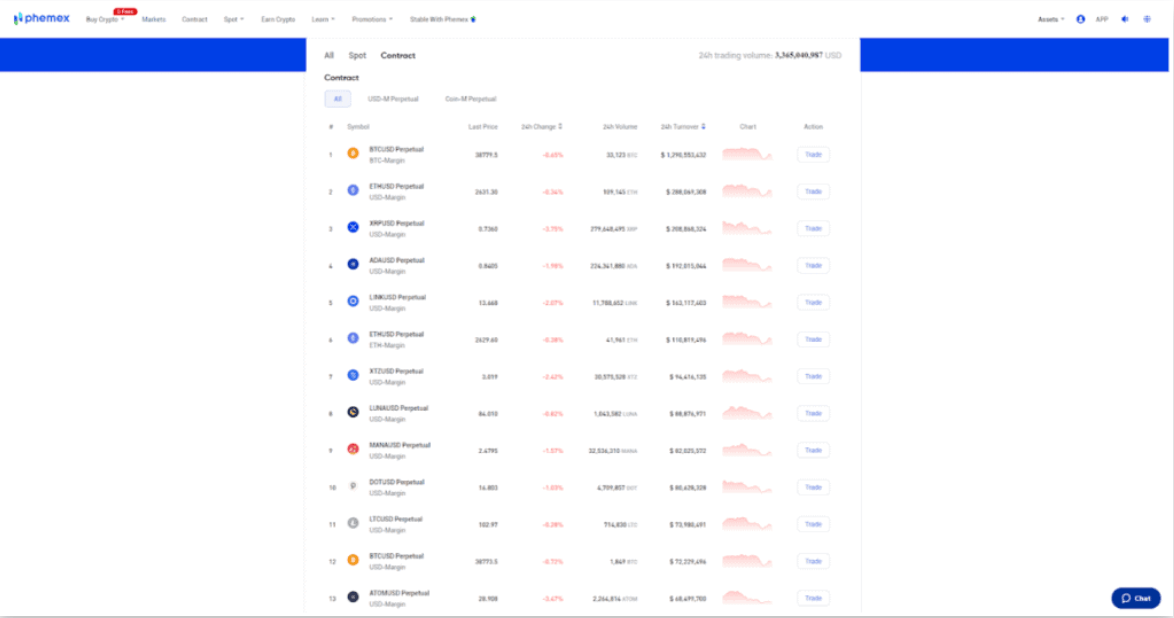 Phemex offers margin trading with 100x leverage for more sophisticated traders, which is very high in the crypto industry. In proportion to the potential profit from a short game, the risk of losing a deposit also grows. We recommend planning your margin trades very carefully, especially those with high leverage. There is also a contract trade. Traders are invited to take advantage of the offer of 40+ contracts with various risk/reward ratios.
Professional yet user-friendly mobile apps
Without mobility in our time, which is rushing forward faster and faster, it is simply impossible to live. For questions of making a profit, this issue is even more acute, and even more so for the cryptocurrency industry. Mobile applications of cryptocurrency exchanges allow you to constantly keep abreast of events and respond to them in time.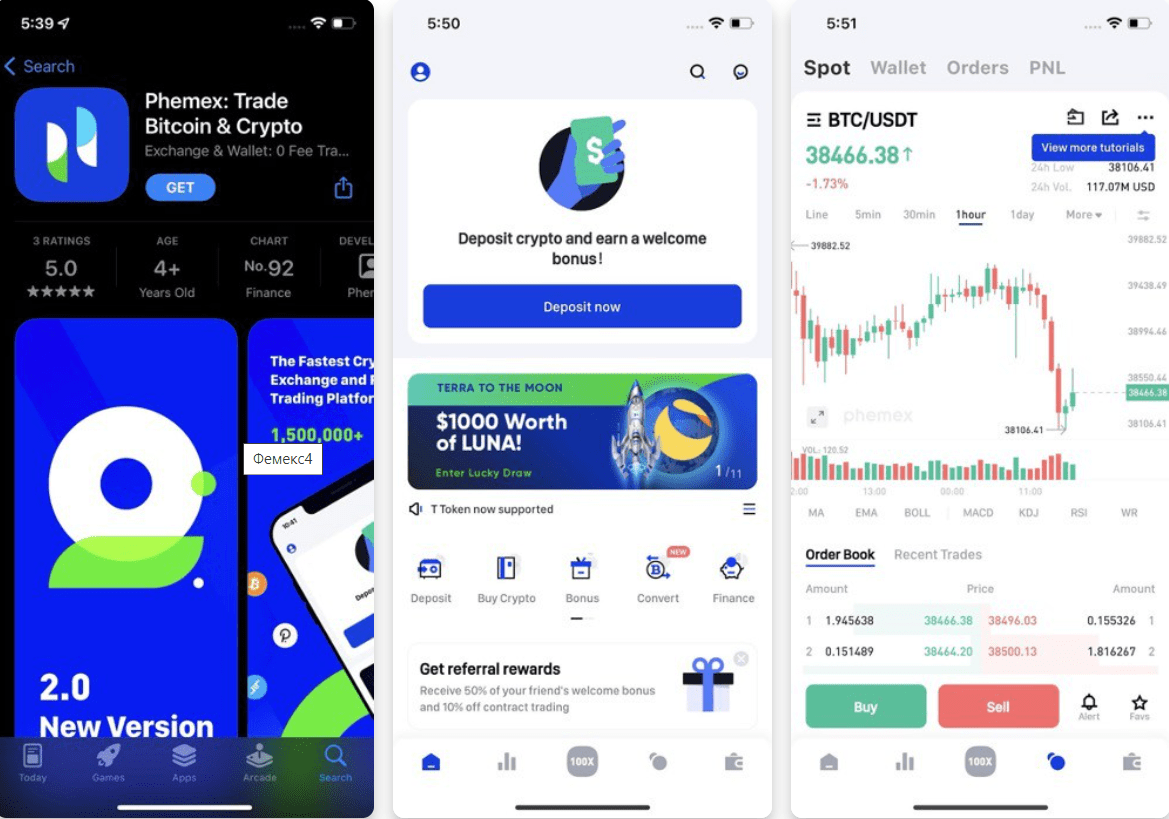 Phemex have done a great job of bringing the functionality of their applications in line with the desktop version. At the same time, their volume and system requirements are quite acceptable for mid-range smartphones, which greatly expands the opportunities for novice traders.
A complete trading experience with advanced charts
Without competent analytics of past periods, it is impossible to qualitatively predict the behavior of an asset in the future. Phemex has implemented a large number of tools that allow you to compile the history of the movement of the selected asset, analyze it and create a forecast for the future, under which you can already find entry points for transactions. The main quote provider for the Phemex cryptocurrency exchange is the most trusted TradingView service: the variety of trading markets and assets does not matter if the platform cannot offer a good trading experience. What makes for a good trading experience is accurate and accurate charts, thorough analytics, customization, flexibility, and a good user interface. You can find all of these factors at Phemex, a rare feat. Their accurate and precise charts are from TradingView. one of the largest and most trusted charting services in the world. Charts can be easily customized to suit your needs. You can use indicators, compare assets, draw lines, select different time frames and much more to improve your trades. On the left panel of the Phemex trading section, you can place orders, manage leverage, and check other asset details.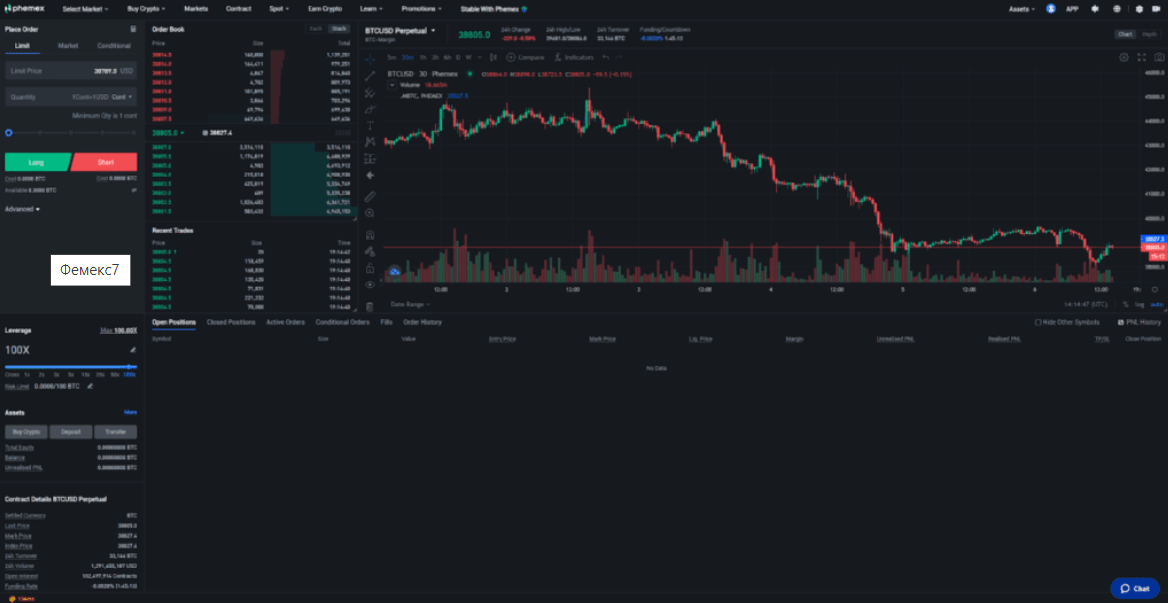 Staking for passive income
Staking, in the cryptocurrency world, is similar to a savings account in a bank. You deposit coins and earn profit in the storage currency. The benefit is not only that interest is paid to the deposit, increasing its amount daily and forcing the exchange to charge the next interest on the increased amount, but also that the value of the asset can grow significantly over time, further increasing profitability.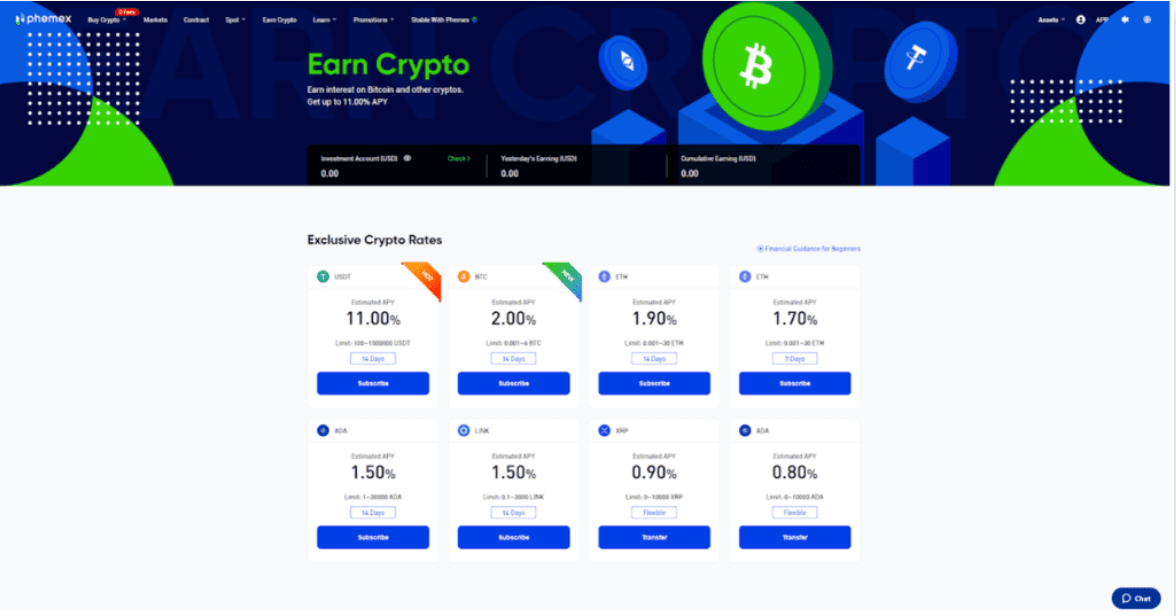 Phemex offers staking options with a non-fixed term that the user chooses. But the rate for such decisions is lower. There are also offers with retention periods determined by Phemex, where the rate is higher, but the contract cannot be terminated.
Quick registration process
For many companies, the complex procedure for verifying each client is a huge problem. The list of requirements and documents for verification can be very impressive. But the client does not yet know the exchange and does not understand whether he wants to trade here and place deposits in the future. Phemex did a very good job of making registration extremely easy and no verification required. This allows you to get comfortable with the interface, try to trade and feel the exchange from the inside. At the same time, when the decision on full-fledged work is made, verification will still have to go through, and it will be quite tough and complicated. But then the user already understands why he passes it.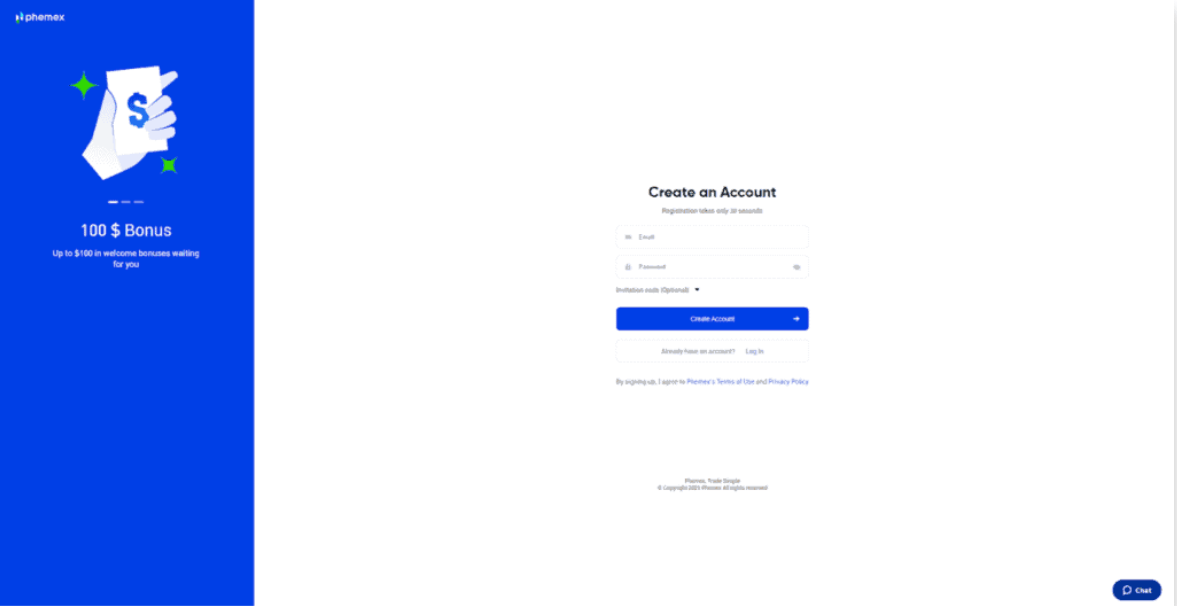 Without verification, the functionality is partially limited and the financial part is very limited, especially everything related to the withdrawal of funds.
Multiple advertising campaigns
Everyone wants to get a little money for almost nothing. Advertising companies are a great way to motivate users to explore the service and get rewarded for it. Phemex offers several of these companies. For beginners, it is provided to study the company by following the prompts of the assistant. This pays $60. There are also promotions with zero trading commissions, prize pools from participation in trading events, and so on.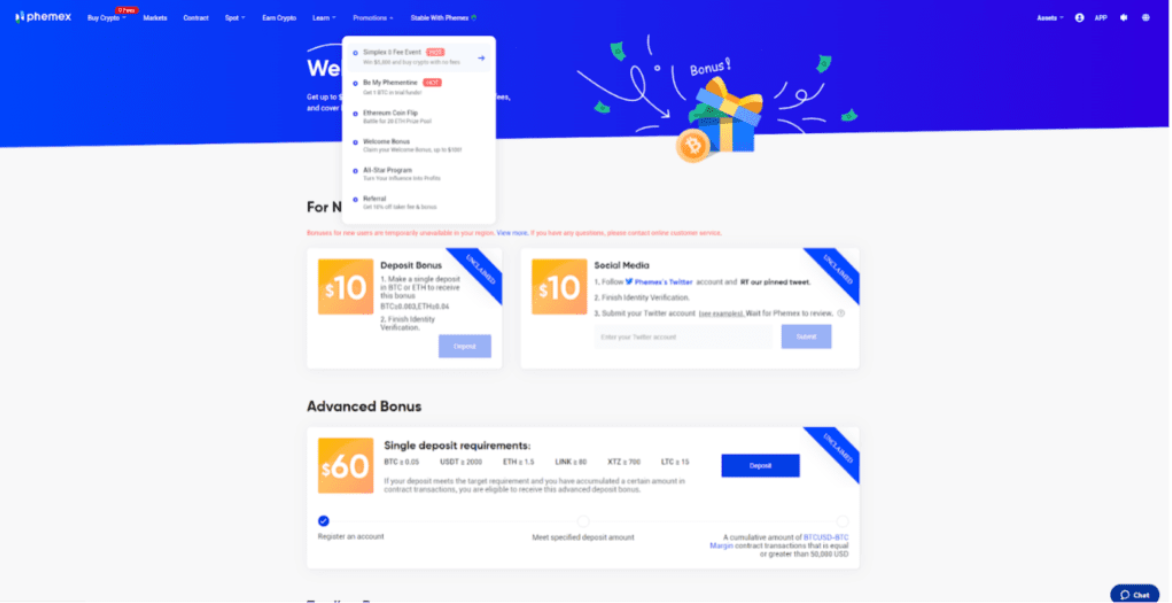 Extensive learning portal with tutorials
Education has become an important moment for every novice trader, because without understanding what is happening in the market, it is impossible to understand what will happen next. Cryptocurrency exchanges also understand this and create training centers on company websites in order to train a trader through the prism of working with a specific platform and tell him about everything that happens in the crypto world. In Phemex, the training is divided into several sections to make it easier to navigate and prepare the client step by step for the harsh reality of trading. There is a block for beginners that introduces them to blockchain and cryptocurrencies in general. There is also a trading section designed to teach you how to analyze the market and make deals.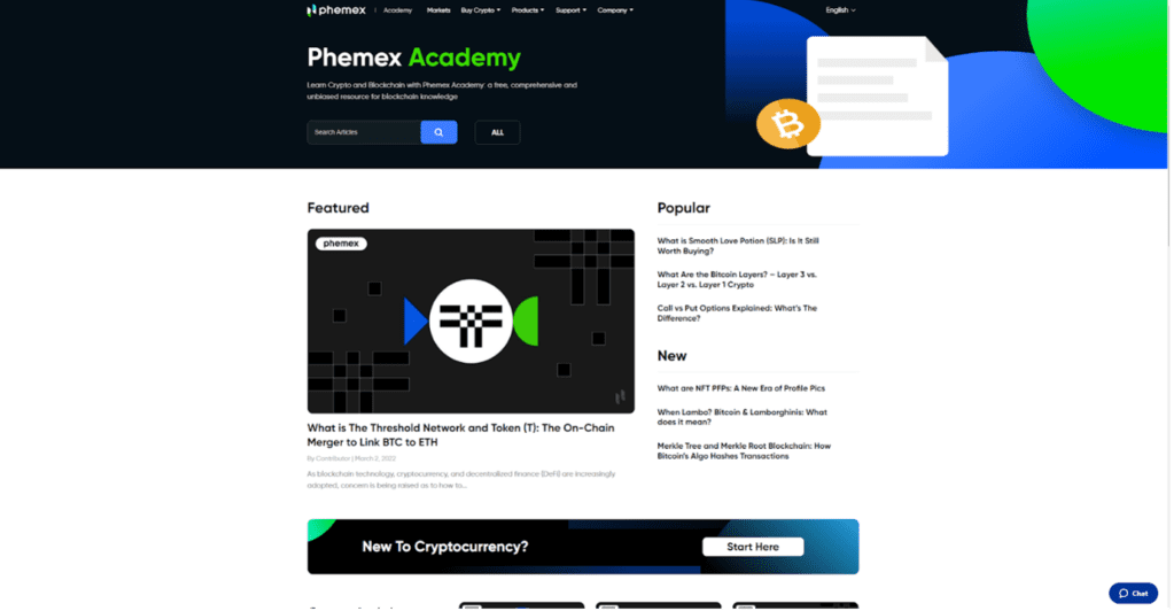 A separate section is followed by narrowly focused guides designed to solve a specific problem and help you understand more complex trading tools and algorithms.
Excellent referral program
The Phemex referral program offers two options for earning at once – 10% of the amount of rewards of the invited participant or 50% of his welcome bonus. The number of invitations is not limited. If you have a wide network of contacts or are engaged in training in trading or any other activity with a wide audience, this offer is for you.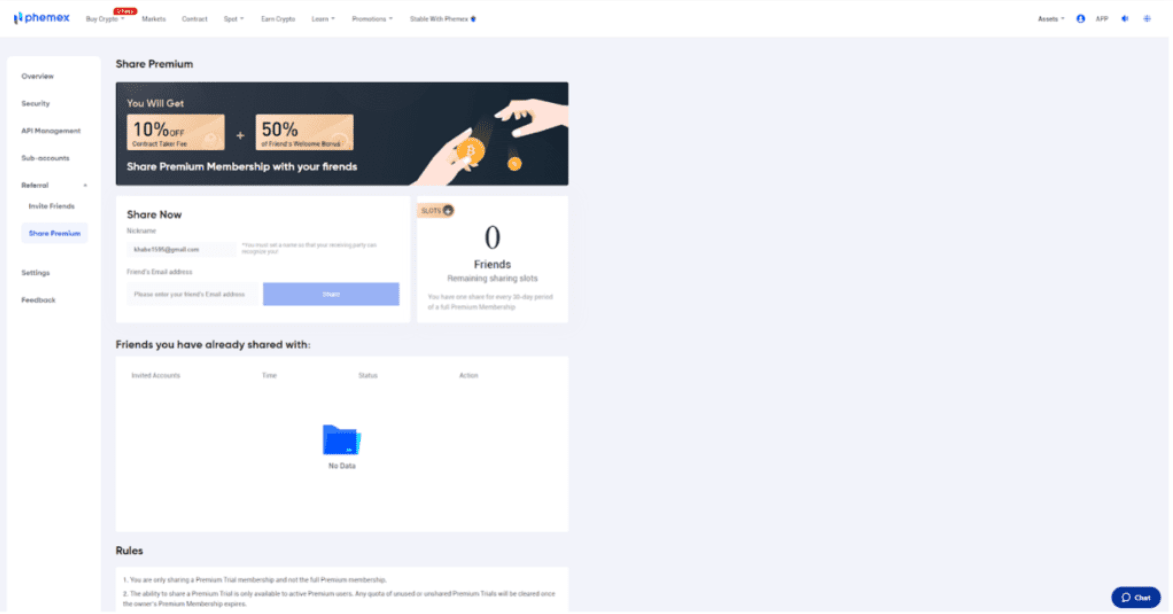 Fast and efficient customer support
A lot of cryptocurrency exchanges sin in that communication with support takes place through mail or feedback forms – this is very long, especially for those issues that relate to software failures. Phemex offers a built-in clock that works 24/7. To communicate, you just need to click on the icon in the corner of the screen and describe your problem, after which you will be switched to a specialist who is competent in the matter.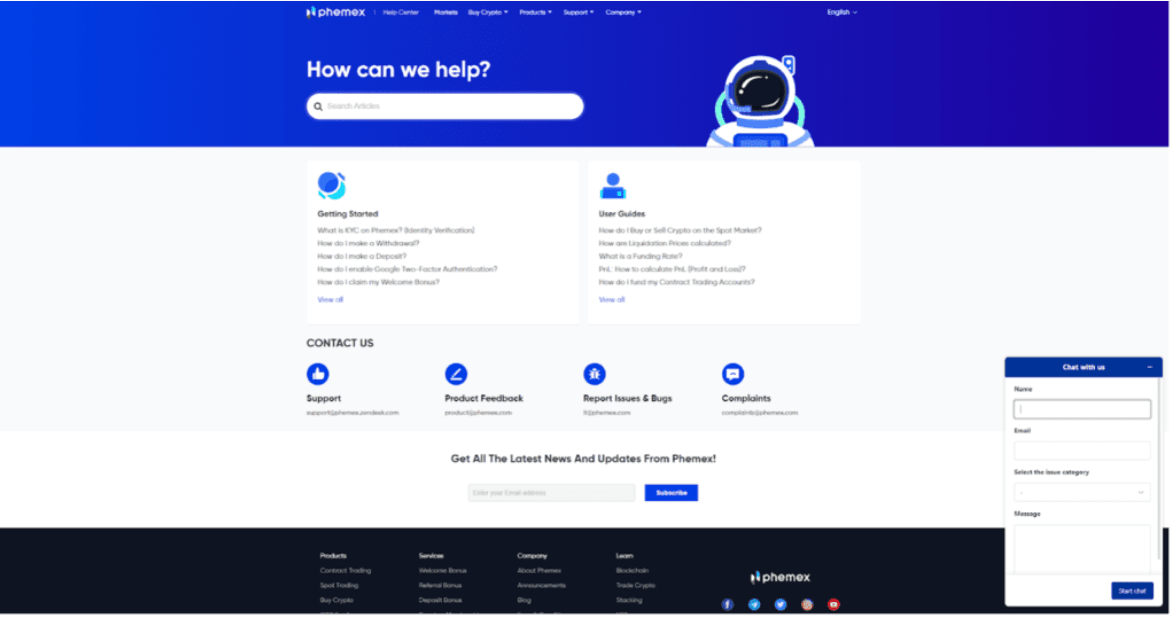 Premium security features
With companies that have been hacked in the past one way or another losing their credibility in the industry, Phemex pays great attention to security issues. In addition to the classic methods of storing non-current assets in cold storage, security work is carried out both from the side of the platform itself, and from the side of the client account, and even through trading algorithms.
What I don't like about Phemex
We have considered the qualities of Phemex from a positive point of view, now we need to consider them from a different angle.
Not the best cryptocurrency option
Against the background of a huge number of assets for crypto trading, Phemex only offers 50+ coins. Now the key role in trading belongs to investments in potentially profitable coins, that is, those that are just entering the market and can increase the cost of placement thousands of times in the future. Including at least a few of them every year is simply a must, according to experts.
OTC trading is restricted for many countries
OTC trading allows you to correctly place orders for the purchase or sale of large volumes of assets so that the transaction does not affect the asset price beyond what is necessary. Some crypto exchanges do not offer this feature at all, but Phemex has a number of restrictions on the geography of providing OTC trading services. Key markets such as the US, China and the UK allow such transactions, but a number of promising markets are not yet available for this.
Phemex Commission Fees
We mentioned that Phemex has one of the lowest fees among all crypto exchanges, let's look at the specific conditions.
Phemex deposit fees
No Cryptocurrency Fees There are no fees for fiat deposits by Phemex, but may be subject to payment gateways. The maximum commission is 2% when depositing via Visa/Mastercard.
Phemex Transaction Fees
Spot trading – 0.1% taker and maker;
Spot trading for premium users – 0%;
Contract trading: 0.075% for takers and -0.025% for makers.
Phemex Withdrawal Fees
Cryptocurrency withdrawal fees on Phemex vary for each asset and may fluctuate based on market conditions. So be sure to check the fees before withdrawing your digital assets. Fiat withdrawal is not available.
Phemex pros and cons
Let's summarize the results of the review of the Phemex cryptocurrency exchange in a few theses in the format of good or bad.
pros
Spot and contract trading;
50 popular cryptocurrencies;
Premium customer support and help center;
Advanced trading with leverage;
Earnings on rates and advertising campaigns;
Ease of registration;
Low commissions;
High reliability.
Minuses
Lack of diversity of cryptocurrency assets;
No withdrawal of money to fiat;
OTC trading is not available in many countries in Europe and Asia.
Verdict
Among the wide variety of exchanges and offerings, Phemex is a kind of beacon that lures users with ease of getting started without the need to go through complex procedures, stable and understandable assets for trading. There are also tools for advanced traders, margin and over-the-counter trading, contracts and a high level of security for the entire service. For learning about the industry, getting the first experience in trading or the desire to store crypto assets safely and profitably, as an investor, there is no better solution than Phemex.