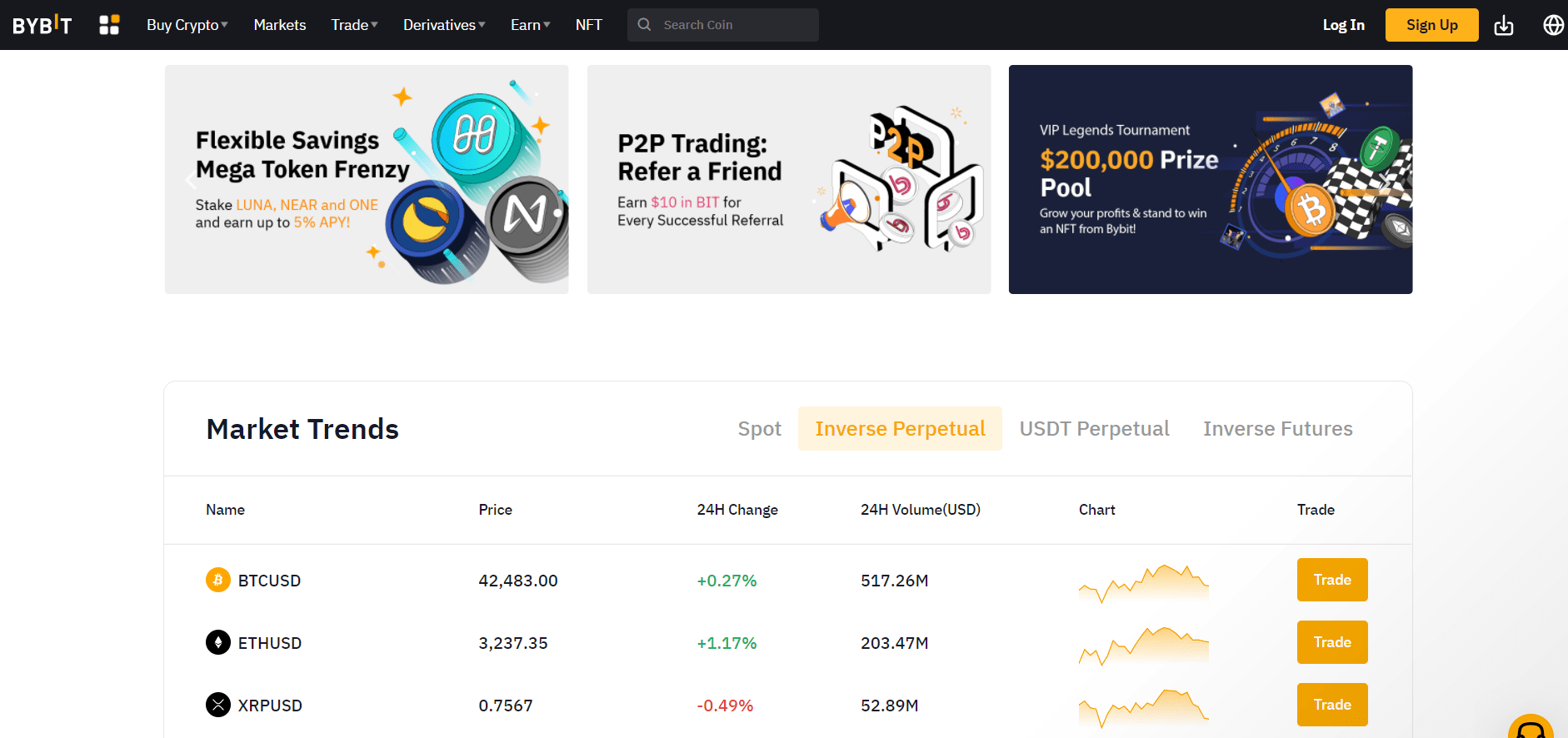 What is Bybit
Founded in Singapore in 2018, after the government approved the registration of cryptocurrency platforms in the jurisdiction of the country. Crypto exchange Bybit has incorporated professionals in all key sectors of the modern financial market:
Investment banks – specialists in medium and long-term investments, risk analysis and forecasting;
Technology sector – new areas of security and free access to company resources;
Forex industry – algorithmic and intraday trading, trade arbitrage and scalping;
Blockchain experts – building and developing new ecosystems and blockchain derivatives to stabilize and strengthen the market.
Legally, Bybit is subordinate to the British Virgin Islands and has over 2 million users.
What services does Bybit offer
Bybit is focused on servicing professional traders with large deposits. To attract those, the company has significantly expanded the range of tools for analysis and additional functions. Today, the market of major cryptocurrencies already has its own historical situations, on which the analysis of price behaviour can be based. This means that the classic Forex tools are quite applicable here, and their integration into trading terminals helps traders a lot in their work. Experienced traders are looking for exchanges with maximum functionality. Bybit offers a wide range of items that are found on other platforms one or two, but rarely all together:
Spot trading is a standard solution for any crypto exchange;
Derivatives trading – for traders who understand the essence of complex instruments;
Margin trading – 100x leverage is very high, different account levels open access to higher leverage so that traders who first find themselves on the platform do not harm their deposit with ignorance or automatic settings;
Professional interface. It is filled with analytical tools, additional features and other significant details. At the same time, it remains uncluttered and simple for visual analysis.
Forex orders. The best achievement of computer technology. Orders to close positions in both profit and loss situations to limit it according to the money management strategy.
Trading orders are especially important for traders who make the main profit on margin trading because there are many of them on Bybit and the crypto exchange adapts to their needs, updating and improving the interface.
How Bybit works
The number of crypto exchanges is constantly growing, as is the flow of customers looking for comfortable working conditions and security for capital. Each company focuses on one or more areas to highlight the target audience of crypto users. Traders in this category have several standard requirements that the chosen platform satisfies for them to stay with it. It is impossible to develop correctly and quickly in all directions at once, and implement the ideas of all competitors. Such attempts lead to the loss of control over security and create precedents in history. Bybit, which has natives of the classic Forex trading in its key developer pool, has focused on margin trading, which attracts a huge number of new participants despite the risk. A full-fledged functionality has grown around this:
Classic spot trading and instruments based on derivatives;
Future contracts and perpetual futures. A beloved tool by many, Bybit is developed very seriously;
Margin trading is the main advantage of Bybit, on which their promotion policy is based;
Internal insurance fund to protect clients' assets from any encroachment. For a long time, part of the company's profits were invested in this fund to ensure payment for any losses not related to trading in the event of force of circumstances;
TestNet is a unique solution for the crypto market that came from Forex brokers. Crypto trading demo account by Bybit. They are popular with newcomers to the market, but experienced traders urge refusing to work with such services. The reason is simple – without a sense of the risk of loss or excitement from making a profit, trading does not work theoretically. Unrest forces us to make ambiguous decisions, and it is with them that we need to fight. Trading "Wrappers" will not allow you to fully experience crypto trading;
Simple account replenishment is implemented through a fiat gateway;
Online chat in several languages, working 24/7 for prompt resolution of all issues;
Mobile app;
Take Profit / Stop Loss orders distinguish Bybit from competitors by improving and automating trading;
What services does Bybit offer
The emphasis on creating trading conditions for crypto traders as similar as possible to classical Forex has made Bybit a provider in the field of implementing old technologies for new instruments.
Spot trading and derivatives trading
Derivatives have been a major part of Bybit's operations until recently. This is partly a tribute to Forex trading, since key instruments are pegged to USD, which attracts traders from the Forex industry, who are used to seeing a classic instrument in a trading pair and doing analysis based on it.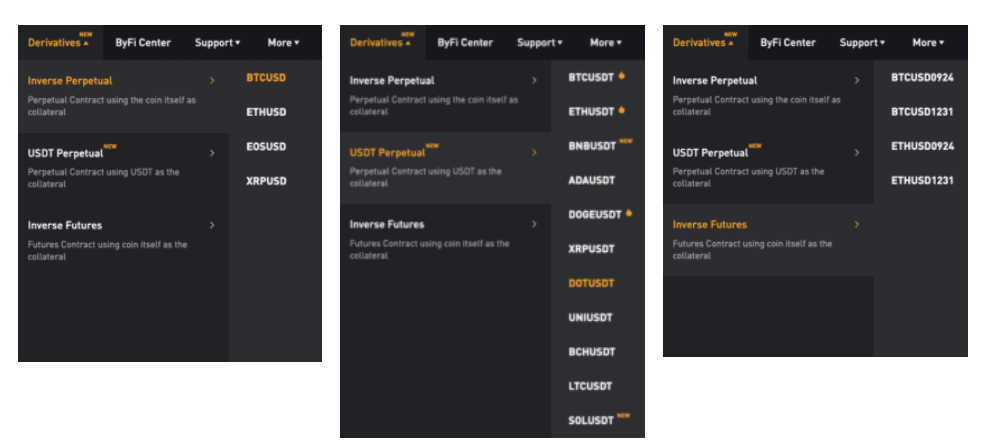 Futures with perpetual expiration, which have gained popularity over the past few years. Trading pairs in the ETH/USDT or BNB/USDT format, where the stablecoin acts as collateral for the transaction. Spot trading. It was implemented in 2021 as an addition and expansion of the direction of derivatives. Today, the market consists of 70+ trading pairs.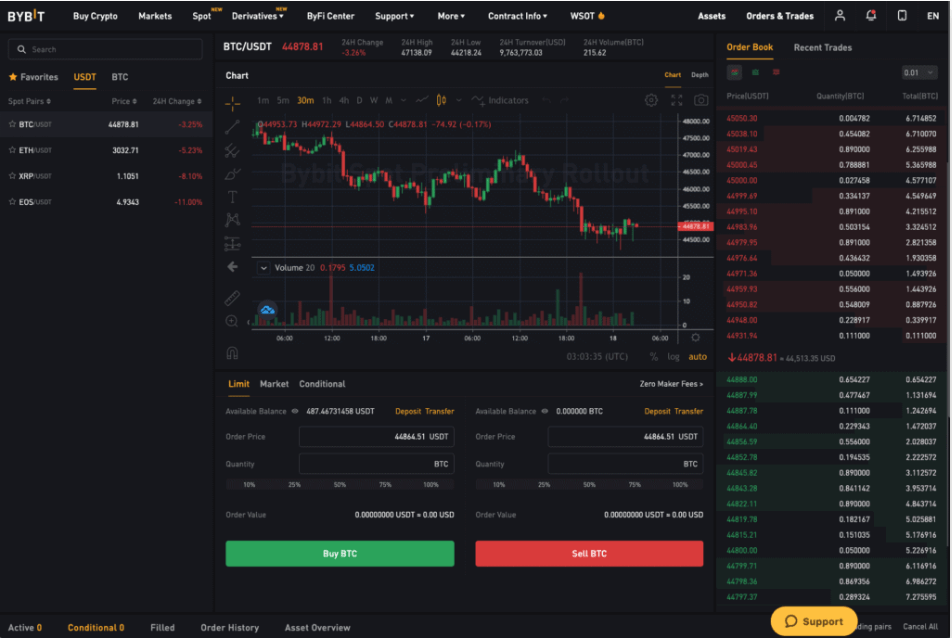 Margin trading with up to 100x leverage
Its essence is to profit from the fall in the price of an asset. These transactions are extremely popular in the classic Forex market or the stock market. The peculiarity of the price reduction is That it happens quickly, while growth or adjustments can take weeks or months. Thus, the profit is obtained quickly, provided that the forecast is correct and the funds are again freed for new transactions. To sell an asset that is not in the hands of a trader, he borrows it from the exchange, using leverage for this. Increasing the leverage allows you to get a higher profit, but the risk of loss also increases if the analysis turns out to be wrong. Bybit offers up to 100x leverage to meet the needs of even the largest margin traders.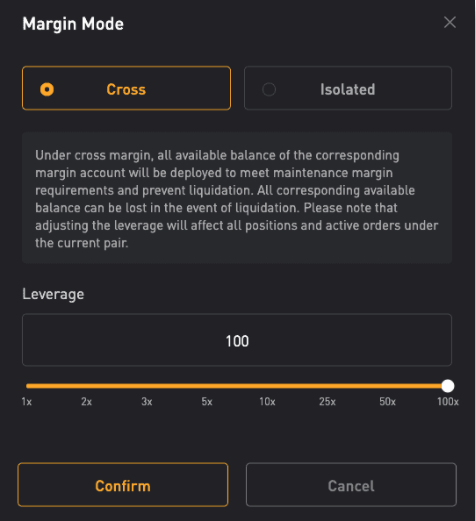 Bybit Insurance Fund
In fact, this is a reserve pool of funds that is open for use by the system in a situation where a trader incurs excessive losses. It works on the principle of excess and lack. So, in a situation where a trader closes a position at a closing price higher than the bankruptcy price. The residual margin on the trade is added to the fund's assets. In a situation where the closing occurs below the bankruptcy price, the loss in excess of the initial margin is covered by funds from this fund. Information about all the features and operational tools is publicly available on the platform itself, in addition, there is always the opportunity to ask any questions to support.
Testnet platform for trading practice
This is a relic of the Forex industry, which all major brokerage companies have abandoned. TestNet by Bybit is a demo version of the main platform. The functionality and all services are completely identical. The difference is that you do not need to deposit real money to work. All transactions are conducted on demo coins. Accordingly, it is also impossible to withdraw earned money there. Such accounts have been popular among beginner Forex trailers for a long time, but history shows that the percentage of those who, after switching to real accounts, showed a loss in the overall result or became bankrupt is much higher than among those who even started to get acquainted with trading on real accounts, even cents. It's all about psychology. If real money is not at stake, the experiences are not strong, or they do not exist at all. A huge number of transactions especially for beginners, it happens on emotions and nerves, and it is with this that they are called upon to fight in the process of learning to trade, and use trading strategies, planning and money management. Using Bybit's TestNet is better considered conditionally useful for getting acquainted with the functionality, testing margin trading, the principles of using leverage, and everything that is not clear, but it is not worth trading directly.
Fiat gateway for simple deposits
Account replenishment with cryptocurrency is available for any crypto-exchange, otherwise the very meaning of operating on it is lost. To expand the flow of customers and for those who are just getting acquainted with the crypto industry and want to transfer their usual money into crypto, Bybit opened fiat gateways for replenishment.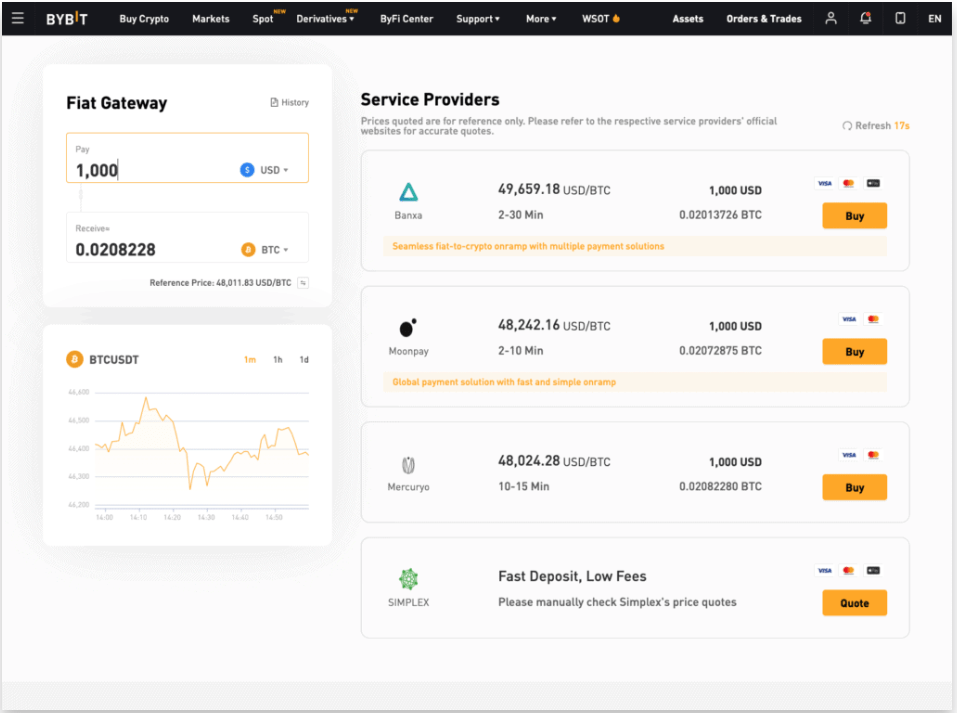 A fiat gateway is not a replenishment of an account within an exchange in one or another fiat currency, for many companies in the crypto industry this is unacceptable. This is a deal to buy cryptocurrency for fiat in real time at the current rate through an exchange machine or service partner. It is enough to choose a coin and the amount for which you want to purchase it. The calculator calculates the total amount and additional commissions, then there will be a transition to the gateway website, where the payment will take place. The method is not ideal, but against the backdrop of crypto-exchanges that do not support the possibility of buying crypto for fiat at all, the process becomes much simpler and more convenient. All services that Bybit cooperates with are highly secure and reliably protect the personal information about each participant in the exchange process.
24/7 live chat support
Not every crypto exchange offers 24/7 online support. Communication through messages or mail takes too long to resolve sensitive issues. Many users refuse to work with exchanges where there is no quick way to resolve disputes and issues.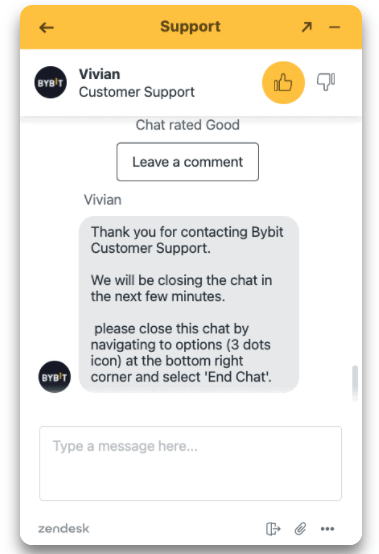 Mobile application for iOS and Android
Mobility for traders in the crypto industry is an important element when choosing a crypto exchange for frequent transactions. Bybit have implemented their own apps for Android and iOS in their respective stores. With over 1,000,000 downloads, the app has an average user rating of 4.9 stars.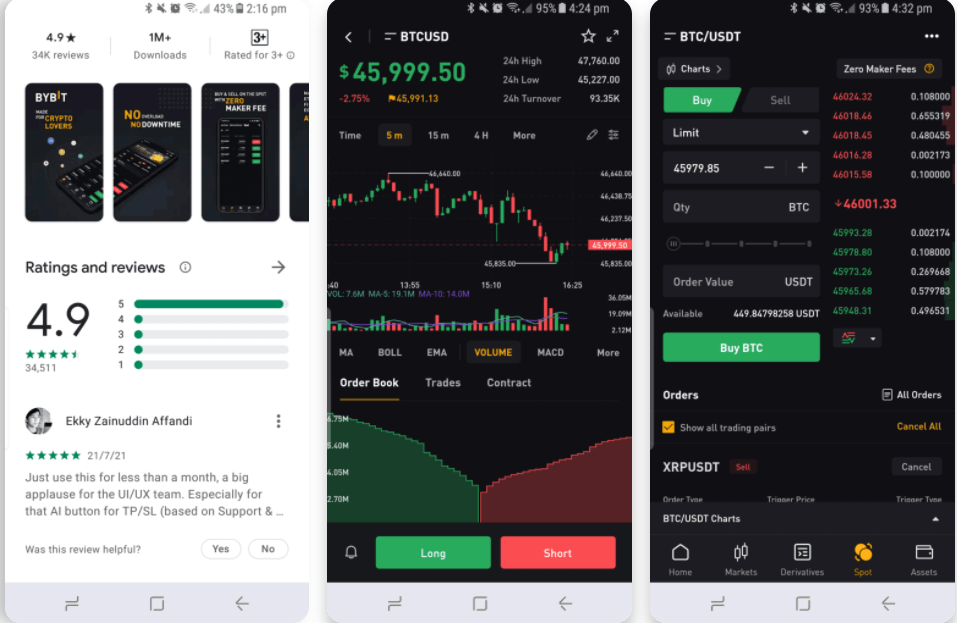 Compared to the full version of the site, the application is intuitive and provides all the main functions of the exchange:
Trading charts;
Analysis tools;
Possibility of placing orders.
Fast trading speed and reliable platform
Bybit traders are confident in the speed and quality of transactions. The company's servers are reliable and process 100,000 trades per second. This is enough to maintain the performance of trade servers under any load. Even scalping operations and algorithms for automatic and arbitrage trading are carried out in full. The system stability is 99.99% confirmed by an independent company that monitors the stability of the servers of large retail and online companies.
Take Profit / Stop-Loss orders are supported
The high popularity of crypto-instruments and the increasing number of events affecting their rate lead to unpredictable price jumps in any direction. Although it does not absorb the trader's deposit, like the classic Forex, but the inability to instantly respond to the price pass can deprive you of serious profits. Stop-loss orders allow you to protect yourself when the price goes against the trader and sell the asset when it ceases to be profitable.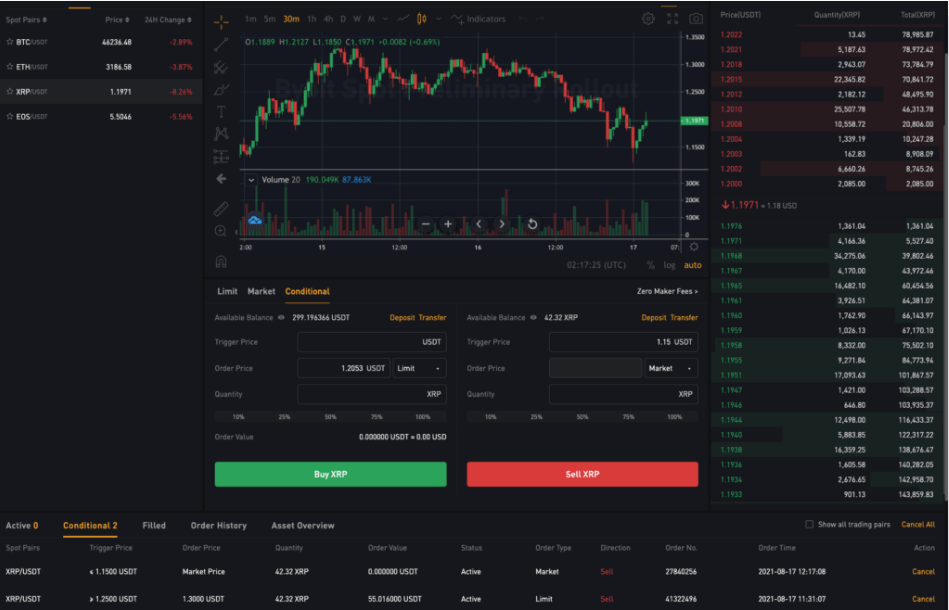 Take profit, on the contrary, helps to fix profits if the price breaks through a given level and quickly returns. It is difficult for traders to fix such passes, but automatic orders are always executed.
Wallet
The job of a crypto exchange is to transfer transaction assets from the wallets of one client to the wallets of another or third-party wallets and vaults. At the same time, internal accounts of the exchange are not actually wallets. Bybit does not have a separate wallet. From the exchange accounts, you cannot pay for purchases in crypto or transfer fiat money to them, and so on. Only operations for depositing and withdrawing cryptocurrencies to linked accounts or exchange operations with fiat through partners.
Bybit Fees
An important aspect when choosing crypto exchanges for work is the commission policy and possible hidden payments. All commissions and fees are divided into several main subcategories.
Bybit deposit fees
When transferring cryptocurrencies to a Bybit account, the exchange itself does not charge commission fees. However, there remains the network fee for the transaction, before generating a transfer to Bybit accounts, select the network for the transaction with the most favorable commission for you in the replenishment field. Depositing fiat funds is also free of commission from Bybit, but partner sites charge conversion fees. Information on the size of commissions is written on their websites and it is important to familiarize yourself with it before starting work.
Bybit Withdrawal Fee
Crypto withdrawals from Bybit are subject to fees.

The commission is not tied to the amount of funds withdrawn, and therefore it is more profitable to make large transfers. You need to understand that Bybit does not carry out withdrawals in fiat directions. This means that the entered funds cannot be withdrawn back if they are not previously converted into one of the cryptocurrencies available for withdrawal.
Bybit Trading Fees
Transaction fees are traditionally divided into takers and makers.
Derivatives – makers pay 0.01% of the transaction. Takers – 0.06%.
Spot trading – Makers and takers pay the same amount of 0.1%.
Bybit Asset Swap Fee
The use of an automatic exchange service for converting crypto assets without placing transactions on the market is subject to a commission fee of 0.1%.
Bonuses and Promotions
Without special offers aimed at beginners in the crypto industry, it is impossible to imagine a successful crypto exchange. Bybit offers participation in various sweepstakes and special offers for trading activity. The prize pools are $100,000 or more and are divided among many participants, so there are enough nice buns for everyone.
Is Bybit exchange safe
As safe as possible. The common practice of storing 95+% of assets in cold storage, as well as a complex client verification procedure, allows you not to worry about hacking difficulties. An insurance fund in case of unforeseen losses to restore all possible drawdowns in the balance of clients due to force of circumstances. However, this does not mean that the company's client should not monitor the security of his account and ignore Bybit's requirements in this area.
Pros and cons of Bybit
Let's start with a list of what the company's customers most often note in their reviews:
Support for more than 160 cryptocurrencies, consolidated into liquid trading pairs;
Derivatives trading and classic spot trading;
The ability to place orders for transactions;
Margin trading with high leverage up to 100x;
Fast and full-format mobile application for both operating systems;
Replenishment with fiat money through reliable gateways.
Plus & Minus of the ByBit
Pros
Over 160+ cryptocurrencies supported
Derivatives trading and spot trading available
Margin trading with up to 100x leverage
Mobile app for iOS and Android
Fiat gateway for easy deposits
Cons
Only crypto withdrawals supported, no fiat withdrawals
Not available to US citizens
Now, about what customers don't like about working with Bybit:
Fiat withdrawal is not supported, only cryptocurrencies;
The exchange does not work with US citizens;
Country of registration British Virgin Islands.
Conclusion
From all of the above, it follows that Bybit is the main exchange for margin trading at the moment. 100x leverage and perpetual contract offers make smart trading extremely profitable. At the same time, futures and spot trading is available on the same site at fairly low commissions. Separately, it should be noted the similarity and simplicity of the interface in the desktop version of the mobile application. Many functions and access to analysis and trading tools make the project convenient. The key disadvantage is the inaccessibility for US residents of all the company's services. A US citizen will not be verified to start working with Bybit, so you should look for other offers in our project.