What is Crypto.com
Convenient and reliable exchange with a modern interface and approach to business. The Crypto.com cryptocurrency exchange allows not only classical operations with coins, but also offers features that allow it to deservedly stay on the lists of the TOP crypto exchanges in the world in recent years.

The main features that exchange users most often name, in response to the question of what was the final factor in deciding to open an account, were:
250+ cryptocurrencies available for trading. In addition to a selection of TOP currencies by stability and volatility, Crypto.com's own CRO token is included here. You can leave the coin as a deposit in the staking program, pay a reduced trading commission with it, and also pay for purchases with a branded VISA card with 8% cashback.
The card is the second reason for choosing Crypto.com. It not only has a unique design, but also has useful advantages. Whichever. How many coins you own, cashback conditions can reach 8%. In addition, you can get 100% discount on Spotify and Netflix, access to airport lounges and 10% discounts on accommodation bookings through AirBnB or Expedia;
Crypto Earn is a coin investment program familiar to many. While they are in your storage anticipating growth, they can be invested in a deposit. Profits are paid weekly, so reinvestment is possible. The payment is made in the deposit coin, that is, with the increase in the price of coins, the profit also grows. Profitability on transactions can be increased by holding CRO.
The only moment that slightly darkens the impression of Crypto.com is the weaker functionality of the desktop version of the exchange compared to the application. Cryptocurrency pairs in this version are matched only against CRO, BTC, USDT and USDC. More and more complex operations occur only through applications. Pay attention to the increased security of the device when working with Crypto.com. If full-fledged trading is impossible for you without quotes on the monitor, it is better to seek options where the desktop version has full functionality.
What services does Crypto.com offer?
In addition to the classic cryptocurrency trading and exchange, Crypto.com offers a wide range of profit opportunities.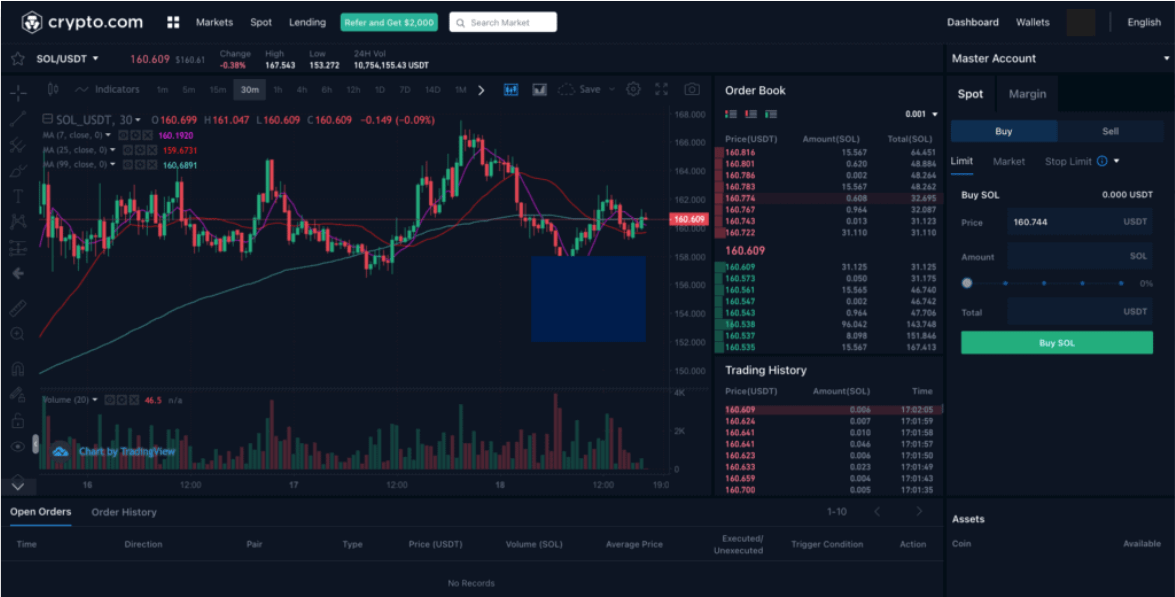 desktop exchange
Although its functionality is limited in terms of the number of coins and part of the functions, the main elements are present. Margin trading with 10x leverage, BTC/USD perpetual futures trading with 50x leverage and spot trading with a limited number of pairs. This set is suitable for those who understand the market and know exactly what they are doing.
Crypto.com mobile application
Oddly enough, for the crypto industry, but it is the Crypto.com mobile application that has the maximum functionality and provides access to all the services offered by the platform. There are no restrictions on trading pairs as in the desktop version. Through the application, you can buy or exchange cryptocurrency. From here, the Crypto.com Pay service is also used to pay for goods and services, as from a virtual account. For those who prefer the classics, it is possible to order a Crypto.com metal card, which has many advantages.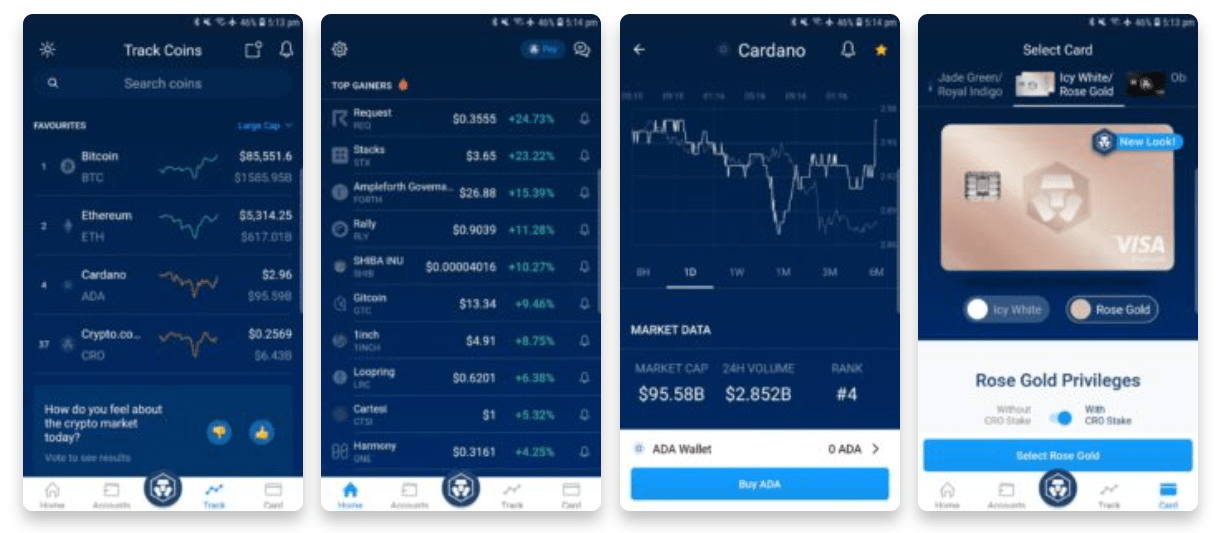 250+ cryptocurrencies on Crypto.com
The offer is not the most generous on the market, but the collected coins have shown their stability and volatility in the market, and the fact that they are traded on all major exchanges ensures their liquidity for any trading volume.
Live chat 24/7
More and more users include this variable in the mandatory list when choosing a crypto exchange for the main work or arbitration. Solving issues in real time is a critical aspect. Support staff are literate on most of the questions that new customers of the platform have. If the task is difficult, they need time for consultation, but the solution is always found.
Coin CRO
The own token of the CRO exchange has been released, which provides several advantages when using it:
Staking coins brings 10% each year with CRO + benefit from the growth of its rate;
When paying Crypto.com commission in CRO, its size is noticeably reduced;
When paying through Crypto.com Pay, a high cashback is charged;
When paying with a Crypto.com card in CRO, you get an additional cashback;
Discounts on Spotify and Netflix subscriptions up to 100%;
Discounts on Expedia and Airbnb bookings up to 10%;
Using CRO in investment tools offers the best interest rate.
Crypto Earn
The ability to deposit more than 40 coins. Blocking periods for coins in staking may depend on the type of coin. The number of CRO coins deposited affects the interest rates on other coins. The maximum CRO staking volume of 40,000 USD equivalent will provide the maximum interest rates for all other coins in this section.
Visa Debit Card
You can order a free VISA card in the Crypto.com app. The level of the card depends on the amount of CRO coins in the stake. In addition to the advantages described above, the card offers additional opportunities for placement at airports 2% above the current interest rates on time deposits.


Cryptocredit
A crypto loan is issued instantly, without additional checks and time limits. A crypto loan from Crypto.com allows you to get up to 50% of the volume of collateral assets immediately to a crypto wallet. Repayment is possible at any time, without additional fines or penalties. When staking CRO coins as collateral, the interest rates on the loan are noticeably lower.
Crypto.com Pay
The digital payment service using more than 30 tokens allows you to make purchases in online stores, real stores that accept cryptocurrencies for payment, when buying gift cards, NFT or replenishing a mobile phone account. All transactions give cashback up to 10%, which is credited to CRO. NFT Marketplace NFTs have become the new digital hit of recent times. Crypto.com keeps up with fashion and has implemented its own platform for buying/selling NFT tokens.
Insurance for your assets
Back in 2012, the Crypto.com cryptocurrency exchange was the first to conclude a direct insurance contract for $100,000,000 as part of the Lloyd's Syndicate project led by Arch Underwriting. Guarantee funds are placed in the vault of the partner company Ledger Vault. As of today, the total risk insurance fund for user funds is $750,000,000. Any cases of direct or indirect damage to customer deposits, with the participation of a third party, are insured. Protection extends not only to hacking the platform itself, which is practically meaningless due to the spaced storage of assets, but also to the destruction or damage to storages and other critical objects.
How Crypto works
There are no external features in the work of Crypto.com. They start when working through the desktop version of the site. The main difficulty is in a heavily truncated version. You can trade only 4 coins, the ability to trade or deposit / withdraw fiat currency is disabled, as well as other services that affect cryptocurrencies that are not available in the desktop version. For those who are used to working through the application, this does not cause any problems, but for those who came to Forex crypto trading it is quite difficult to rebuild, which repels some clients from the company. The main attention is drawn to the native CRO token, which does not yet have an extremely high trading interest and volatility in the market. The company is doing everything to wake him up. For staking CRO, additional interest on deposits is charged and the possibilities of other company instruments are expanded.
Crypto.com fees
The question of the amount of commission fees is very acute among traders, especially beginners. In this aspect, the Crypto.com cryptocurrency exchange is in the middle, setting average fees for the market.
Crypto.com deposit fees
The crypto exchange itself does not charge commission fees for replenishing an account in cryptocurrencies or fiat money. But transaction fees and bank commissions are entirely on the shoulders of the client. An important point – through the Crypto.com application, replenishment of an account for a purchase through a debit or credit card is subject to a commission of up to 4%, depending on where exactly the user is located. However, for new customers whose account was registered less than 30 days ago, this commission is cancelled. That is, if you buy crypto immediately from the card, the commission appears after the expiration of the 30-day period for a new account. If you replenish fiat wallets of the exchange, and then buy cryptocurrency, there is no commission. It is also not available for crypto-exchange operations. Crypto.com does not charge any deposit fees for three of the four ways of depositing an account,
Crypto.com trading fees
Spot trading is subject to a fairly high commission by industry standards of 0.4% for both the taker and the maker. Fee reductions are based on trading volume in the last 30 days. Additional commission benefits are offered for staking 5000+ CRO. Proportionally the increase in staking, the discount on the commission also increases. With a base amount of 5000 CRO, it is 10%, with a maximum amount of 5,000,000 CRO – 90%.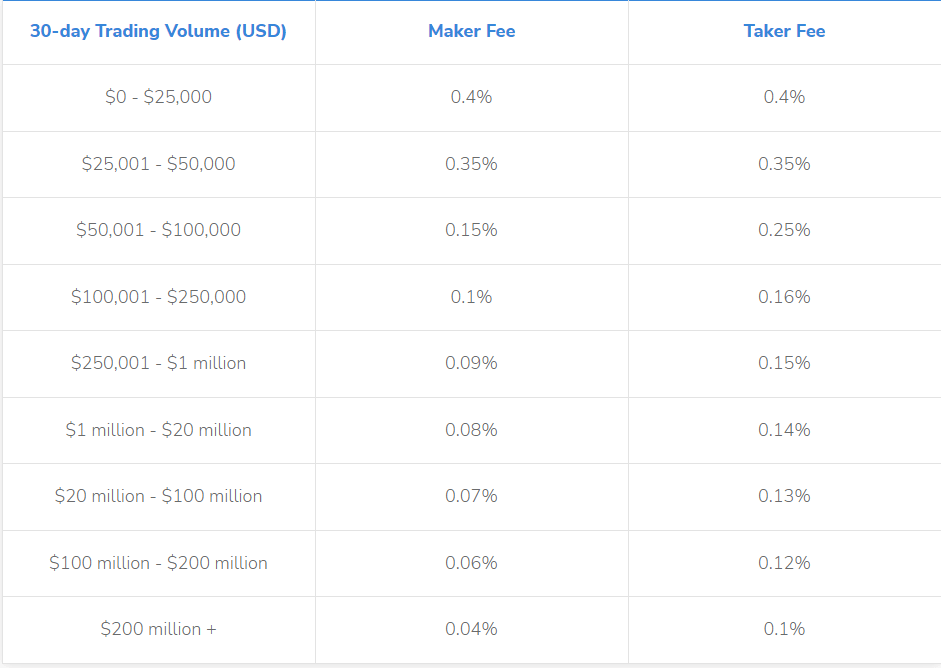 Commission on derivatives trading
The desktop version offers a fee of 0.050% for makers and 0.070% for takers. From this volume, a decrease begins with an increase in trading volumes based on the results of 30 days. There is also a discount for staking CRO. In percentage terms, it works the same way as for spot trading.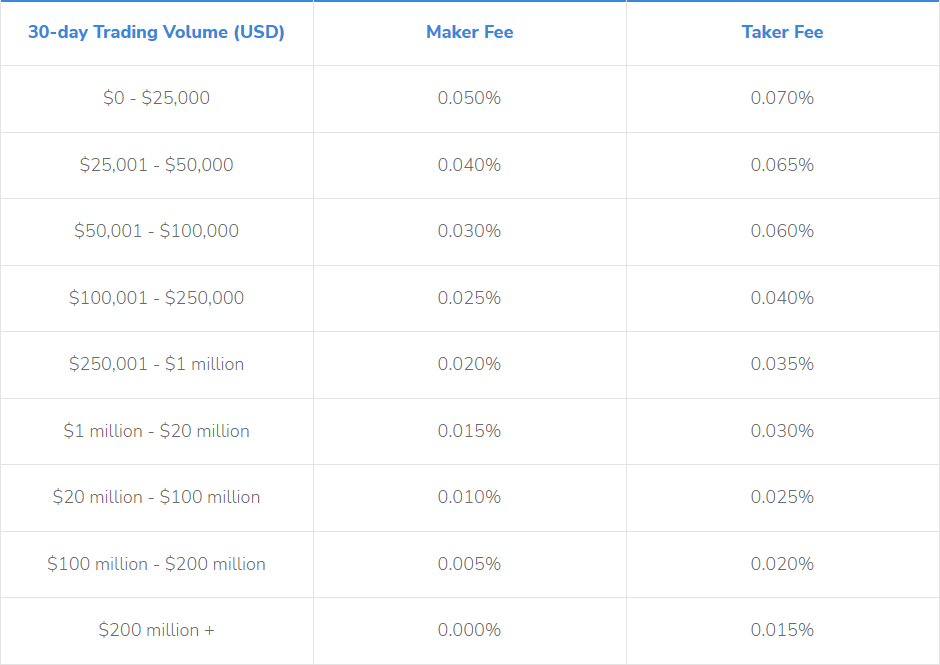 Crypto.com Withdrawal Fee
Withdrawing fiat via bank transfer is not subject to additional fees. Only USD withdrawal via SWIFT requires a flat fee of $25 Crypto withdrawal is also subject to an additional exchange fee, which depends on the particular coin. The main ones are summarized in the table.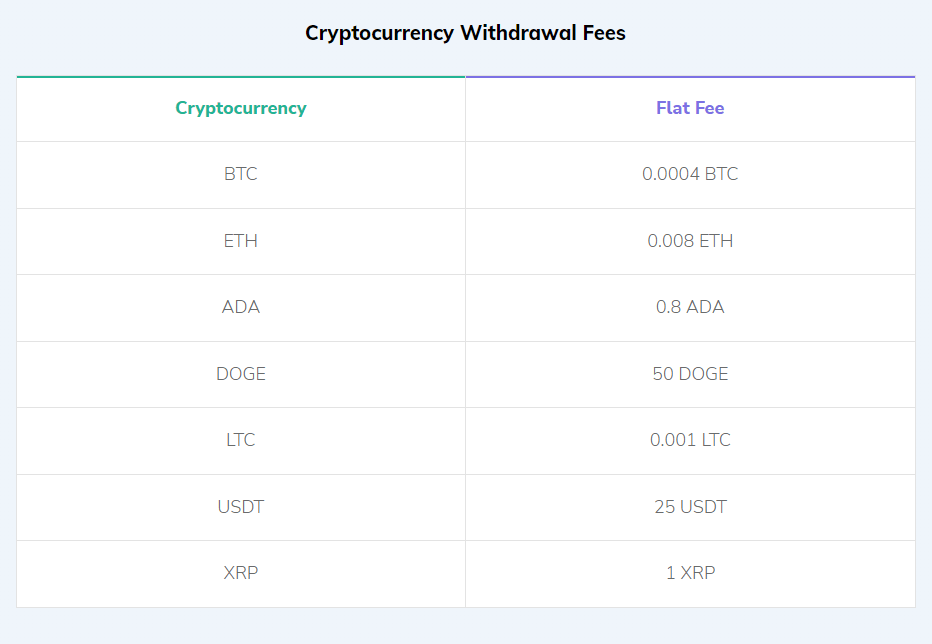 Transfer within Crypto.com is not subject to any commissions, neither blockchain nor exchange.
We are sure that you have managed to form your list of positive and negative aspects of the Crypto.com cryptocurrency exchange. Let's compare it with the characteristics given by other users of the platform.
Plus & Minus
Support for more than 250 coins and tokens with good reliability, volatility and liquidity for large volumes;
Staking more than 40 coins with the possibility of increasing income through CRO;
Convenient VISA debit card from Crypto.com with up to 8% cashback and a number of additional benefits;
Lending against a deposit on favorable terms without fines and penalties;
Full insurance protection against all possible force majeure not related to the user's actions;
Derivatives trading and margin transactions are also available on the desktop version;
The desktop version is extremely limited in functionality. Traders who came from Forex cannot switch to full-fledged work outside the terminal;
Crypto.com VISA does not support all fiat currencies supported by the exchange and additional conversion fees may apply.
Finally
Crypto.com is a cryptocurrency exchange that offers more than many in this niche. Although the familiar desktop version has very limited functionality, the company is actively attracting new users working through the mobile application. The limitation of the desktop version causes bewilderment and irritation of those traders who come from the Forex markets and are used to working with a wide terminal window. The Crypto.com application implements everything that the company currently offers, including ordering a metal VISA card from Crypto.com with a large list of benefits and bonuses for use, the NFT segment and other functions described in the material.
Frequently Asked Questions about Crypto.com
Is Crypto.com legal?
Crypto.com is completely legal and has been operating since 2016. In each country where it is represented, the company complies with laws and regulations. This is especially true for AML/KYC regulation. Cryptocurrencies are stored on a system of staggered cold wallets. Fiat funds are placed on storage accounts. US residents are provided with 100% insurance for these funds from the FDIC. The Australian Authority operates under the AFSL financial services license, and it is Australia that is the issuer of debit cards from Crypto.com. The platform has passed a comprehensive audit involving specialists from various fields, from the banking sector to the investment sector. As a result, the ISO/IEC 27701:2019 certificate was received. This achievement makes Crypro.com stand out from the rest as it is the only one that owns it.
Is Crypto.com safe?
The Crypto.com cryptocurrency exchange has the highest level of security. It stores all funds that are not involved in I/O operations in cold storage in a spaced Ledger Vault system. The remaining 2-3% of assets are held in corporate wallets with limited access to ensure operations. Storage of fiat currencies is implemented through depositary regulated accounts protected by the government. In addition to this, US residents enjoy 100% insurance on all funds.
Can Crypto.com be trusted?
Crypto.com has been trusted not only by users since 2016, but also by a number of large companies and government agencies that work with it. Never before have audit commissions agreed to audit crypto companies, moreover, those working with fiat. Crypto.com became the first representative of a new culture of financial transactions completely legal, under licenses and bank guarantees, operating in the US and Australia.
Can Crypto.com be hacked?
The security issue of the Crypto.com crypto exchange is not discussed, it is 100% secure. Hacking precedents of other companies showed that the purpose was to withdraw funds from their accounts. Crypto.com does not store customer funds in working accounts, and current transactions are secured from corporate accounts with a high level of security and the need for physical confirmation of transactions by authorized employees. This makes hacking pointless, since fraudsters will not receive benefits from this, and the resources must be spent simply huge.