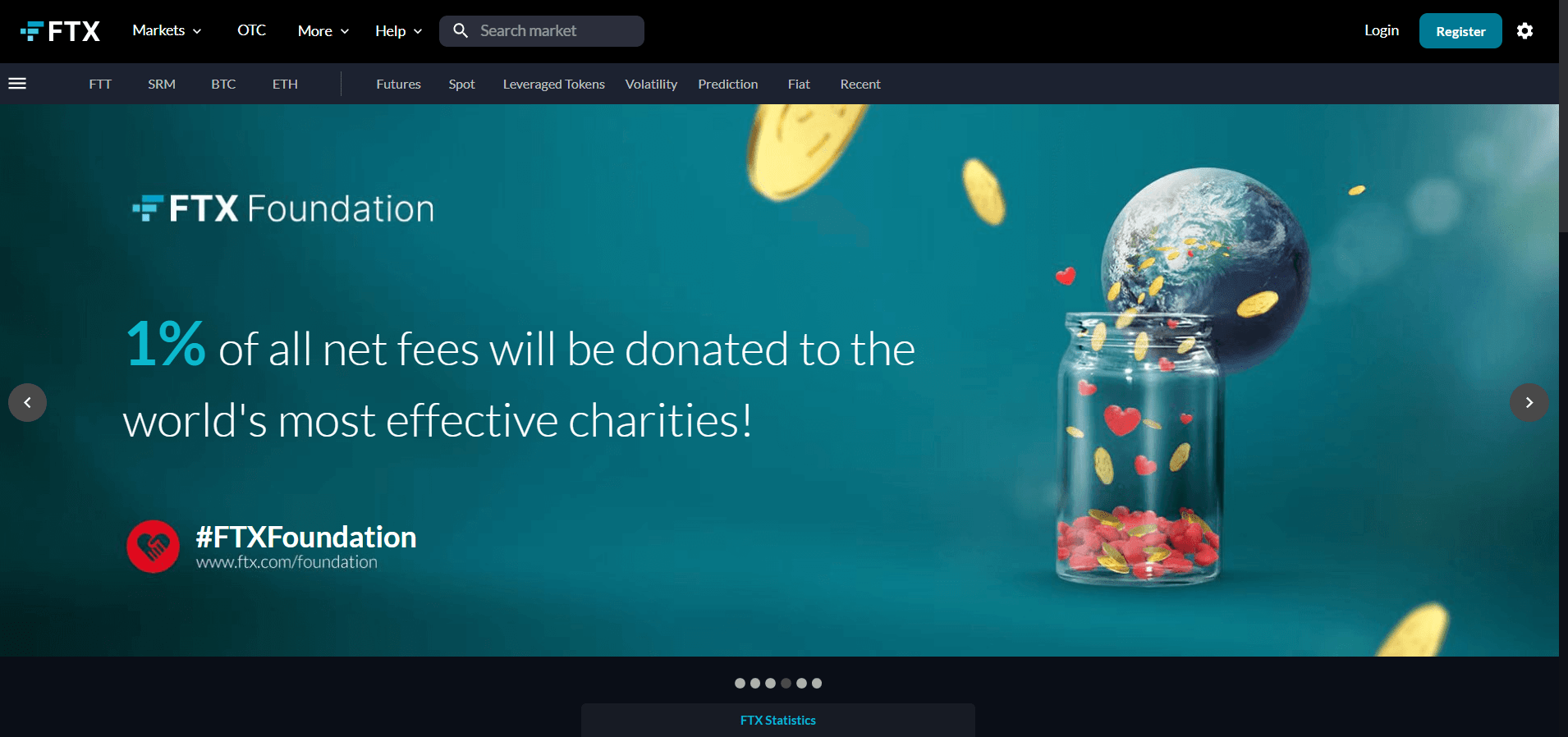 What is FTX
FTX is a trading platform focused on cryptocurrencies and cryptocurrency derivatives. The key direction is BTC options and other derivatives of cryptocurrencies. At first glance, it may seem difficult to understand, but upon substantive examination, it turns out that working with the proposed tools is easier and more profitable. Traders who profit from price movements will find a number of interesting and convenient tools for working with the market. FTX also offers an over-the-counter service, namely the sale of large volumes of cryptocurrency to its clients outside the market glass. This function is also implemented in the mobile application, subject to a sufficient level of client verification and measures taken to protect the account from hacking. A trader can at any time buy the amount of cryptocurrency needed for investment or arbitrage in a few clicks and withdraw it to any account or cold storage. The total trading volume brings the FTX crypto exchange to the TOP 5 sites.
What services does FTX offer?
The key area of ​​FTX work is trading in derivatives of cryptocurrencies, which are popular among traders with classic instruments. Several products have been implemented that are unique for the industry and for the FTX crypto exchange. So, it is proposed to trade tokens with leverage. The number of tokens is 45+, which is the widest range in the industry. Recently, trading with leverage on the SP 500 was offered, which indicates the recognition of the trading platform and the willingness to cooperate with institutional companies.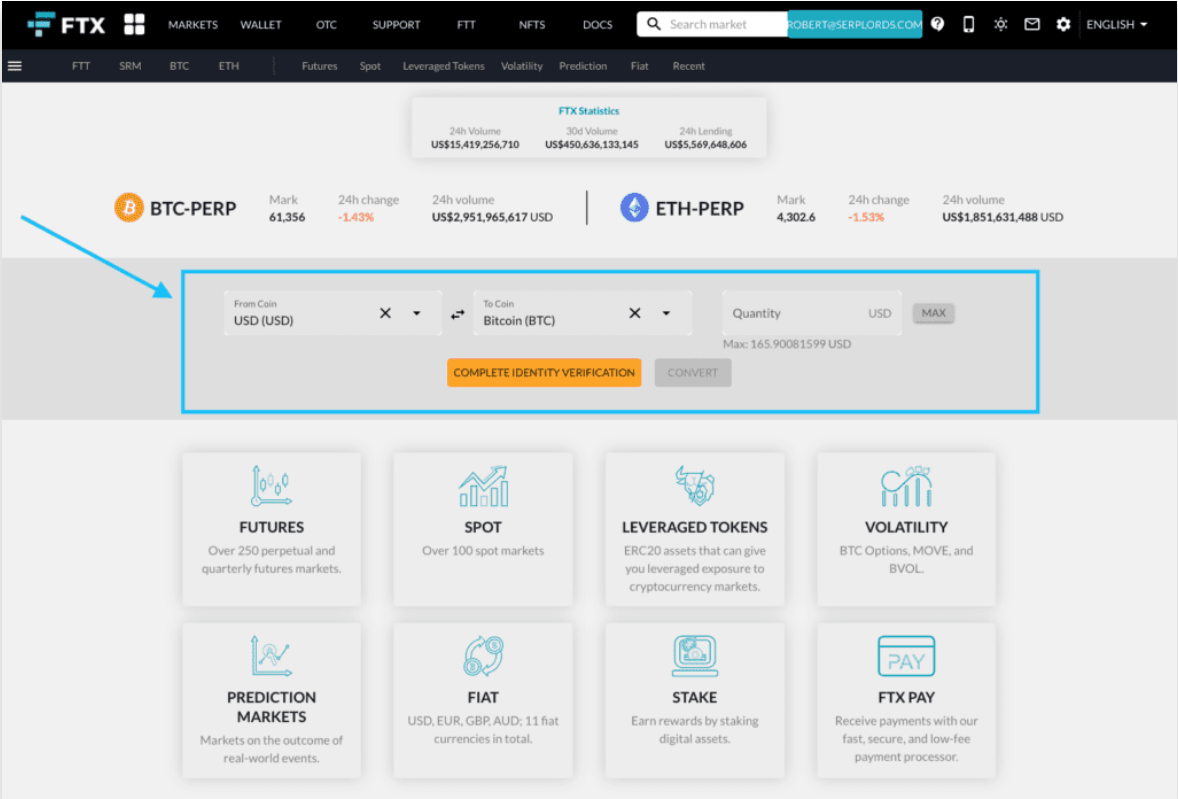 Crypto exchange FTX accepts fiat USD, EUR and GBR for deposits. All bank card transfers are protected by additional encryption and security systems. No information will be passed on to third parties. For traders who are targeted at the site, that is, for experienced speculators, a leverage of 100x is offered to maximize profits. All transactions in all directions are made from a common wallet, which displays balances for all assets. FTX, due to the large volumes of trading and the acceptance of only the most demanded cryptocurrencies and their derivatives for listing, provides a high level of liquidity. The withdrawal of any amounts within the framework of the investment policy or arbitration occurs directly. The department responsible for customer support operates 24/7 and provides clients with any information related to trading in general.
Products and services offered by FTX
The peculiarity of the FTX crypto exchange is that it researched the needs of traders and the market as a whole before entering the market. And after the launch of the project, she offered the tools on which traders and investors have been making money in classic trading for decades. Not surprisingly, such an offer attracted substantial capital and determined the general policy of the company in the future.
NFT Market
Due to the high popularity of this crypto asset, the company has implemented an NFT trading platform. Quite a few large investors and companies make money on the redemption and resale of digital collectibles, so the FTX management has included this component in their services. The cost of NFT tokens can reach tens of millions of dollars.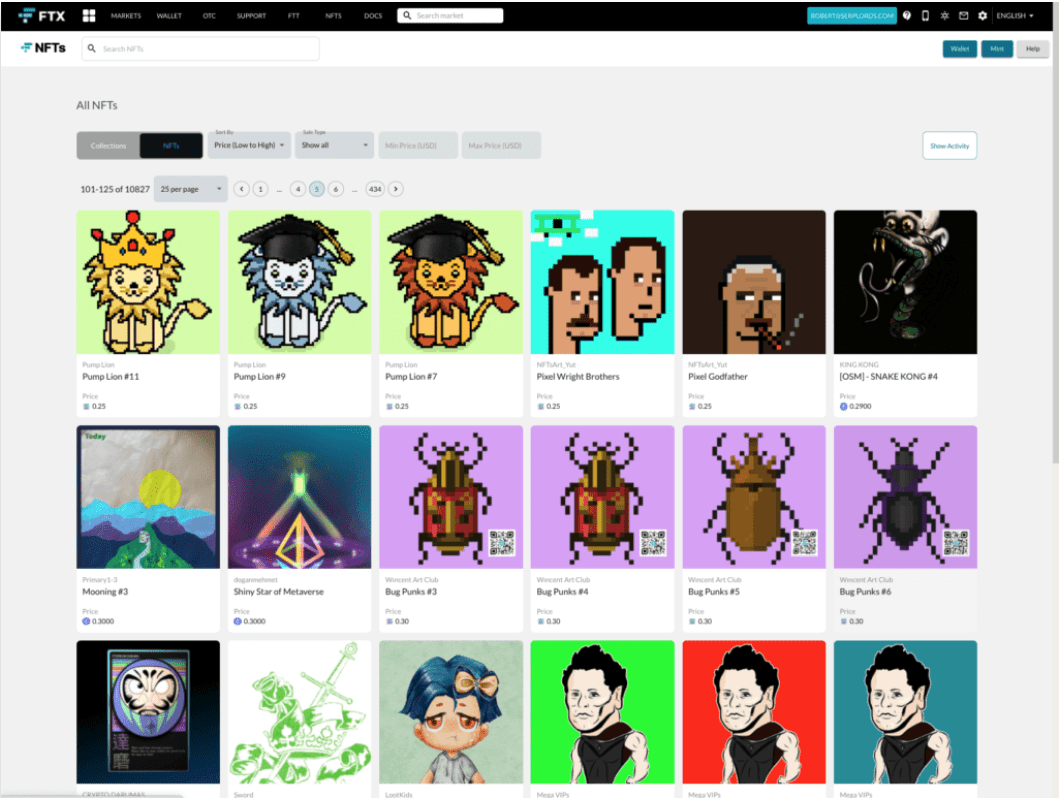 Futures trading
Quarterly and perpetual futures are perhaps the most popular instrument. More than 20 coins are offered for trading in futures, all of them are summarized in industry indices, which are also traded. Traders can choose multiple coins or a ready-made index for safe investment.
Leveraged tokens
Trading with leverage is a popular tool, especially among those who make correct forecasts on the movement of assets. FTX offers 100x leverage as the maximum for each account. By default, it is 10x, as a precaution so that a novice trader does not take on unbearable risks and understands the functionality and trading algorithms before opening trades at the maximum level. 45 cryptocurrencies are available for leveraged trading on FTX. It also offers basic analytics on the direction of the market (bullish or bearish) so that the speculator can concentrate on finding entry points.
BTC tools
BTC Options is a unique offer from the FTX crypto exchange. Platform clients get access to various variations through smart contracts. There is also a solution that allows large BTC investors to pay cash in USD to exercise the right to buy or sell. Thus, the trader makes an instant profit by selling BTC options in the format of a short position on the market.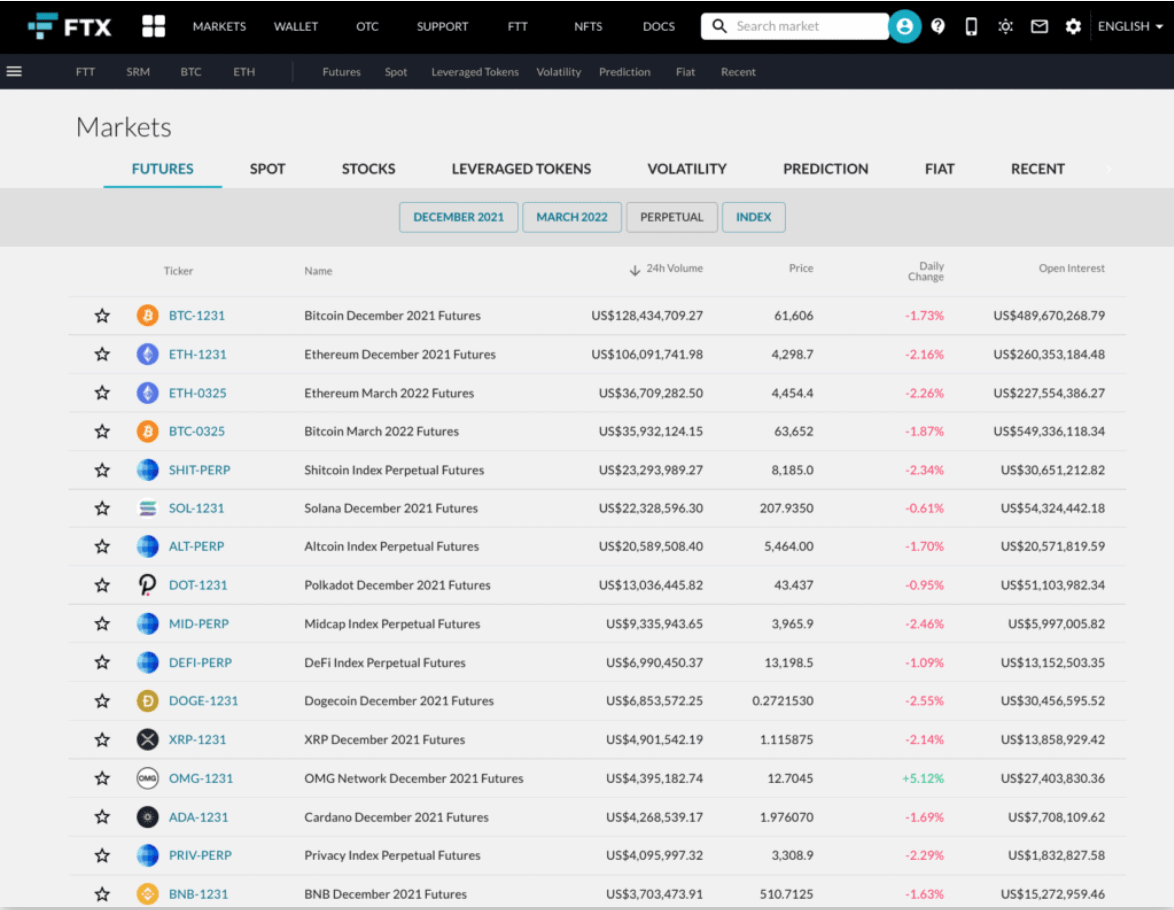 MOVE by FTX
Author's smart contract from FTX. This contract allows you to trade BTC futures with the ability to move funds every selected period of time, from daily to quarterly.
FTX mobile app
A fully functional application with advanced potential for advanced traders. The overall rating is 4.6, with 60,000 reviews and over 500,000 downloads.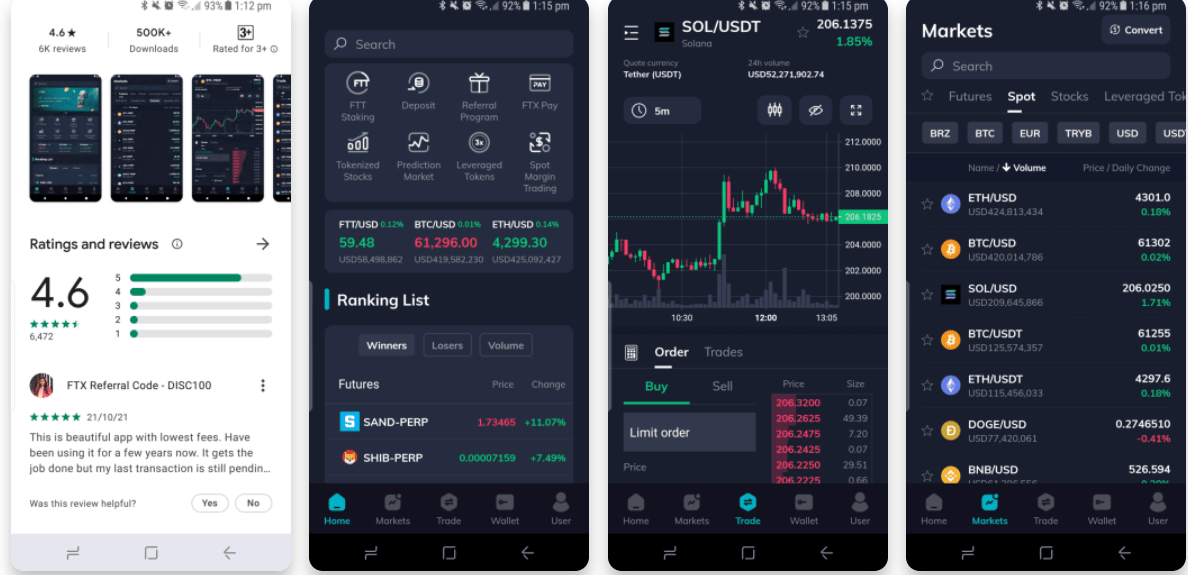 How FTX works
The main emphasis of the FTX crypto exchange is on the transparency of its activities and trumpets this as widely as possible in all thematic resources. The Open Futures Calculator allows traders to calculate futures fees without additional conditions when trading in fiat money. The platform charges $300 in commissions for transactions over $9,000.
Is FTX Regulated
The Hong Kong-headquartered company is registered for operations in the islands of Antigua and Barbuda. This allows you to use the legislation of the country of registration in resolving any disputes, and not accept the requirements of countries where cryptocurrencies are prohibited or not regulated. The service ban applies to US residents only. It becomes a pattern that the United States brings the crypto finances of its residents under the control of several exchanges certified in the country to be able to control the receipt of taxes on profits. On the one hand, there is nothing wrong with this, but on the other hand, the whole point of anonymity and decentralization is lost. At the same time, the site of the crypto exchange is protected by a reliable SSL certificate. The site received an impressive B + security mark from the Mozilla Observatory, which is perhaps the best indicator for projects of this kind. The security of client accounts is also reliably protected by two-factor authentication, the possibility of SMS informing and other tools. Spaced passwords are recognized as an interesting solution from FTX. For each activity of the exchange, whether it is deposits or opening a trading position, it is possible to create its own unique password, which will exclude full access to the account from any hacker, even if he breaks through the external borders of the FTX crypto exchange. It should also be noted that it is possible to create additional accounts with different levels of access, for example, for investors, portfolio and trade managers, and so on. This is a unique solution that was previously used only in accounts for Forex trading. The FTX cryptocurrency exchange team includes internet marketing and promotion gurus from Google and Facebook. The task of this division is to popularize cryptocurrencies and their derivatives in all directions where they can be used. FTX has a solid foothold in the industry thanks to contracts with companies such as FBG Capital, True USD and Circle. They provide support for large OTC trades and investment purchases through the FTX interface.
Who owns FTX
The founder of FTX is Sem Benkman-Fried. Since its founding in 2018, he has remained the CEO. He brings his experience as an international EFT trader from Jane Street Capital to the company. FTX's CTO, who joined founder Gary Wang, has been focusing on the software side as Google has arrived. Before the creation of the FTX crypto exchange, this duo implemented the Alameda Research project, which analyses the liquidity of cryptocurrencies. Alameda handles FTX OTC trades. In the development process, there were three rounds of attracting funding for a total of $8 million. When the success of the project became apparent in 2020, Liquid Value Capital became a major investor in the company.
FTX Wallet
Cryptocurrency exchange FTX does not offer customers the ability to use their accounts to pay for goods or services on the Internet. There is also no provision for issuing cards linked to FTX accounts. This is done because not all countries support the work with cards issued in offshore zones with complex financial regulation. In addition, FTX is designed for large traders and investors in the medium and long term, so breaking the security by linking accounts to bank cards was considered impossible. You can withdraw cryptocurrencies from FTX accounts in any convenient direction at the current commission fee of the network chosen to process the payment.
FTX fees
In terms of the size of the commission charged, the FTX crypto exchange is one of the last places. OTC trading is provided by the FTX wallet. The platform client pays only the network fee for the transaction, FTX does not charge any fees. There are also no fees for withdrawing funds.
Transaction fees
The only fees that the FTX cryptocurrency exchange charges are trading fees. It is calculated based on the current 30-day trading volume. The higher it is, the lower the fees.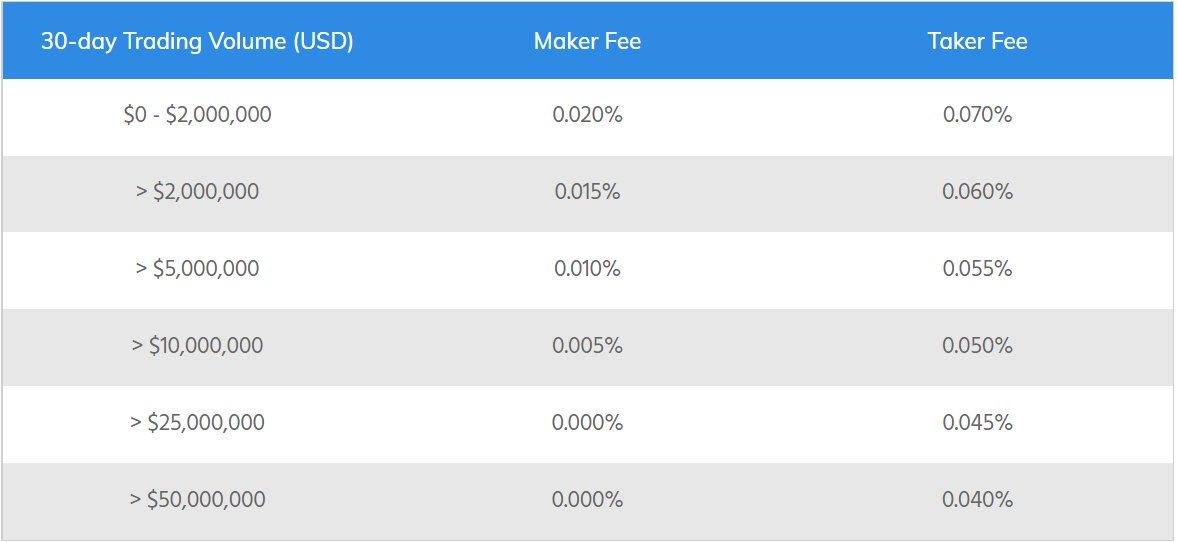 Special attention should be paid to commission fees when trading with leverage. Given that a trader's profitability increases as the margin on a trade increases, FTX charges a large fee to support and provide liquidity to a trade.
50x – increase the current commission by 0.02%;
100x – up to 0.03% from above.
Traders who use internal FTX tokens to pay fees – FTT pay significantly lower fees. Leveraged tokens are subject to a 0.10% execution and redemption fee, according to this FTX exchange review. The platform also charges a 0.03% daily fee to manage these trades. When using 50x, trading fees can increase by 0.02%. Similarly, 100x leverage can increase trading fees up to 0.03%, which can be reimbursed by the FTX insurance fund. In addition, traders enjoy discounts for owning FTT tokens. FTX has set lower trading fees for users trading in large volumes. Since the cryptocurrency market is volatile, traders should keep an eye on the estimated liquidation price.
FTX pros and cons
Focusing on a specific group of traders makes FTX not profitable for other traders, however, it is worth considering the positive and negative aspects of its work.
Pros of FTX
Just increase trading limits and raise the level of leverage;
Trading derivatives of crypto assets, which are used to by large traders and investors in classic instruments;
Liquidity guarantee for all instruments;
Very low trading fees due to volumes. There is no commission for deposits and withdrawals;
Buying cryptocurrencies from payment cards through the secure Simplex system.
FTX cons
Trading cryptocurrencies with high leverage is risky even for experienced traders;
The FTX crypto exchange is relatively young for the industry. Not everyone is ready to start working with large deposits, and for small ones, it is not particularly suitable;
High "requirements" for the experience of the trader and the volume of his deposit;
The focus of the crypto exchange on complex trading instruments, which ordinary and novice traders cannot connect to due to ignorance of their behaviour.
How secure is FTX
Crypto exchange, like everything else in the industry, is completely legal and safe. It has agreements with many services and companies in services and partnerships. For example, Simplex will not connect a card payment service for a suspicious company. Own FTT token guaranteeing liquidity and a reserve of other currencies to close any force of circumstances. FTX transfers a tenth of all profits to a separate insurance fund in stablecoins. This will continue until the fund can cover any of the company's obligations to clients.
In conclusion about FTX
The FTX Cryptocurrency Exchange is a diversified trading platform focused not only on classic cryptocurrency trading, but also on offering cryptocurrency derivatives. Such derivatives are familiar instruments for large traders and investors, as well as for large investment companies and banks, where sophisticated traders and analysts work. 45 tokens + their trading derivatives such as futures and leverage up to 100x makes FTX very interesting for any trader. However, the risk of working with complex trading and investing tools is very high, which the company constantly warns about, so you need to think carefully and study the platform before making a final decision. FTX is opposed by its inaccessibility for US citizens, but the legal policy of this country is very difficult to legalize a company there. FTX offers a high level of liquidity for any amount of funds, as well as the ability to purchase assets with payment cards through a secure partner. The FTX crypto exchange is an fascinating service, but it is aimed at experienced traders with large deposits. In a separate line, it should be noted that FTX entered the market relatively recently and did not have time to go through difficult periods, like other companies that appeared earlier. How she will behave is unknown, so the decision is up to you. That FTX entered the market relatively recently and did not have time to go through difficult periods, like other companies that appeared earlier. How she will behave is unknown, so the decision is up to you. That FTX entered the market relatively recently and did not have time to go through difficult periods, like other companies that appeared earlier. How she will behave is unknown, so the decision is up to you.
Frequently Asked Questions about FTX
Is the FTX exchange legal?
Fully legal as of 2019. Regulation is carried out by the financial authority of Hong Kong, which is not soft on controlled organizations. This is confirmed by millions of company customers from all over the world.
How does the FTX exchange work?
Focuses on new, but profitable for the crypto market instruments and derivatives of cryptocurrencies. Instant profit on leveraged tokens, BTC options and other assets. All tools are safe for those. Who understands the essence of their work. Large investors can receive instant and very solid profits within one trading day.
How secure is FTX?
Without passing KYC, you will not be able to operate on the platform. The higher the degree of verification, the higher the trading limits and the more favorable the working conditions. There is also the usual two-factor authentication, through the application.
Has FTX ever been hacked?
No break-ins or customer departures were recorded for this reason. FTX uses Google Cloud for operations.