What is Gate.io
Gate.io is now in the TOP 5 cryptocurrency exchanges in terms of trading volume and number of users. The platform has a large number of tools for investors and traders. The key advantage of Gate.io is the availability of the platform in different versions and in different languages. All key languages, as well as several additional ones, are implemented on the platform, based on the growth of customers from promising countries in terms of crypto trading.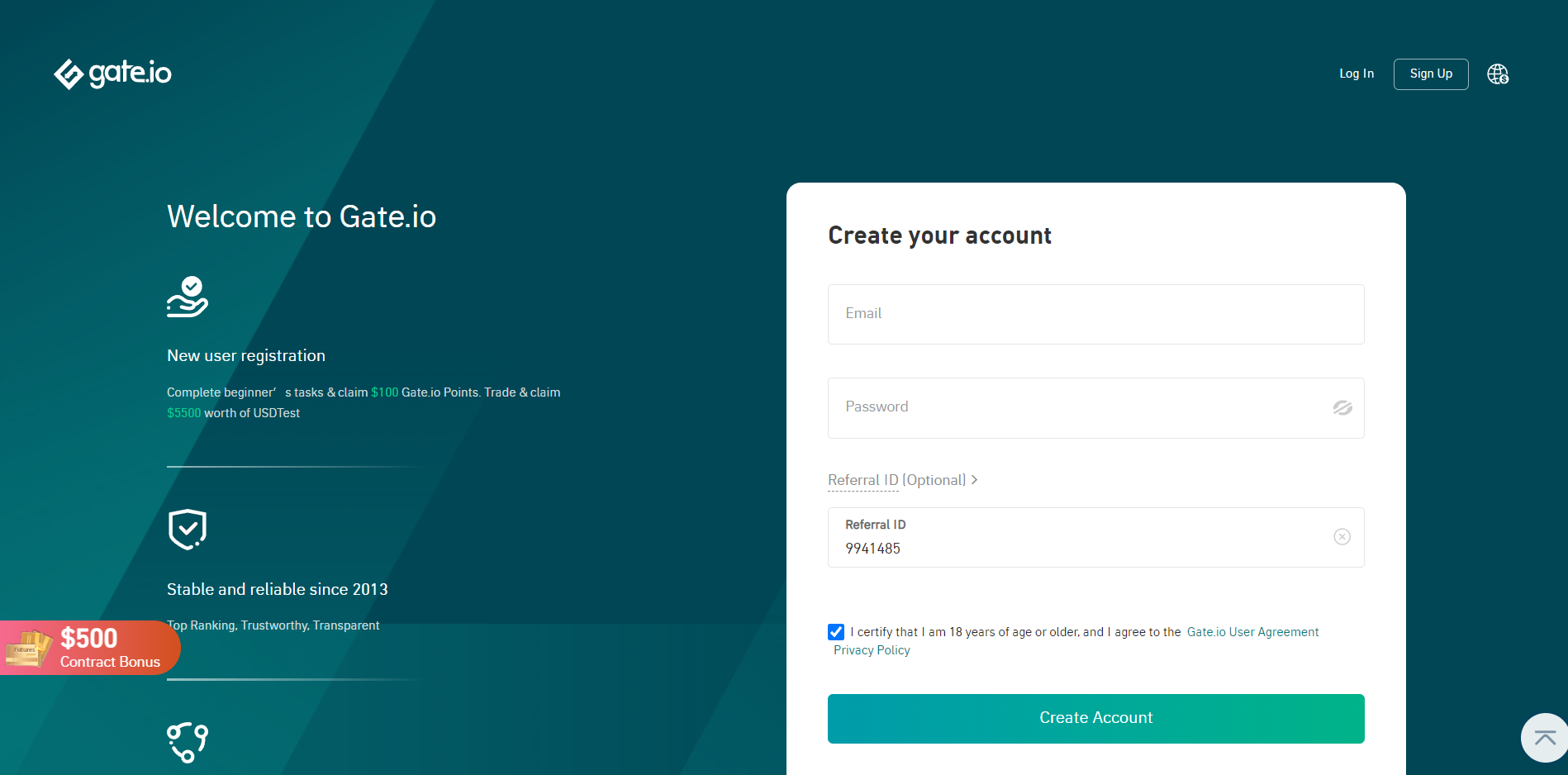 By 2017, the crypto industry had reached one of the inflection points that transformed it into what we see today. The reason for this was the influx of capital from the classic Forex and stock markets. In addition to capital, specialists in these industries, investors, developers, traders, and so on, also came. Together, they began to implement new tools for trading, analysis and security of cryptocurrencies. Gate.io was one of the first to understand that innovations could not be avoided, but in China, which by that time had begun to show a position understandable to everyone on total control, and possibly blocking, of cryptocurrencies in the country. Therefore, a project was launched to rebrand and reorient to new areas of work. As a result, the company moved to the USA, where it operates to this day. From the surveys and reviews of the Gate.io cryptocurrency exchange, you can display the TOP 3 options,
1000+ cryptocurrencies listed on the exchange. One of the widest offers on the modern crypto market. If we add to this advanced trading functions that are not available for all coins, but for the majority familiar to advanced traders, the range of opportunities becomes very extensive;
Breadth of trade markets. In the process of rebuilding work algorithms, margin and spot trading, and futures trading were introduced. Later, EFT and NFT capabilities were added;
Simplicity of the interface and operational support. Even beginners can easily figure out how to work on the Gate.io platform. Any questions are sorted out and provided in chatbots, podcasts, videos and a huge community to help anyone who needs it. But 24/7 live chat is also present and helps to the maximum.
The only thing they don't like Gate.io for is the inability to withdraw fiat money from the exchange. But this problem is rather mediocre, since crypto assets can be withdrawn to any other platform, exchanged for fiat and withdrawn.
Key features and benefits of Gate.io
Gate.io has a fairly impressive list of benefits that enable traders and investors to earn more. Some functions from the list are inherent in other cryptocurrency exchanges, but all together they are rarely collected:
Convenient and simple interface, understandable even to those who first discovered cryptocurrency exchanges;
1000+ coins and tokens for trading;
The process of buying / selling is reduced to one click;
The desktop version of Gate.io is also fully functional, as are the mobile apps for iOS and Android;
A large number of cross markets and trading options for each of them;
Ability to copy trades of profitable traders;
NFT market with a number of unique features;
The ability to earn on liabilities through staking and mining;
Taker / maker commissions for transactions, one of the lowest;
Chat online 24/7;
Educational content and a large community to help solve all issues.
Among the features, there are also disadvantages that significantly reduce the impression of working with the platform, but many have found their own solutions to overcome the shortcomings:
Use of Gate.io is limited to residents of Washington DC and New York;
It is impossible to withdraw fiat money;
Floating commissions on deposits.
What services does Gate.io offer?
This list is not all the features that Gate.io offers, we do not want to take away from you the opportunity to make your own discoveries. All of the above affects the quality and profitability of work, as well as the comfort of a trader or investor when working with the platform. Before deciding on certain actions, study everything in detail.
Convenience and simplicity of Gate.io
Simplicity and ease of understanding is the main secret behind the popularity of Gate.io. Some companies overload the interface with the head of the page with multiple offers and options, scaring off novice users. Gate.io has hidden all the advanced tools away from the main page. They do not create difficulties for beginners, and experienced colleagues quickly find them if necessary.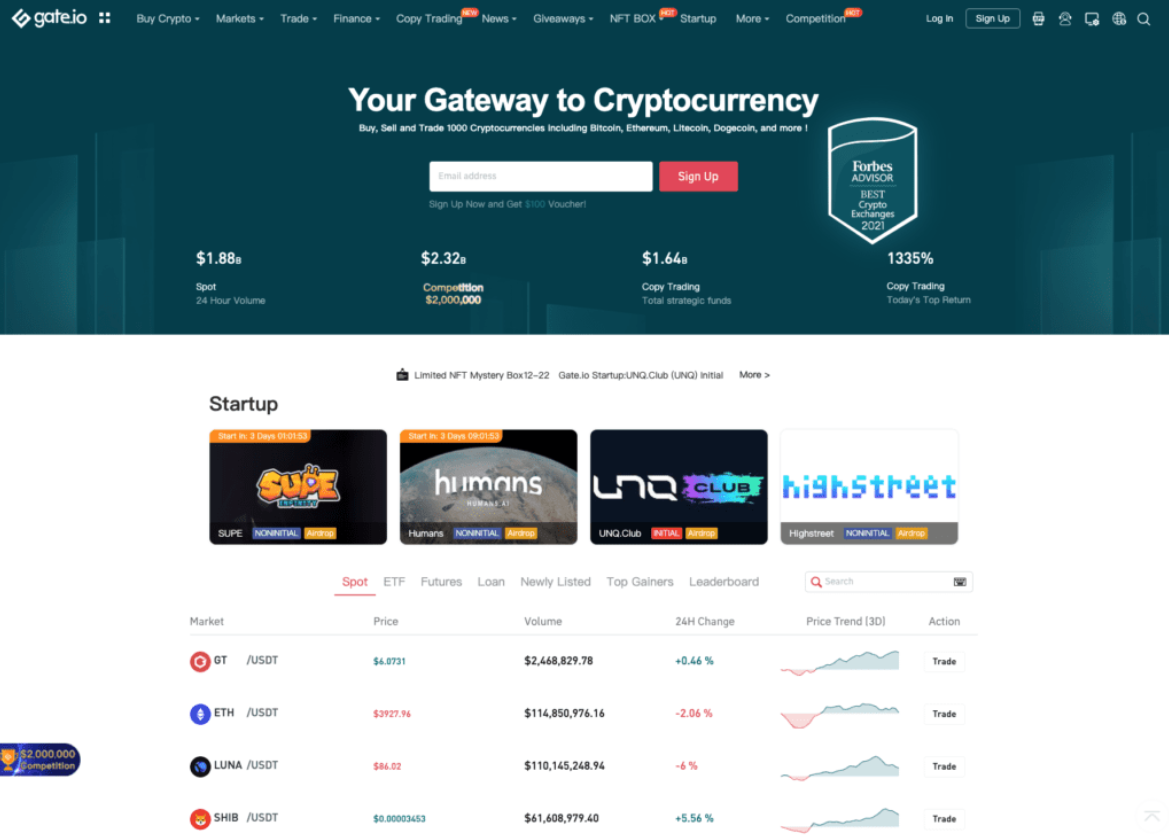 1000+ cryptocurrencies to trade
You rarely see such a number of coins on crypto exchanges. The constant replenishment of the clip of assets with promising tokens and the withdrawal of those that did not live up to expectations allow everyone to invest with a high probability of a good profit. Coins are combined into a variety of trading pairs, so that any token a trader has can be profitably exchanged for the desired trading or investment asset. A wide choice very often causes confusion for a trader. Therefore, before the deal, you need to conduct a competent analysis of the prospects.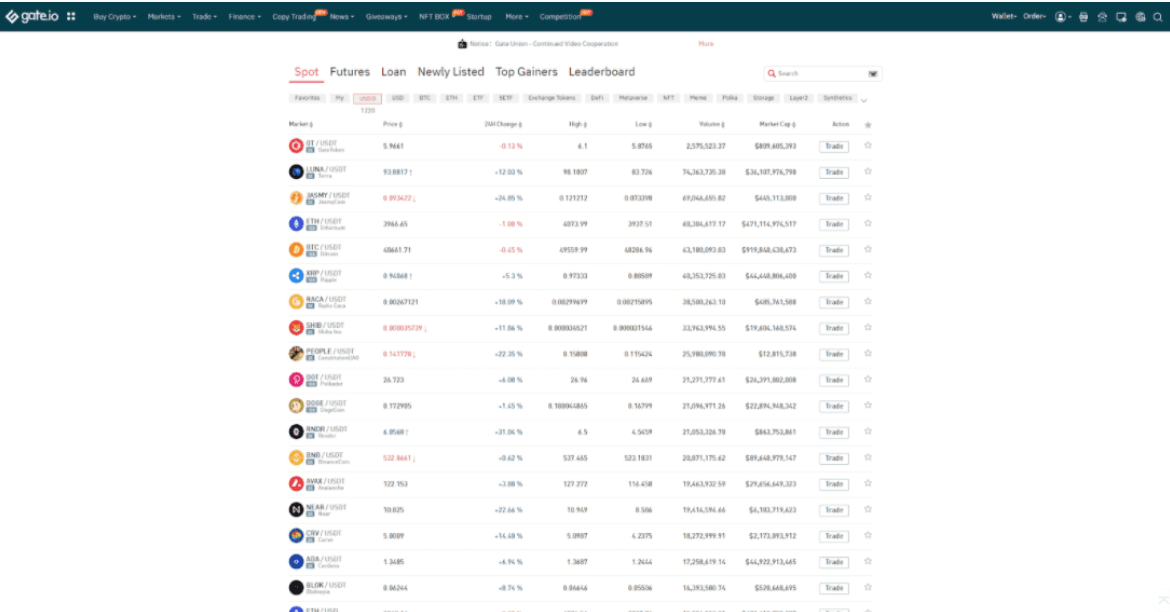 Buying and selling cryptocurrency in one click
The speed of the modern cryptocurrency market does not allow you to waste time on unnecessary movements. Gate.io implemented one-click trading. No unnecessary movements and functions. The desired asset, one click and the transaction is completed.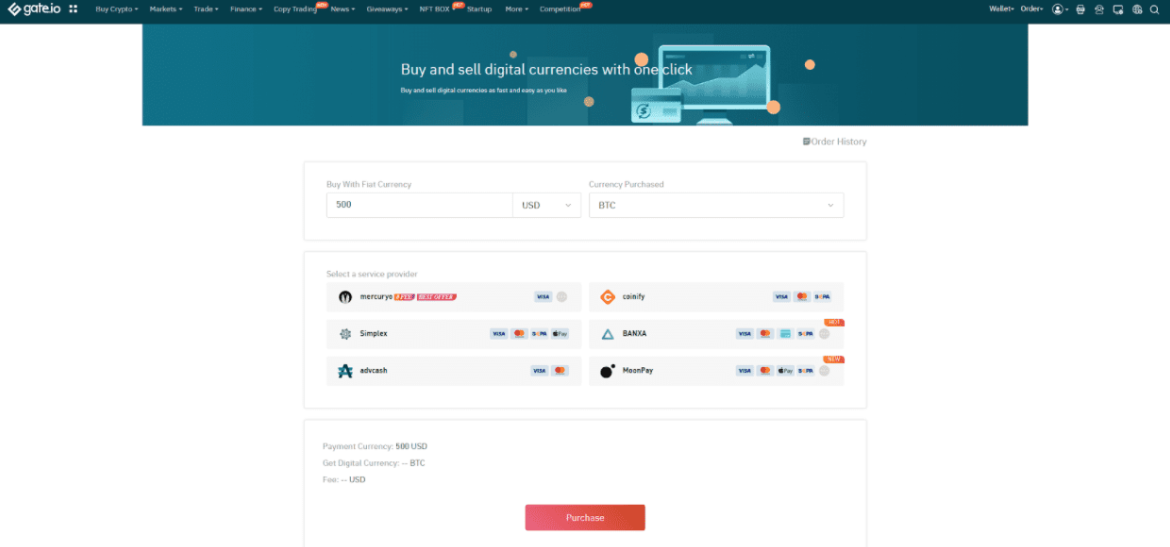 Apps available for Android, iOS and PC
Previously, the ability to trade over the Internet without having to call a broker and draw a quote by hand from a TV tape or radio broadcast made a splash. Today, it is impossible to imagine profitable trading without working with mobile applications 24/7. Gate.io have implemented fully functional applications for their clients. They are safe, convenient, inform about any changes in time and can do part of the trader's work on their own.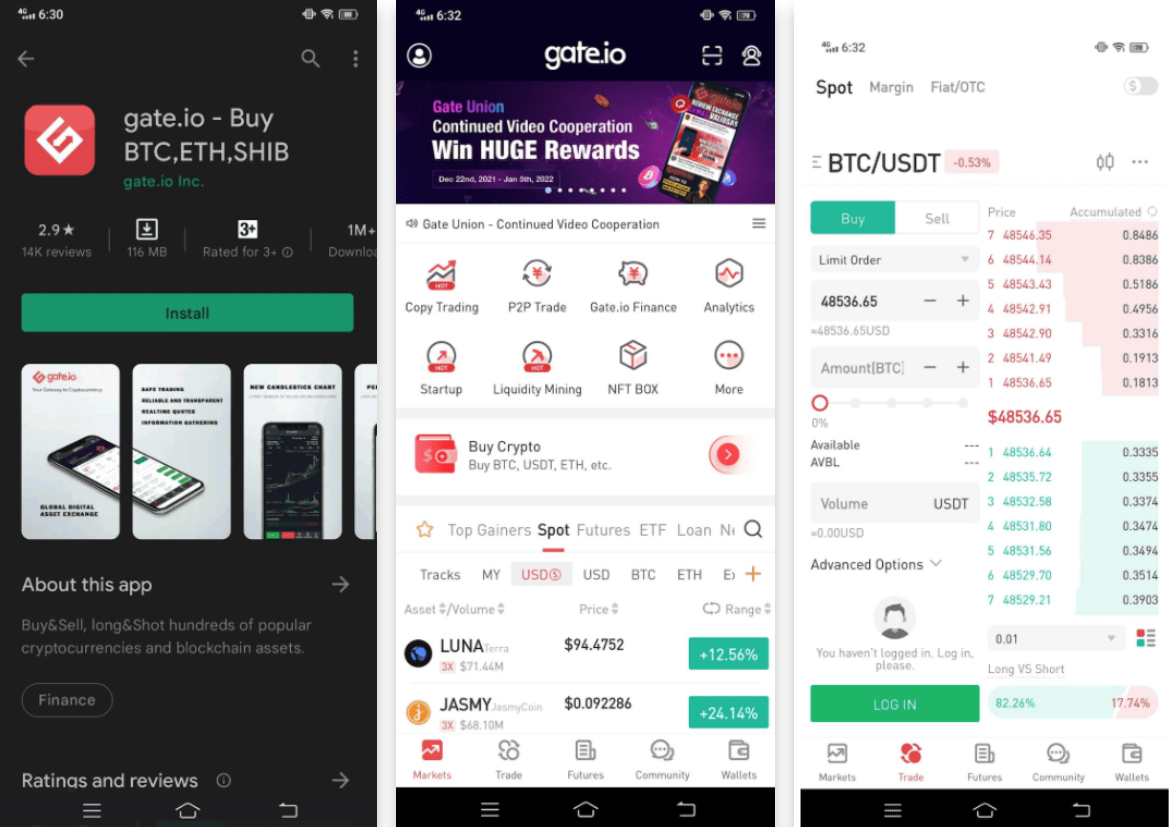 Lots of markets and trading options
The implementation of various new and interesting features on different platforms forces traders and investors to keep many accounts, as well as to spray the deposit in order to be ready to use the opportunities. Gate.io combines most of these features, which reduces the need to work with other companies to a minimum. Among the functionality, a number of key areas can be distinguished:
Classic trading;
Investing, both classic and staking;
Spot markets;
ETF market;
Futures trading;
Margin trading;
Derivatives trading;
The absence of trading pairs with fiat currencies, as well as the possibility of withdrawing them, slightly cloud the impression of Gate.io, but the withdrawal of the necessary assets in a pair with USDT helps to resolve the issue.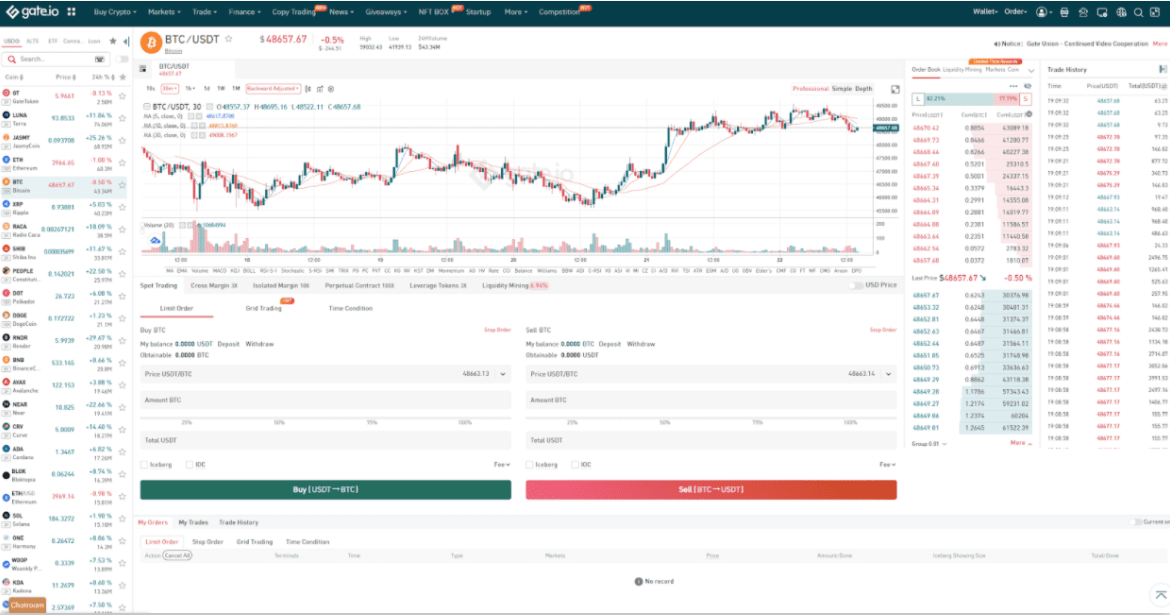 Introduction to copy trading
This method comes from the classic Forex market. Trades of TOP traders become available for automatic copying by other traders for a fee. The more profitable a trader trades, the more followers he has and the higher his profit, therefore, the motivation to trade is even better. Gate.io offers several copy-paste examples from the company's professional traders working with strict risk management and safe loss limits.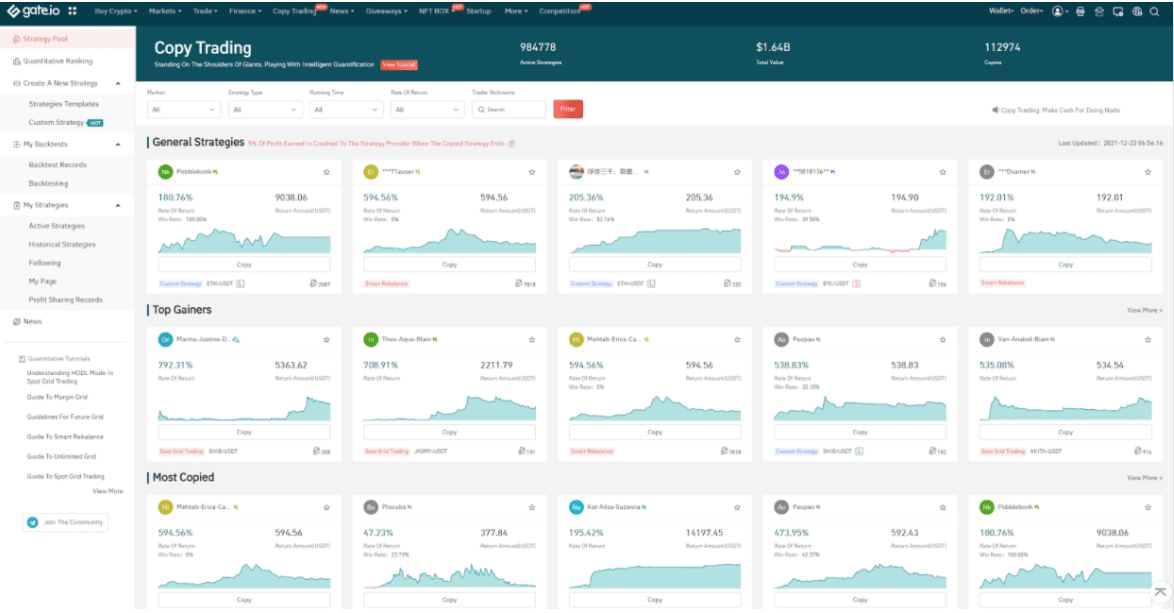 This feature is paid, but paying a reasonable percentage of income for the opportunity to benefit from the experience and analytics of a profitable professional trader is worth it. After choosing a trader from whom you plan to copy transactions, you must invest the amount that you are willing to risk and wait for the results. Each account has profitability statistics in different periods. When you understand your style of trading with the trader chosen for the example, you can increase your balance or open another account with another.
Expanded NFT Market
A new category of crypto-assets, which has recently entered the public life, but managed to make a lot of noise. Sales often reach into the hundreds of thousands of dollars, and the exchanges that were the first to bring the new NFT section to the platform have attracted a huge number of users and made good money.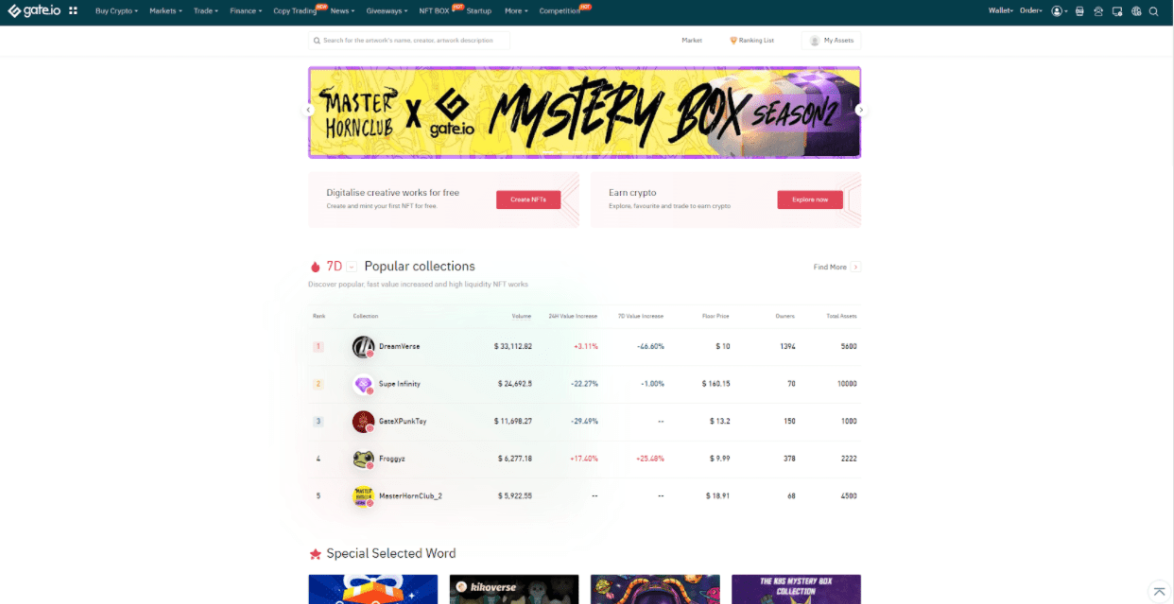 Gate.io was one of the first to integrate NFT into their platform. The range of offers includes thousands of tokens that users buy and sell as they see fit. For creative and persistent clients, the company even offered an NFT token constructor that allows you to create a digital work of art in real time and put it up for auction in a few clicks. To what level the price will reach depends only on you.
Cryptocurrency lending and borrowing
The tool is not new, but appreciated by many thousands of cryptocurrency holders. Borrowing assets that are in an investment portfolio for growth is a profitable solution, since they generate income in the same asset. Gate.io has the ability to both borrow cryptocurrency and lend it at interest.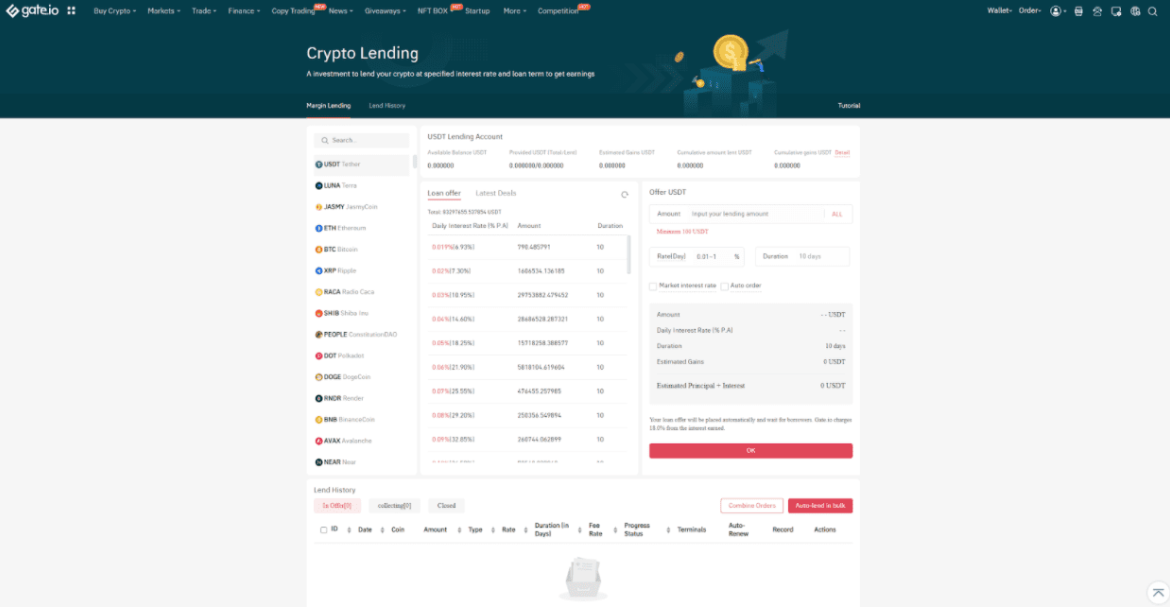 The procedure for obtaining includes checking the account, evaluating the collateral to determine the maximum loan amount and other points. Special attention is paid to the interest rate. Gate.io must make sure that the borrower understands all the risks and is ready to pay the interest on the loan.
Passive income through staking and mining
Staking is already a classic passive investment tool. The cryptocurrency bought with the expectation of growth is blocked on the account with interest accruing, sometimes quite impressive. Payments are made in the same coin and the magic of compound interest significantly increases the profit.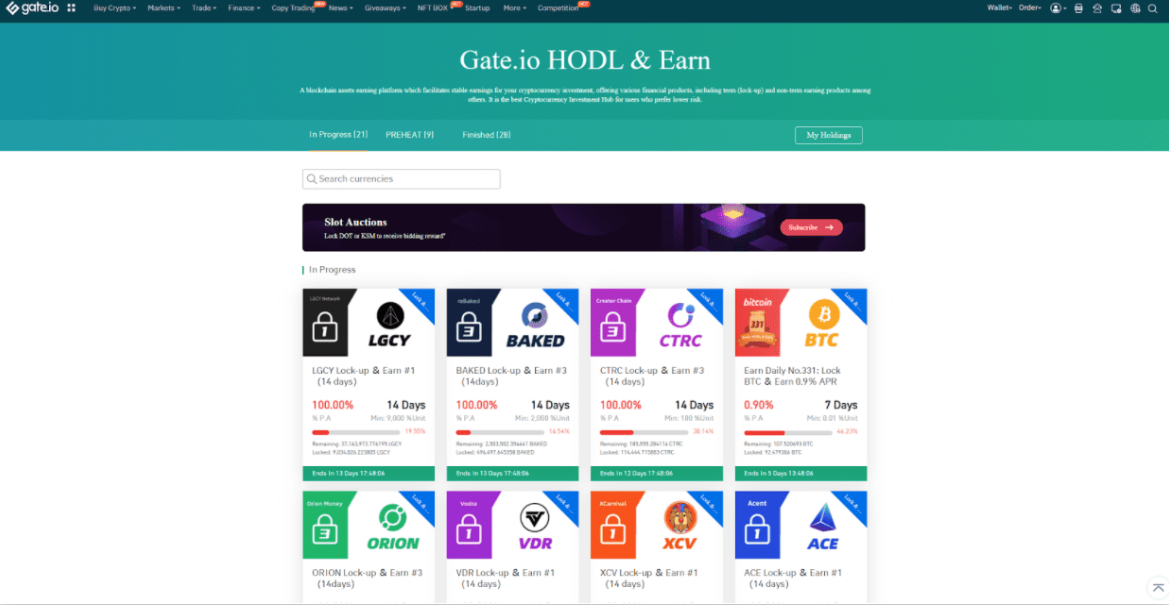 The second usual method of passive income is cloud mining. Gate.io offers to rent computing power, all the profits from which will go directly to the wallet.
Education and assistance
Due to the large number of functions and capabilities, it is quite difficult to understand all the nuances on your own. To do this, Gate.io implemented a special educational section, which includes answers to all questions not only in text, but also in video format, as well as through podcasts.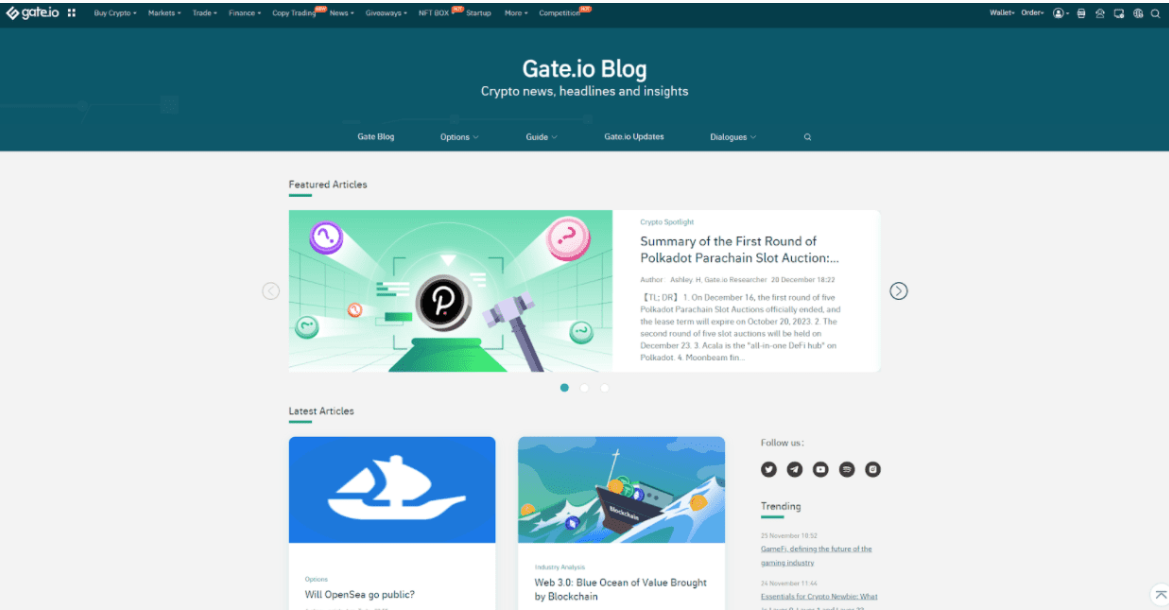 For those who do not find answers in the prepared materials, there is a whole community of exchange users who are ready to help with any difficult questions. Separately, it should be noted live chat in 24/7 mode to resolve issues that brook no delay.
Negative sides of Gate.io
There are no projects that will be ideal for everyone at the same time. Gate.io is no exception, a number of options and solutions from the company repel some users. Consider the solutions and try to parse them.
Restrictions for users in New York and Washington
The fact that Gate.io is available in the US is already attracting a lot of investors and traders to the company, as getting through the laws of the country and each state in order to work legally is still a pleasure in the US. But New York and Washington have left their residents without the opportunity to use the company's services.
No withdrawal of fiat currencies
Withdrawal is carried out only in cryptocurrency areas, which may cause inconvenience to some users. Since there are no trading pairs with fiat on Gate.io, and you can only use it to buy assets on the market or in an exchange machine, this is not a particular problem. To link a trading pair to a more understandable asset, it is customary to use USDT, which is then withdrawn in any direction.
Floating deposit commissions
Since they cannot accept payments into their fiat accounts, they use third-party services that charge transfers with hefty fees, which are often very high and never fixed. It all depends on the currency and the way it is entered to buy cryptocurrency.
Gate.io fees
They play an important role when choosing a cryptocurrency trading platform, especially for beginner traders.
Gate.io deposit fee
Depositing cryptocurrencies is not subject to additional Gate.io fees. Only the cost of the transaction itself on the selected network is paid. For fiat money, Gate.io uses third-party gateways to accept payments, so the fees depend on the method of transfer and the payment system chosen by the user to fund the account.
Gate.io transaction fees
A fixed commission rate for both participants in the transaction of 0.2% brings Gate.io to the average level among competitors in this parameter. With the growth of trading volumes at the end of 30 days, the commission can be reduced in accordance with the percentage chart. You can get an additional discount by staking the Gate.io coin (GT).



Futures trading is free of maker fees and takers pay a fee of 0.05%.
Gate.io Withdrawal Fee
Commission fees depend on the chosen cryptocurrency. Due to the fact that more than 1000 coins are hosted on Gate.io, it is impossible to summarize all the data in an up-to-date table. The list of current fees for the withdrawal of each of the coins is constantly updated on the company's website.
Pros and cons of Gate.io
Let's briefly go over the qualities that the company's customers note when answering the question about the reasons for choosing this particular platform.
pros
1000+ coins for trading;
Industry average trading fees of 0.2% with the possibility of reduction;
Copy trading, which allows you to earn on the experience of professional traders;
Passive income on staking and cloud mining;
Lots of tools for advanced traders;
Margin trading;
Futures;
Crypto lending.
Minuses
There is no way to withdraw fiat money;
Fiat replenishment through third-party companies with an indefinite amount of commission;
New York, Washington DC, and the District of Columbia cannot use Gate.io due to legal conflicts.
Conclusion
Gate.io is a good choice for both trader and investor. A huge selection of assets for active trading and investing in growth, allow everyone to find their own way of working. Passive investments in staking or cloud mining are complemented by the ability to issue assets accumulated for growth on a reliable loan, increasing their profitability and profitability. Copying trades is also a passive investment, but more risky and still requires more attention than staking. The negative is the lack of a fiat money market and trading pairs associated with them. Because of this, an incomprehensible commission for depositing fiat and the complete absence of its withdrawal. To exchange fiat for crypto, you need to have an account on another platform, and to withdraw everything, transfer everything to USDT or other stablecoins.
Frequently Asked Questions about Gate.io
Can you trust Gate.io with your money?
Gate.io is one of the most secure cryptocurrency exchanges in the world today. Security measures are very high:

— High level of cyber security;
— Storage of assets in cold wallets with multi-level verification of transactions;
— Thorough screening of all employees;
— Algorithms for controlling suspicious transactions and actions of employees;
— Multiple account security settings by the user.
Trust money Is Gate.io legal in the US?
Possible without a doubt.
Is Gate.io legal in the US?
Gate.io complies with all federal and local crypto laws in every state. The exceptions are Washington and New York, where it has not yet been possible to reach a consensus on the activities of Gate.io. All other citizens of the country can use the crypto exchange without any problems.
Is Gate.io a good choice for beginners?
Certainly is. Gate.io from the main page of the site shows that it is aimed at beginner traders, since all experienced traders either already trade on it, or at least use it as an alternative platform. The floating commission for replenishing fiat and the inability to withdraw it is partly clouding the impression, but USDT perfectly solves all these issues. Lots of tools for passive income, the ability to copy the trades of experienced traders, as well as the ability to use more complex tools with growing experience in the matter, make Gate.io a great choice.