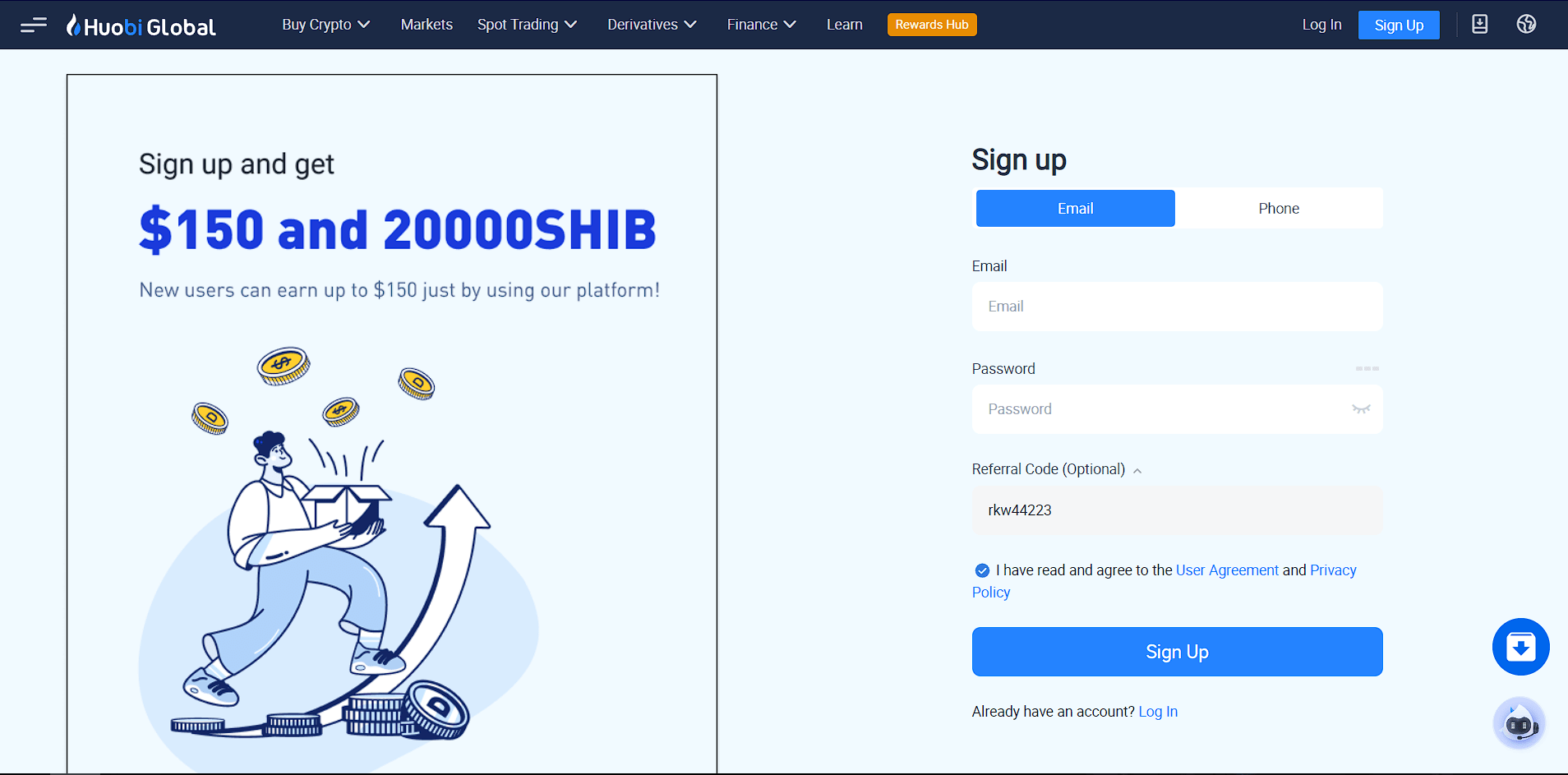 What is Huobi
An interesting feature of the Huobi cryptocurrency exchange is the development of a special version of the exchange for Japan and separately for South Korea. This is due to the language and mentality of these countries. For all other clients, a universal version has been developed with a common interface and working conditions. Nearly 10 years in the crypto business have turned the platform for the exchange of crypto assets into a serious center for trading not only cryptocurrencies, but also their derivatives, such as futures and derivatives. We have collected a number of key reasons why you should, if not choose Huobi as the main exchange for working with cryptocurrencies, then at least shortlist it.
A wide range of assets and their derivatives to work with. Huobi offers over 300 coins and tokens. All assets have high liquidity and sufficient market volatility. It is possible to buy cryptocurrency on the market in an exchange machine, but only the main coins are presented there;
Deposits on Huobi are not subject to commission, moreover, the first deposit in any format is complemented by a pleasant bonus to the account for greater loyalty of new traders. Such a bonus motivates those who have not yet made a choice to make it in favor of Huobi;
Trading for any level of trader's preparedness. For beginners and cautious – a classic spot. For advanced and risky – margin and futures. For the sophisticated – derivative. Each market is filled with options and opportunities that you never get tired of exploring.
What services does Huobi offer?
When choosing a primary or secondary exchange for trading, users make a list of options and features that are paramount, important but not essential, and not important at all. We decided to make the choice easier and compiled a list of services that may influence the choice.
Convenient and simple interface, intuitive to any user;
Buying / selling assets is quick and easy, without additional transitions and complications;
Desktop version and mobile applications with full functionality;
300+ cryptocurrencies, as well as their derivative trading instruments and derivatives;
Low commission for takers and makers;
Exchange machine for popular cryptocurrencies;
Nice bonus system integrated into the service. The more you study the Huobi crypto exchange and use the maximum of its capabilities, the greater the bonuses will be.
It is possible to use trading algorithms and bots;
Possibility of buying and selling assets in P2P format;
The ability to receive and issue loans and borrowings in cryptocurrency;
Block of training and useful materials;
Special conditions for clients with a large trade turnover;
Negative moments of Huobi crypto exchange
The exchange is not available in the US, nor for US residents;
Withdrawal of funds is subject to a commission;
There are no trading pairs with fiat currencies and no market for them;
How does Huobi work?
Consider the key blocks that you need to pay attention to when choosing a crypto exchange.
Platform convenience
The simplicity of the key processes of buying and selling crypto assets is the main advantage over other companies, as well as a priority for traders. No one wants to perform meaningless actions over and over again to open or close a deal. In the "Buy Cryptocurrency" section, more than 300 assets are immediately placed, which are bought and sold in a couple of clicks.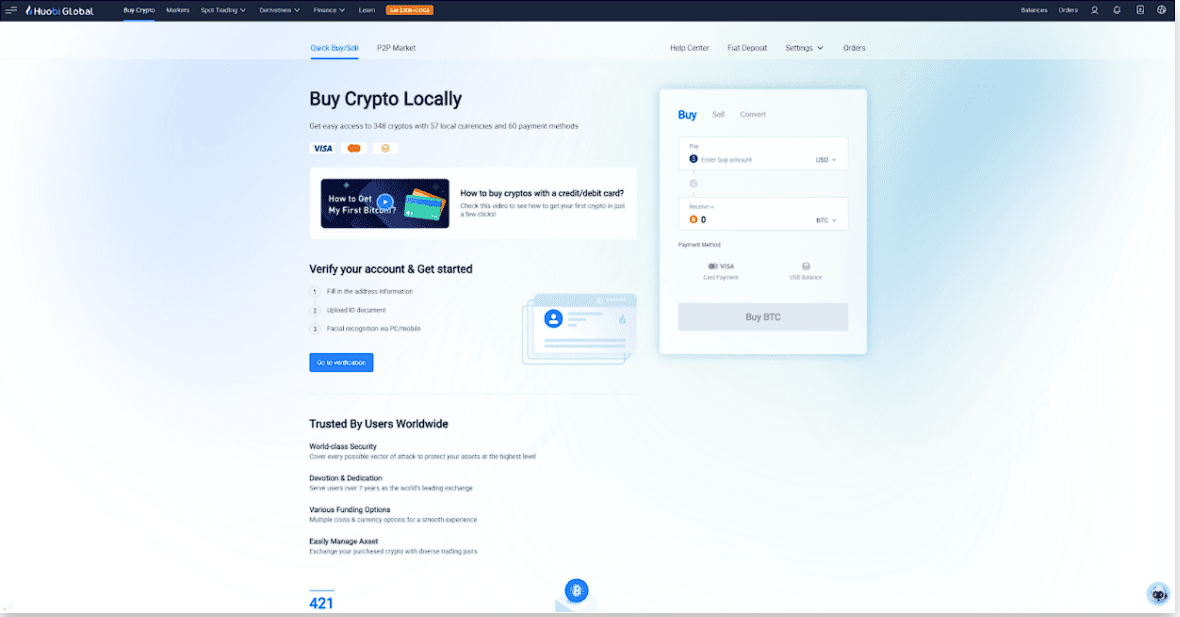 Deposit and withdrawal
You don't need to calculate double conversion or additional fees to fund your account or buy cryptocurrency on Huobi. There are more than 60 payment methods and they include not only bank transfers or the use of VISA or Mastercard cards. For the main regions of the world, convenient replenishment methods are presented.
Application for Android and iOS
The mobile version of the Huobi trading platform has full functionality. Includes tools for analysis and work with trading charts and other features. The functionality of the applications is 95% consistent with the desktop version, which allows traders to always be in touch and quickly respond to market changes. In stores, the number of downloads of the application has exceeded 5,000,000 and does not stop.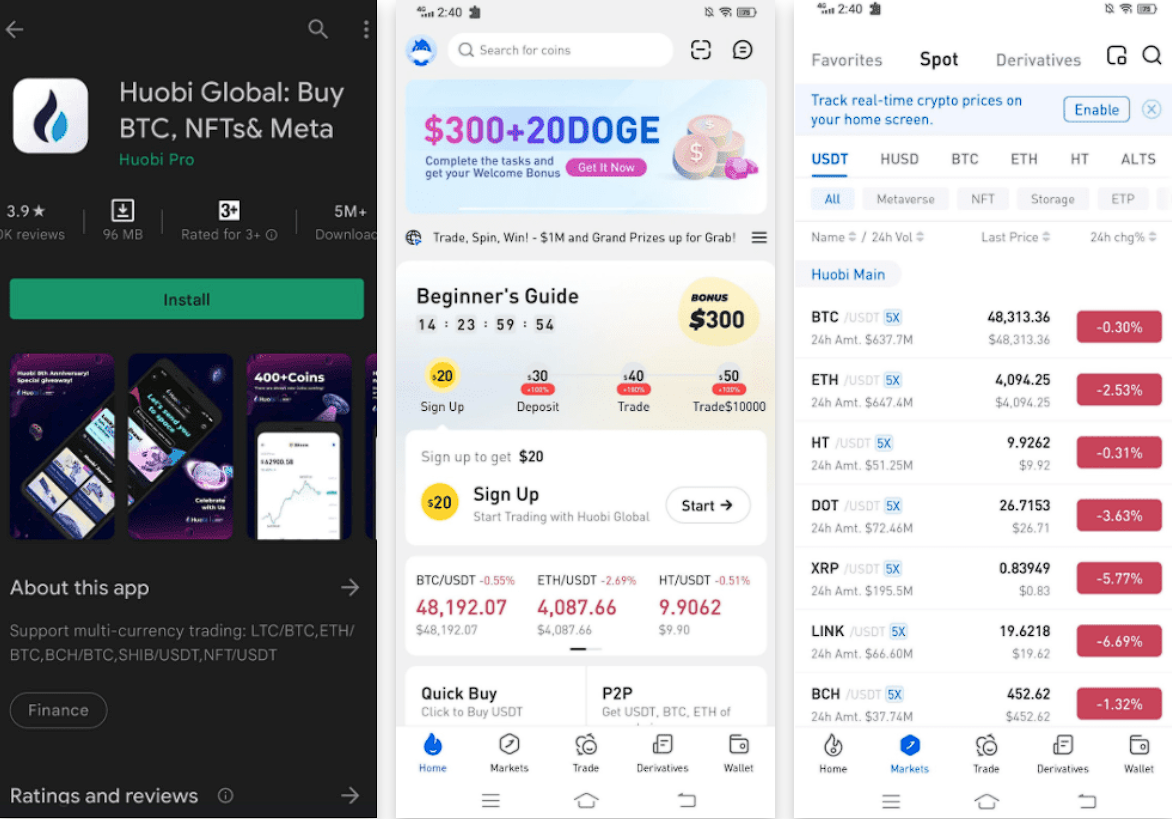 300+ cryptocurrencies to trade
Working with different assets, especially those traded in opposite directions, is undoubtedly important for profitable work with the market or diversification of the investment portfolio. More than 300 cryptocurrencies – enough for even the most sophisticated traders and arbitrage specialists.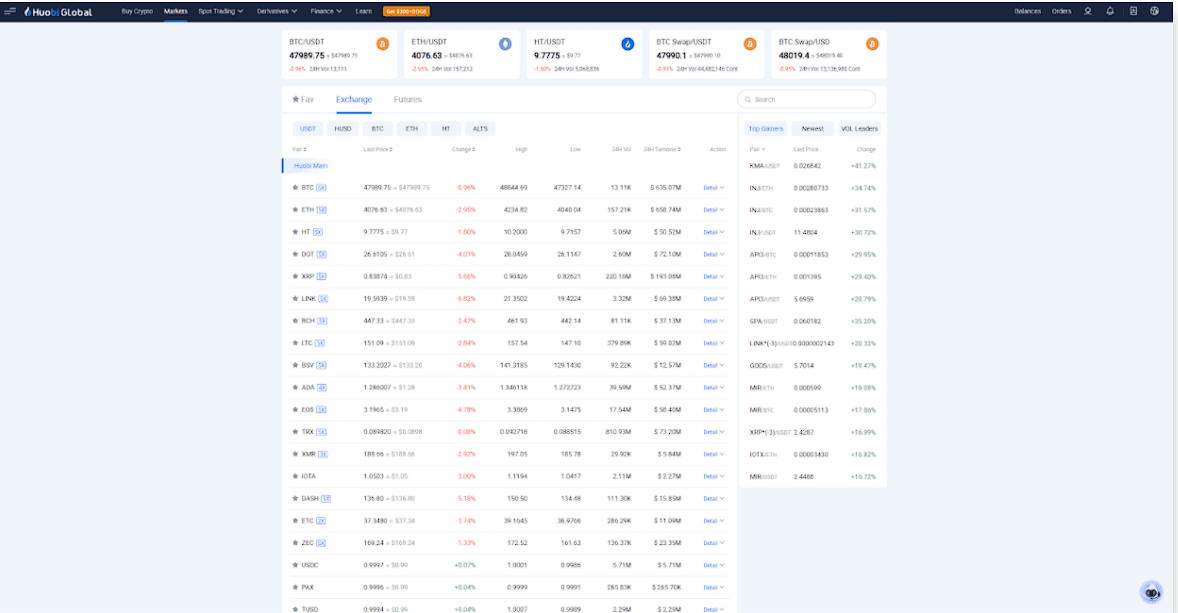 A significant part of cryptocurrencies is available for purchase instantly, through replenishment of an account on the exchange, which makes the process of creating a portfolio very simple. The work is carried out with assets that have a stable trading interest and volatility. New coins are periodically added to the listing.
Fast exchange and swap trading
Any coin from the listing can be converted to USDT and back in just a few seconds, and after a couple of minutes, as the transaction goes through the network, the asset will be in the corresponding wallet.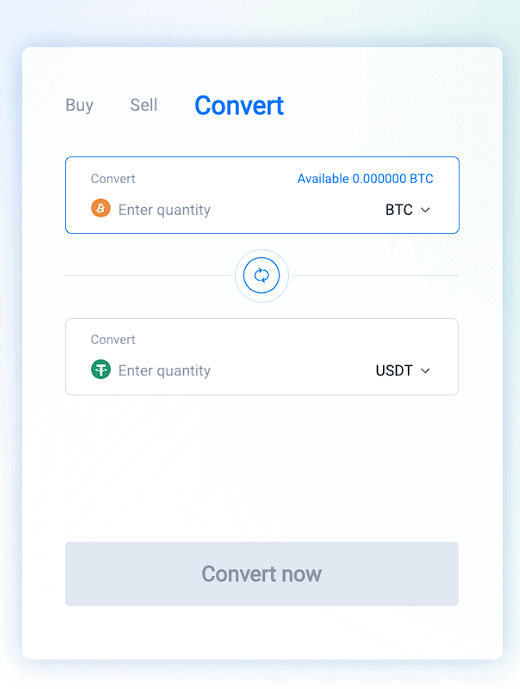 High interest staking
Earnings on staking are a common thing in the crypto industry, especially among those who form an investment portfolio for a long period. Interest is paid in the staking currency, and when it rises in value, such deposits become doubly profitable, in addition, do not forget about the compound reinvestment rate. Interest rates on staking range from 2% to 15% per annum, which is above the industry average. Not all coins from the listing are available for this type of investment placement.
HUOBI reward system
Bonuses and promotions are a favorite thing for users of any services and companies. The crypto industry is no exception. Huobi offers various promotions and cash vouchers for non-registration, first deposit, spot transactions and other services, especially those that are just being introduced on the platform.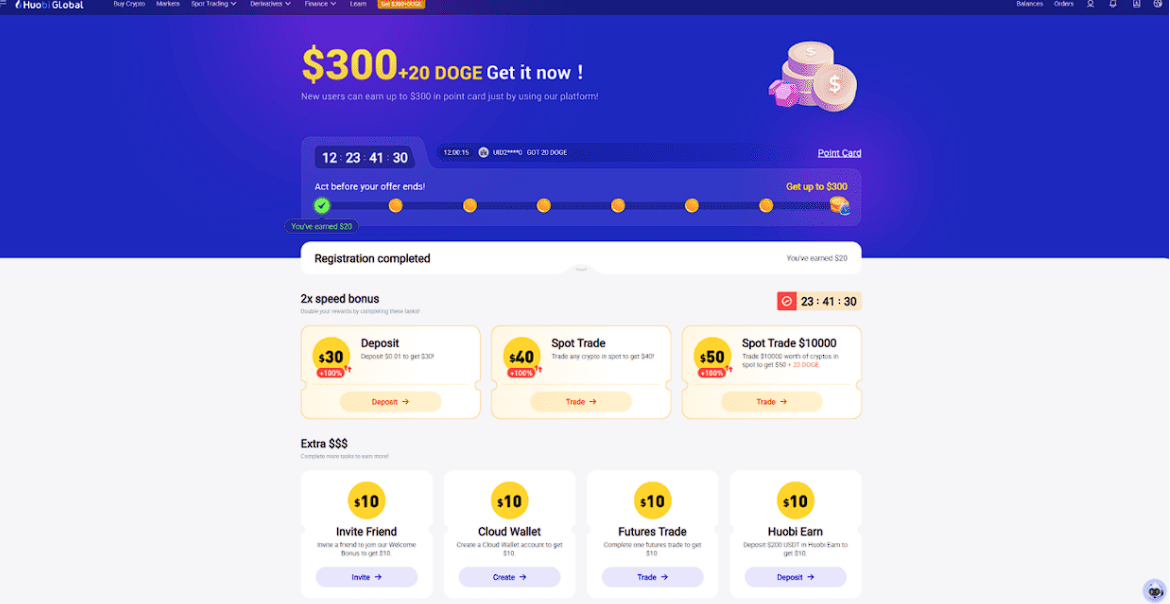 Huobi Referral Program
Attracting new users to the platform is rewarded by almost any company. Huobi is offering its customers a $10 bonus for each referral through a unique referral link. A careful study of the materials on the work of the affiliate program and the conditions for receiving and withdrawing rewards will allow you to earn extra money without much effort.
Bot trading
Automated trading according to a given program in the field of cryptocurrencies was only a dream a few years ago. Today, Huobi, like a number of similar platforms, has implemented a project that allows you to set up complex algorithms for asset trading without the participation of a trader. Each participant has the ability to fine-tune the algorithms for making transactions to maximize profits.
Buying and Selling P2P
The P2P market is implemented in order to enable the purchase of assets by users from those countries whose payment instruments are not supported by the Huobi cryptocurrency exchange. The created market allows you to buy and sell assets privately by placing offers or accepting one of those placed by other participants in the process.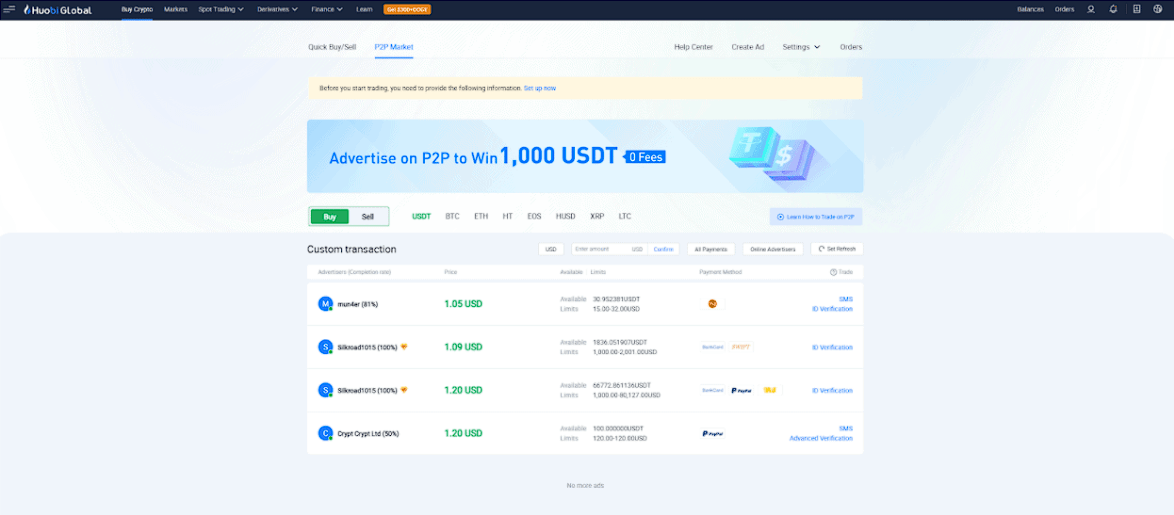 Offers include a wide variety of currencies and payment systems for transactions. Huobi acts as a guarantor for such transactions. Even if you didn't manage to find a profitable direct purchase offer, you can always buy USDT and later exchange it for tedious assets.
Crypto loans and loans
Crypto lending is not particularly popular among crypto exchanges, but is in demand among entrepreneurs and investors in the industry. It allows you to get a loan secured by assets listed on the exchange, which will be frozen until maturity. All information on the loan rate and potential for profit is formed when creating a loan request.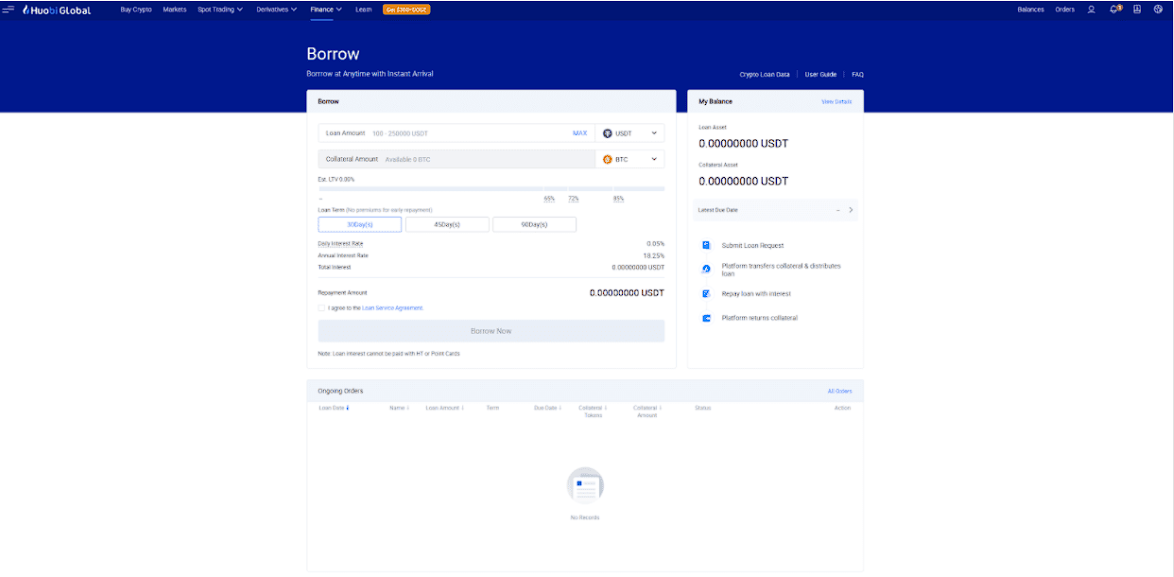 Trading options
The classic buying/selling of cryptocurrencies has not surprised anyone for a long time. The maximum profit is derived from cryptocurrency derivatives, which were implemented by major Forex and stock market players several years ago:
Margin trading;
Futures trading;
Derivatives;
Spot transactions;
OTC contracts for large transactions.
Training and help from Huobi
It is necessary to study the industry and new profit opportunities not only for beginners in the subject, but also for experienced traders, since new trading methods, derivatives of crypto assets and other points are constantly appearing that will help you get more profit with less risk.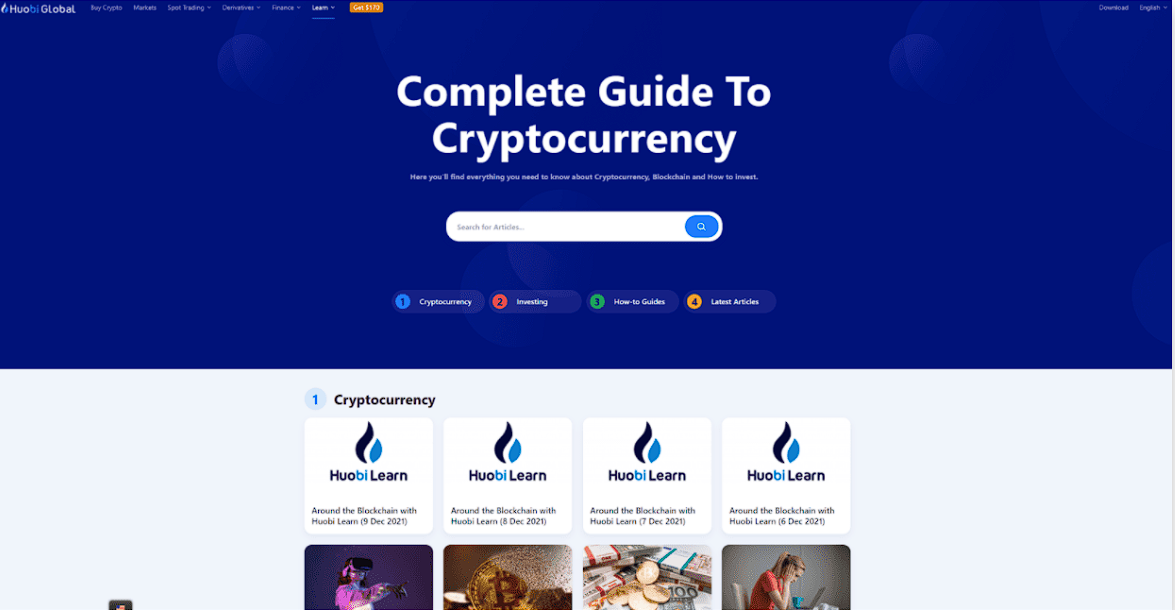 Huobi has created a whole section for those who want to learn, which is constantly updated with new materials and other useful information.
Premium Customer Support
Live chat is one of the conditions for choosing an exchange by many traders, especially beginners, since they most often have a misunderstanding with the interface or some actions on the platform, and there is not enough endurance to solve everything via mail or look for information in help blocks. Huobi offers Live chat 24/7 and even if they can't reply at the moment, be sure to get back with a reply as soon as they can.
Negative aspects of the Huobi cryptocurrency exchange
There are not many of them at all, but you need to know about them, as this may affect the profit of trading.
Country Restriction
Derivatives trading is banned in a number of countries, such as China and the UK. This imposes restrictions on working with Huobi for many investors looking for a reliable platform to work with. This is especially true for the United States, whose residents are prohibited from any activity on the Huobi platform.
Withdrawal fee
This is a very important point, because it is not paid attention to when registering and getting started, but on Huobi it can be a stumbling block, especially for novice traders. Huobi withdrawal fee is not fixed. Moreover, it is not tied to the exchange rate or something that can be predicted. The wording of the amount of commission fees for withdrawing funds looks like this – the amount depends on the market situation. That is, with one development of the situation, the commission becomes exorbitant and makes all trading meaningless. In another situation, it turns into such an insignificant value that it can be ignored, but there is no explanation when and for how long both of these events will occur. This is a very big negative. Huobi listings do not have trading pair options against fiat currencies.
Huobi fees
They can be different, both beneficial for customers and not. The size and variety of commission payments affect the popularity of the company among traders, especially beginners. All deposits from any destination are free of Huobi fees.
Withdrawal fee
Huobi does not have a fixed withdrawal fee. The exchange charges its users according to market conditions, it does not matter if it is fiat or cryptocurrency. You need to be very careful about this moment, since there is no binding to any generally accepted variables.
Huobi Transaction Fee
Transaction fees on Huobi are fixed at 0.2% for both takers and makers. The fee can only be reduced if the HT token owned by the company is staked. The minimum stake size is 10 HT, which reduces the commission by 10%. The maximum discount is obtained from the placement of 5000HT and is 65%.
Huobi pros and cons
They are present even in seemingly the most convenient and correct companies and services. Huobi is no exception. Let's start with the positive qualities of the exchange:
300+ cryptocurrencies in the listing of the company;
The possibility of depositing and withdrawing funds in fiat money;
Live chat 24/7;
Incentives for using all the functionality of the exchange, promotions and staking;
Desktop version and fully functional mobile application;
Possibility to reduce fees by staking HT coin;
Lending.
Negative qualities of Huobi:
Withdrawal commission is undefined and not tied to generally accepted variables;
There is no market for trading with fiat pairs;
The exchange does not work with US residents;
Conclusion
Huobi Cryptocurrency Exchange is an excellent choice for those who recognize the wide potential of opportunities and are ready to take calculated risks in transactions. 300+ cryptocurrencies provide all the possibilities for this. Working on the platform is simple and safe, a fixed commission for activity of 0.2% for each of the parties to the transaction is a good indicator, in addition, it is not difficult to reduce it by staking the HT coin. Promotional offers, rewards for learning the platform and a profitable affiliate program make the work interesting and new every day. In addition to classic trading, Huobi also offers trading in derivatives, futures and margin instruments. For some countries, the functionality is limited, but there are always ways to achieve your goal.
Frequently Asked Questions
Is Huobi a safe exchange?
Security is top notch here. Cold storage, where the main assets are stored, introduced to the platform have a multi-signature, that is, the consent of several independent controllers is required to approve the transaction. It does not make sense for a third-party hacker to spend resources on hacking, the results will be zero. From the inside, security is also on top thanks to the verification and periodic checks of each client. Any suspicious activity is recorded and checked. Also, the funds of all customers are completely safe.
Is Huobi available for US residents?
Huobi global does not work with the United States due to complex and more elaborate legislation in the field of cryptocurrencies. However, US users can use the HBUS satellite service designed to comply with US laws. There are a number of limitations and not all the functionality, but what is there is enough for profitable work.
Is Huobi adding new cryptocurrencies?
Yes, listings are constantly being added to the platform. Once a coin or token proves stable and has good volatility, Huobi lists it.