What is Kraken
The Kraken crypto exchange is one of the oldest in the world. Opened in 2011 under the jurisdiction of the United States. At the moment, more than 120 cryptocurrencies are circulating on it, combined into convenient trading pairs. Kraken supports the major fiat currencies found in trading pairs and can also be traded as an instrument. Among other things, there are popular features for customers:
Staking;
Margin trading;
Futures contracts.

The huge number of users of the Kraken crypto exchange is due to low fees, high reliability of the company, security measures and intuitive ease of use.
How does Kraken work?
First of all, you should understand that the Kraken cryptocurrency exchange is designed for the widest possible coverage of users. To facilitate the development of beginners, a very simple and intuitive interface has been implemented. Clients who are somewhat familiar with trading, but not ready to dive headlong into it, are attracted by the opportunities of staking and margin trading. Separately, you need to highlight the live chat 24/7 with support for many languages. Three main features of Kraken are formulated from this:
More than 120 cryptocurrencies combined into convenient pairs. There are not as many of them as on other platforms. Only the most popular in terms of trading volumes and liquidity are collected. Each of the offered coins is guaranteed to be present on any self-respecting crypto platform. Kraken is constantly looking for new assets and periodically adds them to its listings.
Fees for a 30-day trading period on Kraken are lower than the industry average. Maker – 0.16%, Taker – 0.26%. The larger the total trading volume, the lower the commission fees. For TOP clients of makers, they can go down to 0.0%, for takers up to 0.10%.
Crypto exchanges have almost stopped trying to fill the list of services with everything possible in pursuit of the number of customers and concentrate on specific areas in order to become the best in them and lure everyone for whom this area is a priority. Kraken offers the following features in addition to trading key cryptocurrencies.
Margin trading – for those who are ready to raise rates;
Futures trading – for those who know how to make forecasts and wait;
Staking – for users looking for a safe investment;
OTC services, which we will talk about in more detail in the course of the text.
Key features and benefits of Kraken
To comply with the requirements of US regulators, the Kraken cryptocurrency exchange has implemented a number of features that have become its big advantages over other platforms. Consider the main ones:
120+ cryptocurrencies in circulation;
Trading commissions are below average with a floating scale;
Convenient and reliable mobile applications;
The ability to buy cryptocurrency directly for fiat money;
The ability to place trading orders for the future or instant transactions on the market;
Staking in both crypto and fiat for a stable profit;
Support in all major languages ​​online 24/7;
Kraken Terminal – trader's chart and analysis tools;
Forex transactions;
OTS – a table for large transactions with personal conditions;
Margin trading;
Futures trading.
What services does Kraken offer?
Searching for a crypto exchange to start trading or allocate assets can lead a trader to a dead end with dozens of offers. How many exchanges have sunk into oblivion, and even more loudly declare their appearance. But it is better to give preference to those who have gone through crises and stayed afloat. Kraken is such a company. Let's define the key services that the Kraken cryptocurrency exchange offers, and you can compare these theses with other offers. This will greatly simplify the choice of a platform for trading cryptocurrencies.
Low trading fees
Fees on Kraken are below market average. Takers pay 0.26%, makers 0.16%. At the same time, the scheme of commission fees is floating, focusing on the volume of trade over the past 30 days. With high trading volumes, fees are reduced to almost zero.
Over 120+ different cryptocurrencies
Crypto exchange Kraken does not fill the trading terminal with hundreds of cryptocurrencies that will not last even several months on the market. Support for 120+ coins is a tribute to the stability, market volatility and liquidity of each asset. The company's clients include traders with very high trading volumes representing banks and investment funds. Each of their transactions is a test of the volatility of the exchange for strength.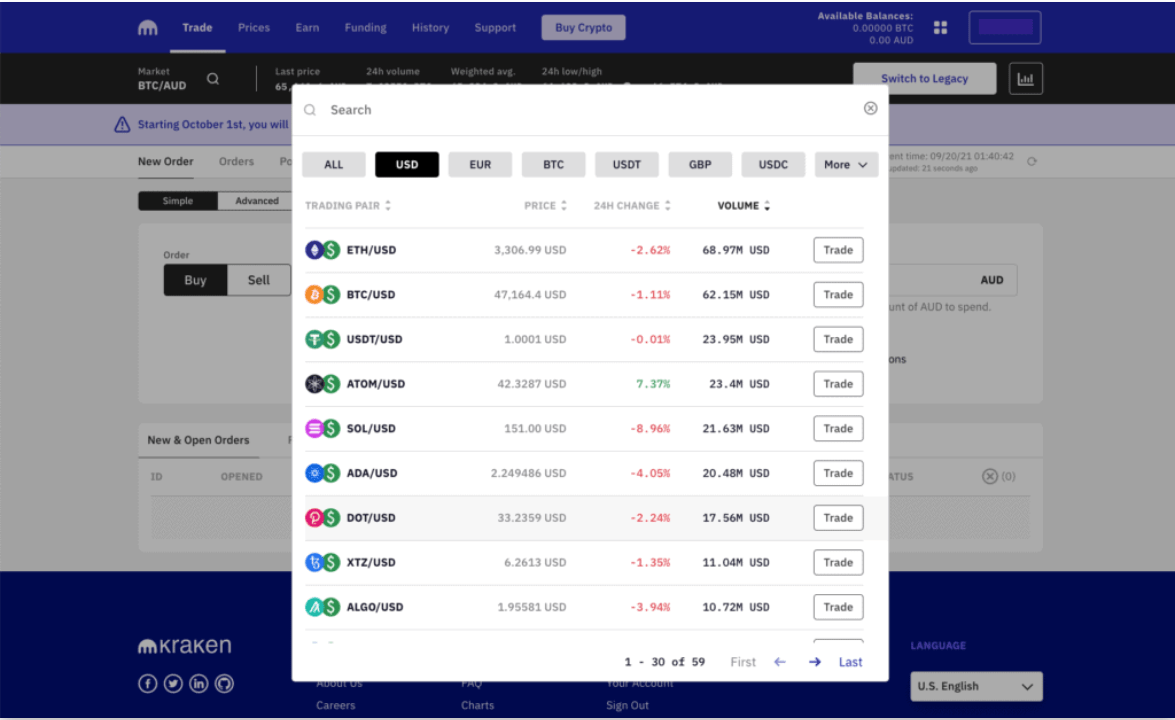 Each coin traded on Kraken is necessarily present on other platforms, so arbitrage or deposit transfer between the pool of used crypto exchanges will go without problems.
Mobile apps for iOS and Android
It is difficult to surprise traders today with a functional application for mobile devices, but it is not easy to ensure proper account security, especially if the client himself makes a mistake. Kraken implemented three applications at once, each of which is focused on its own line of business on the platform, and does not overlap with the means and methods of access with others.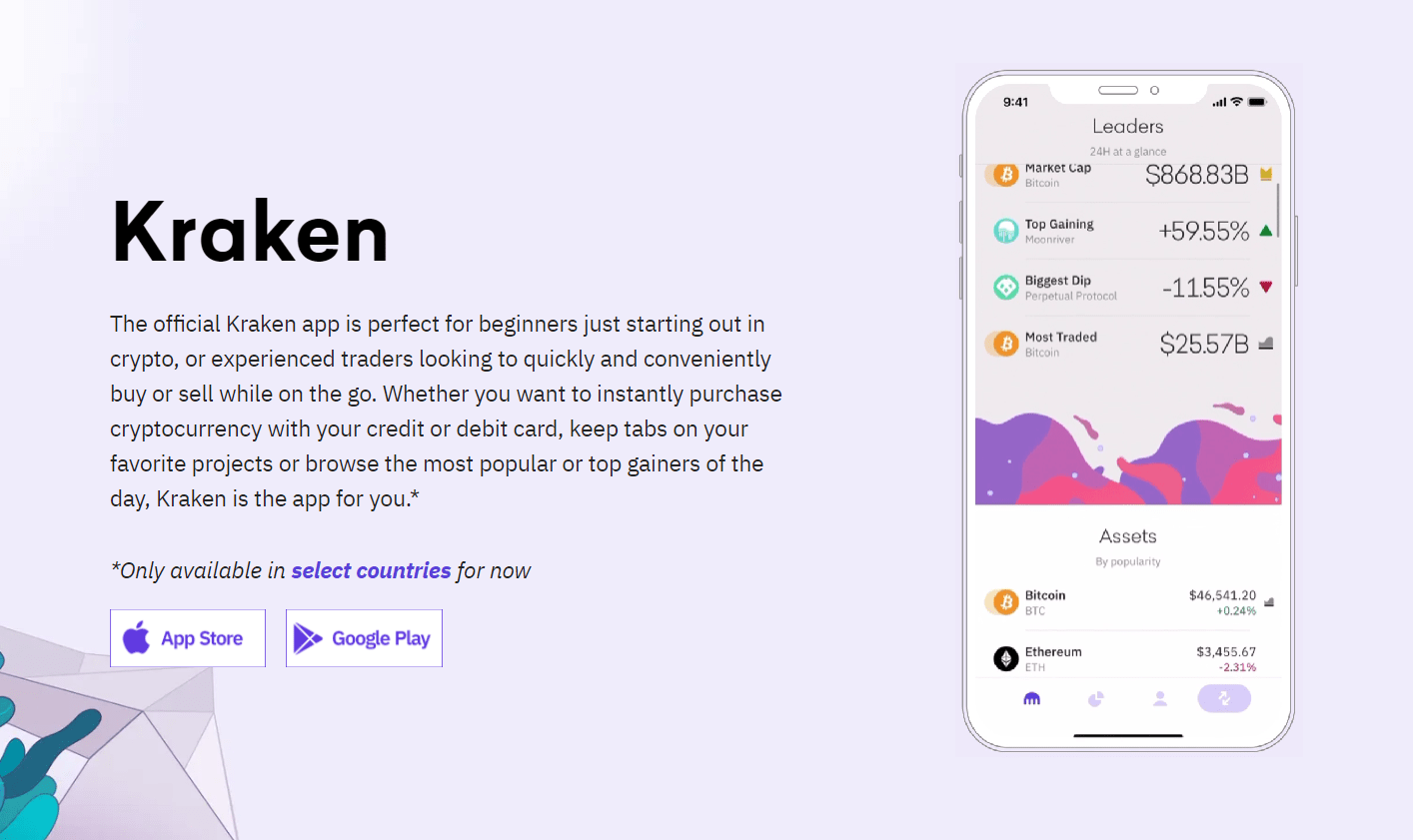 The classic Kraken app. Over 500,000 downloads with a 4.2 rating. All functions for monitoring the situation and timely response;
Kraken Pro is for sophisticated traders on the move. Here, the functionality of analytics is expanded and there is a leverage of 5x for margin trading.
Kraken Futures is a special direction for those who trade in the futures market.
Buying cryptocurrencies with fiat currencies
Crypto exchange Kraken supports 7 fiat currencies. This allows you to make transactions for the purchase of cryptocurrency in the listing of the exchange without the need to first convert it into another, losing on commission, or first in BTC, and then in altcoins. The purchase of crypto for fiat is implemented directly on the Kraken exchange itself without providing access to third-party companies or gateways. A purchase can be made both at a fixed rate from Kraken itself, or you can place an order to buy at the desired price. You can also trade through pairs, with fiat money. Each specific fiat currency opens access to buying or trading only with a number of coins. For USD, you can buy any coin, and then, depending on the popularity of the currency, the number of trading pairs with fiat drops. But the ability to exchange fiat among themselves,
Buy cryptocurrency with Kraken
For traders, both the classic trading model is available, through orders in the trading glass, and the ability to instantly purchase the desired asset at a price fixed at the time of the transaction. The same goes for selling. This service is oriented. Both for beginners in trading, who may not immediately understand the intricacies of placing trading positions, and for arbitrageurs, for whom the speed of the transaction is very important. This option is subject to an additional commission of 1.5%. The commission for standard market orders remains unchanged for beginners, without trading volume and ranges from 0.16%.
Kraken support 24/7
This option is not often found, even on exchanges included in the TOP 10 of various ratings. A large number of users on the platforms, as well as a variety of complexities in working with systems, technical errors and the human factor does not allow creating support with live people in real time. Solving pressing issues with a bot that links to a Wikipedia article or a forum page.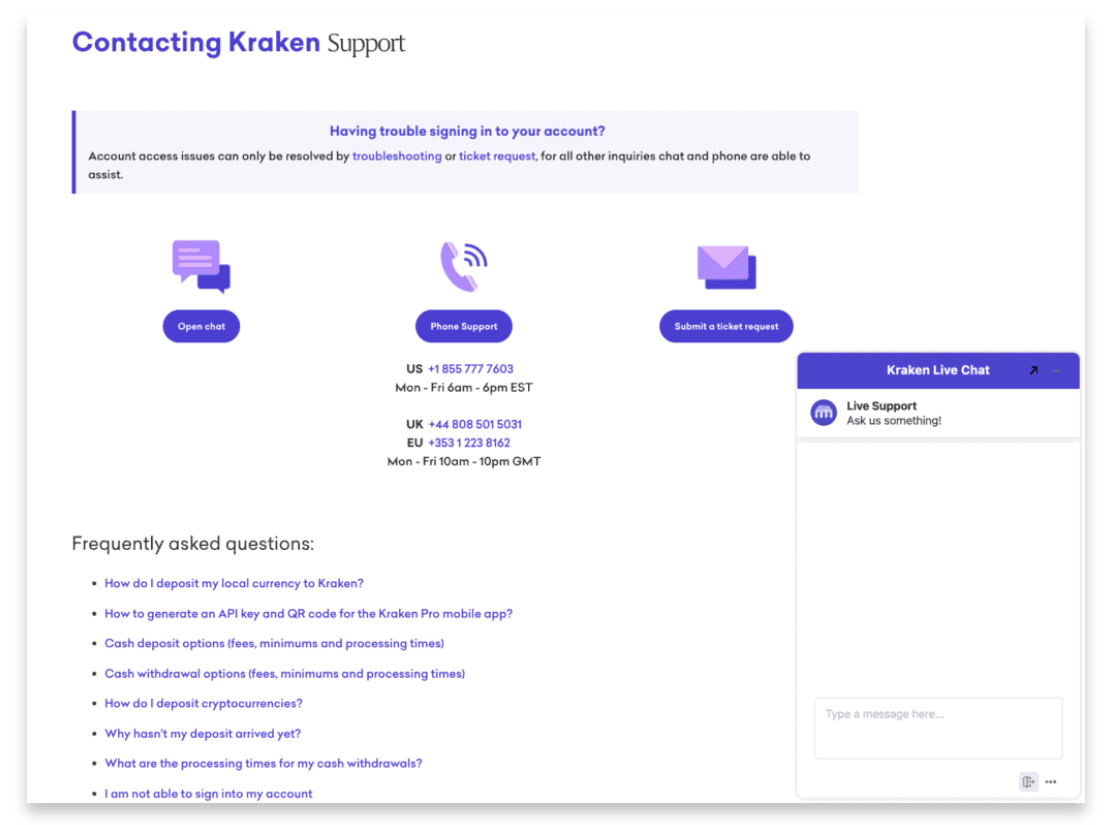 Kraken has invested heavily in building the support infrastructure. Live Chat responds very quickly, the employees are competent in all the main difficulties that arise for customers, and technical problems are quickly resolved.
Kraken Terminal
Own trading terminal, an important feature of the Kraken cryptocurrency exchange. It is filled with variations on creating your own chart display styles, indicators, tools for drawing price forecasts, and so on. Information about trading volumes and orders placed by the trader is also available.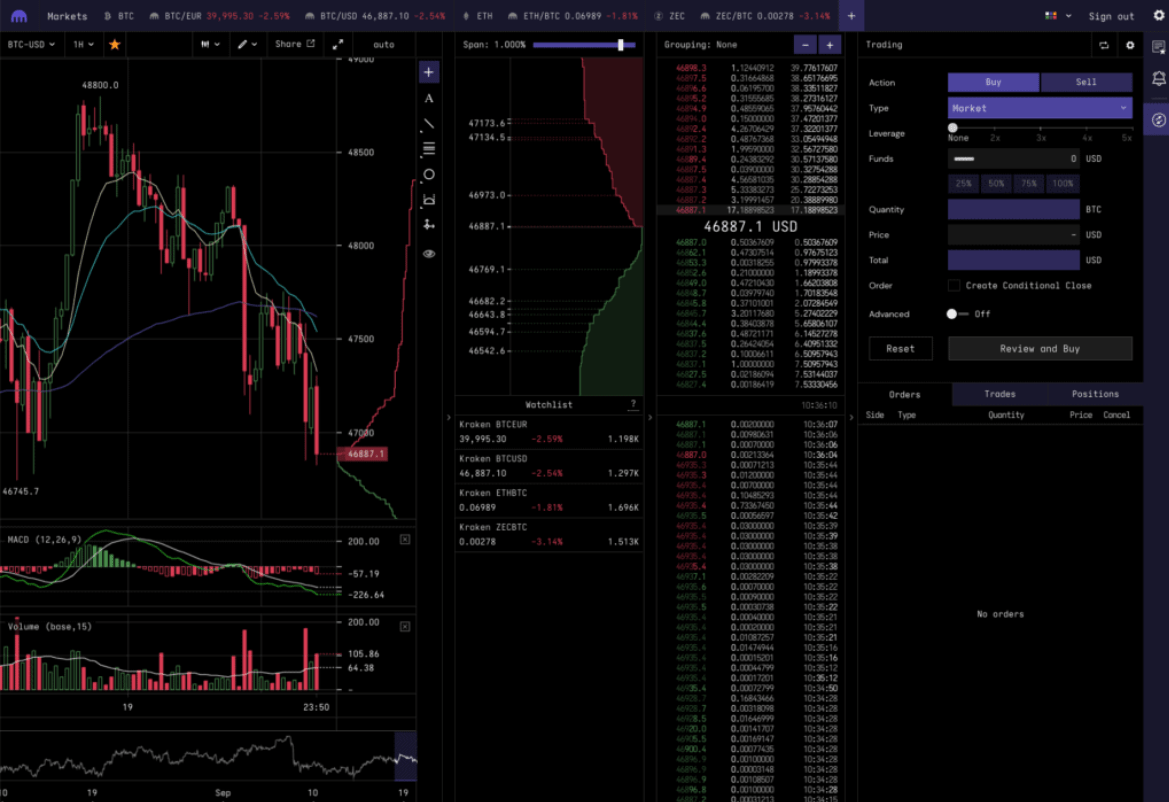 Additionally, it is possible to visualize past trades on the chart. This helps to determine the correct entry and exit times for a trading strategy. This feature of Kraken is highly requested by experienced traders and those who came to the crypto industry from classic Forex.
Margin trading and futures trading
These two directions have firmly entered the clip of trading tools for making a profit. Margin trading is considered more risky and only fully verified users have access to it. Kraken offers long and short positions on a range of cryptocurrencies with 5x leverage. Transactions are subject to additional commissions. The Kraken futures market includes the main coins:
bitcoin;
Bitcoin Cash
Litecoin;
Ethereum;
Ripple.
Each of them has a leverage of 50x.
Staking
Investing in a classic fixed-rate deposit in the crypto-currency industry did not find much response in its infancy. But today, the opportunity to earn income on coins bought as investments for the medium and long term, receiving additional profit in the same coin is a great opportunity to safely increase capital and protect it from emotional decisions. An important point is the frequency of payments. If you find a balance with favorable interest and frequent payments with subsequent reinvestment, the profit on compound interest will be noticeably higher than stated in the column when opening a staking position.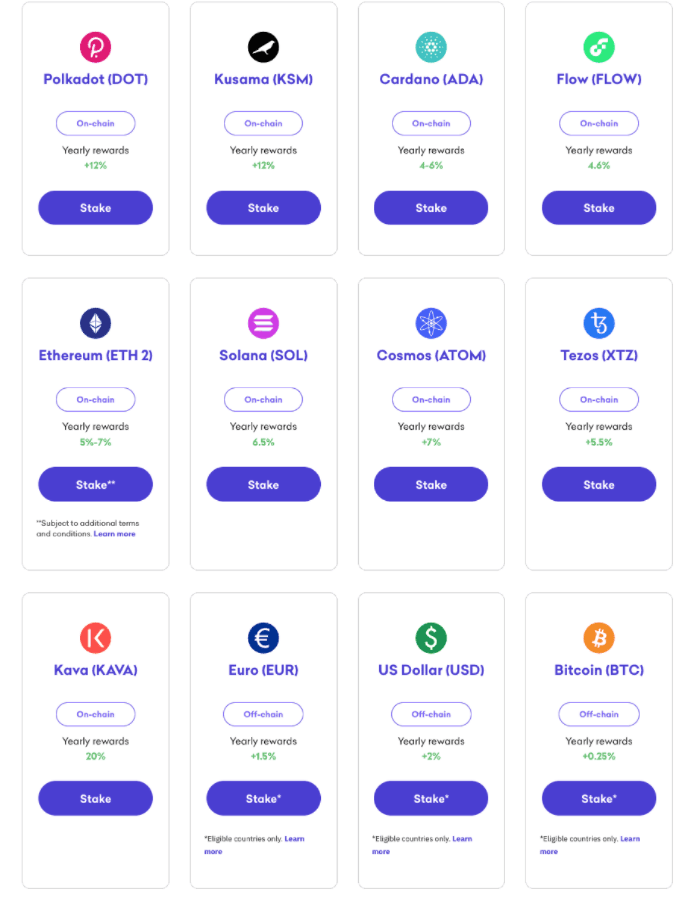 A feature of the Kraken offer is the ability to deposit fiat currencies. The interest rate there is low, but the payment of interest twice a week allows you to reinvest funds. Also, they are always available for transfer to other accounts or transactions with crypto.
OTC table
Transactions over $100,000 are a priority for Kraren. For clients and companies crossing this threshold, a special opportunity is offered to keep transactions incognito and not create precedents in the market. The service offers personal consultations with a crypto market expert, an analysis of the current market situation, as well as the execution of a transaction according to the most favorable scenario.
Forex trading
At the very beginning of the Forex crypto industry, brokers added crypto pairs to their terminals in the hope of keeping traders. But the very principle of trading turned out to be different, and it became more convenient and safer to trade crypto. Kraken decided to introduce 9 Forex trading pairs into their terminals for those who want to trade familiar instruments on new terms. Deals are no longer measured by lots, now the minimum is 10 units of the base currency. There are not many tools available.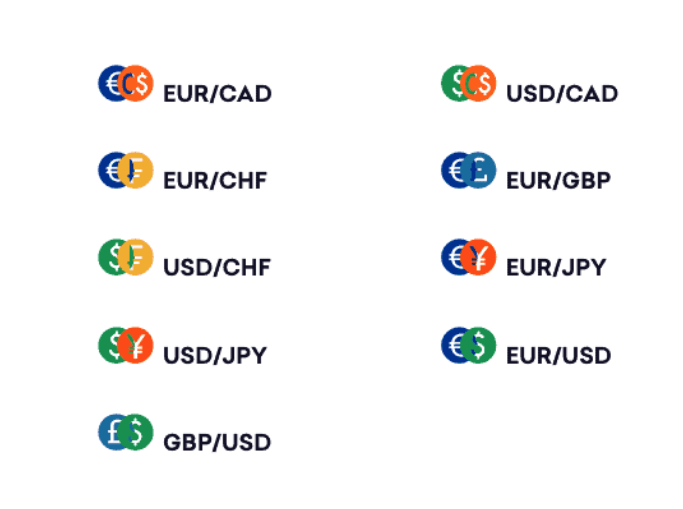 As you can see, trading pairs are the most volatile and liquid in terms of the Forex market. Kraken is regulated by FinCEN, which means that every transaction is completely transparent and legal. If the crypto assets deposited to the company's accounts are stored in 95% of the volume in cold storage, then the fiat money is withdrawn to the accounts of the state and most reliable private banks that have earned their reputation.
Kraken Wallet
First of all, the Kraken crypto exchange is a trading service. It does not provide the ability to pay for purchases from its accounts, so as not to give any options for even partial access to its services. In fact, Kraken is not a wallet, but withdrawals to all indicated directions work constantly and without failures, so you can withdraw funds to any digital wallet and make purchases without any problems.
Kraken fees
The share of the Kraken crypto exchange from the actions and transactions of its clients depends on a number of factors and may be different. Consider the main areas in which the cryptoplatform charges fees.
Deposit commission
When transferring cryptocurrencies to Kraken accounts, there is no commission for most coins. However, there are a number of exceptions for which it is present. An up-to-date table with fees can be found here at support.kraken.com A fiat deposit may be subject to fees depending on the type of currency, as well as the method of replenishment. When depositing USD through the FedWire gateway (MVB Bank), there are no commissions at all, but the same FedWire gateway, but already through Synapse, is subject to a commission of $ 5, regardless of the amount of replenishment. You can also find the current information about the commission fees of Kraken on a deposit on the website of the cryptocurrency exchange.
Fee for using the Kraken exchange machine
Transactions outside the order book, called instant transactions, are subject to a commission of 1.5% per transaction. This commission is taken for the possible risk of changes in the exchange rate of the crypt during the time the transaction takes place. Conversion through an exchange machine is subject to the same commission of 1.5%. The purchase of stablecoins, subject to payment with other stablecoins or fiat USD, the commission fees are 0.9%
Deposit from a bank card
Buying cryptocurrencies directly from a bank card is available for all countries supported by the exchange, except for the United States. The main currency of Kraken is EUR, therefore, if your card is not in this currency, you need to check with the bank if automatic conversion is supported. The commission for such transactions is 3.75% + 0.25EUR.
Kraken Withdrawal Fees
The withdrawal of cryptocurrency from the platform is subject to a commission that covers the transaction costs of the network through which the transaction takes place. Its size corresponds to the chosen coin and network, therefore it constantly varies. In the process of creating a withdrawal request, the system will calculate the amount of commission fees and the conditions for their formation. The withdrawal of fiat funds, as well as their replenishment, depends on the chosen currency and services through which transactions take place.
Kraken Trading Fees
It is trading fees that are an important aspect for traders, so this issue needs to be considered in more detail.
Spot trading
For new customers, the commission threshold is 0.26% for takers and 0.16% for makers. This size is below the industry average, in addition, with an increase in 30-day trading volume, commission rates will drop to almost zero.
Margin trading
First of all, you need to understand that the margin commission is added to the fees for opening and closing market transactions. Opening a margin transaction – 0.02%, prolongation for 4 hours 0.02%. For some coins, the fees are halved for both opening a margin trade and rolling over.
Futures trading
The commission is based on the principle of spot fees and starts at 0.02% for makers and 0.05% for takers, but decreases proportionally with increasing trading volume.
Pros and cons of Kraken
They are present on any platform, despite its best efforts to become the best for everyone and everyone. Let's start with the positive aspects for which the Kraken crypto exchange was chosen by millions of its users.
pros
Reliable exchange operating since 2011. Has a very high trust rating;
Intuitive interface, not overloaded with details, aimed at beginner traders;
Additional features that are not offered on other crypto platforms or are not presented in such a convenient form. This includes trading in Forex pairs, an over-the-counter table for TOP clients and others.
Support for 120 crypto coins and 7 fiat currencies. Yes, there are relatively few of them, but these are the most volatile and traded coins in the world with high liquidity and reliability.
Live person chat 24/7, support for all key languages.
Minuses
Some fees are higher than those of competitors;
"Narrow" range of cryptocurrencies.
Finally
The Kraken cryptocurrency exchange is one of the most popular in the world. It has many features, is easy to use, has implemented excellent customer support in the Live Chat format 24/7 and takes pride in the absolute security of all assets. Offers 120+ of the most traded cryptocurrencies for trading. Unique offer – 7 fiat cryptocurrencies and Forex transactions with minimum commissions at starting conditions. Additional features such as:
Staking, including for fiat money;
Margin trading;
Futures market;
OTC transactions.
Each item is focused on its own group of traders, therefore Kraken attracts both novice traders and professional speculators and institutional investors. There is a point that Kraken is criticized for – a relatively small number of coins for trading, compared to Coinbase or KuCoin. This point is twofold, since completely new coins and their listing on the exchange does not guarantee that there will be liquidity for them and that they will generally be able to grow in price to meet the expectations of traders. Thousands of different tokens have been delisted and millions of dollars have sunk into oblivion along with them. New tokens are good because they can multiply the trader's capital at times, with a successful take-off and timely exit from the market. But there are also quite a few reverse situations. Therefore, Kraken decided to create conditions specifically for speculation and investment, verified, stable, profitable.
Frequently Asked Questions about Kraken
Is Kraken legal?
Absolutely. Being created in 2011, the service is regulated by FinCEN and meets all the requirements of each jurisdiction where the company operates.
Is Kraken safe?
Kraken is safe. The main focus of the company is on securing the assets and personal information of the company's customers. Keeping 95+% of crypto assets in cold wallets is a common practice of all companies like Kraken after a series of hacks at the very beginning of the crypto industry. To ensure the security of transactions and personal information of clients, servers that are disconnected from the network are used in special storage facilities with armed guards, who are constantly checked, and not just when they are hired.
Can Kraken be hacked?
Theoretically, it is possible. History shows that since 2011 there have been no precedents. Large projects like Binance were hacked, which suggests that attempts to circumvent protection were made on other companies, but they were not successful. This allows Kraken customers to relax and continue to make profits.