What is KuCoin
Initially launched in Hong Kong, but then forced to move to the Seychelles, the KuCoin cryptocurrency exchange, founded in 2017, is positioned as the "people's exchange". The mission of the company is to provide everyone with the opportunity to quickly, reliably and easily buy and sell cryptocurrencies and their derivatives.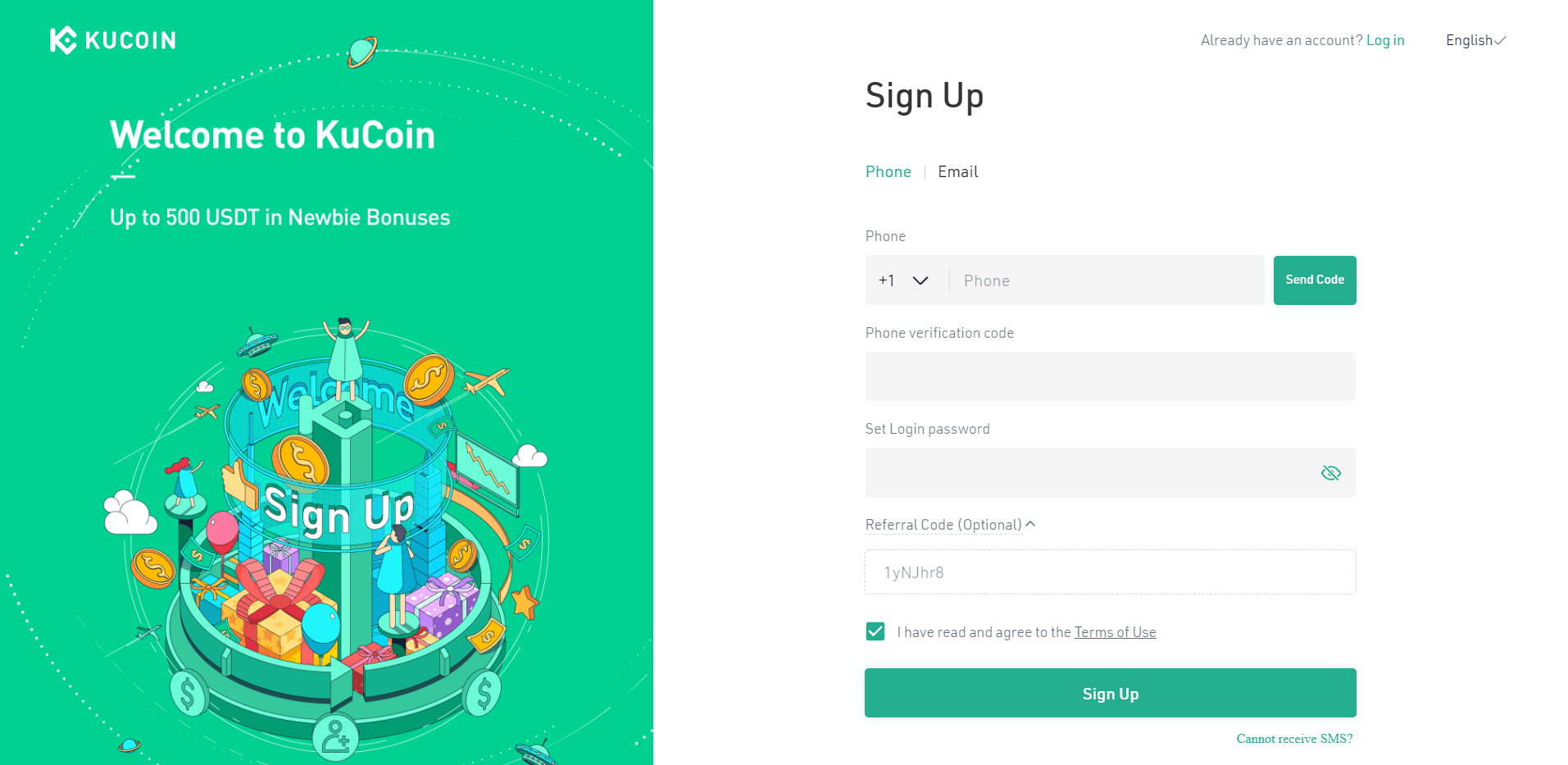 This approach had a strong impact on the crypto community and in just 5 years of operation, KuCoin began to serve the crypto operations of every fourth cryptocurrency holder in the world. The total number of active users of the platform exceeds 11,000,000 people.
How does KuCoin work?
The success of this trading platform was based on two key factors – the abundance of trading instruments and low commissions of 0.1% for both sides of the transaction. In terms of work processes, it is worth highlighting three main variables that give advantages over competitors and attract the attention of more and more new customers.
KuCoin Fees
Trading fees are noticeably lower than in the industry and account for only 0.1% of the transaction. Moreover, they can be further reduced by 20% by paying fees in KCS coin. It is also possible to get a discount for high trading volumes for large accounts or arbitrageurs. But that's not all – transactions in the P2P format are not subject to exchange commissions at all.
Over 600 cryptocurrencies
By the number of assets offered, KuCoin is in the TOP 3 cryptocurrency exchanges. New listings are constantly being added, and work is underway to expand tools that allow trading, in addition to tokens, also their derivatives.
Additional features of KuCoin
In addition to the direct exchange of tokens and coins, there are quite a few tools for advanced traders and investors:
Margin trading;
Spot trading;
p2p market;
Futures trading;
Crypto lending;
Staking of the KCS coin.
The only thing that can somewhat spoil the impression of getting to know KuCoin is the lack of a decent level of converting crypto to fiat and vice versa. The purchase of crypto for fiat is subject to an additional commission in the amount of 3% to 12%, which is simply unforgivably high for modern services. Another point is the inability to withdraw fiat from the exchange. That is, after paying a high commission to participate in fiat trading pairs, it is simply impossible to withdraw what you have earned. Users suggested using other platforms from our rating to replenish fiat accounts with minimal fees, convert them to crypto, and then transfer them to KuCoin. Withdraw earned profit in reverse order. Another option to link rates to fiat is to use pairs with USDT. The popularity of the KuCoin cryptocurrency exchange is due to the fact that that they quickly implemented all the key features that are popular among users of other companies. KuCoin did not have to work from scratch, like companies created in 2011-2013. They took ready-made solutions and hung them on a working trading functionality. In the process of growth, more and more new features were added and now the company is ready to introduce a wide range of them:
One of the lowest commissions in the industry at 0.1% for the taker and for the maker, which can be reduced even more by paying it in KCS or by increasing trading volumes over the last 30 days;
600+ cryptocurrencies available for trading;
A fully featured mobile app with over 5,000,000 downloads and a user rating of 4.7;
The ability to buy crypto directly for fiat, but with very high commission fees;
Account verification requires only partial KYC verification;
P2P trading is carried out without commissions, which makes it possible for those who work with payment systems to turn around at a low commission;
Possibility of margin and futures trading;
Earning KCS daily as a bonus from the company;
Possibility of crypto lending and loans;
Own trading bot KuCoin with wide settings;
Assets are reliably protected from any fraudulent activities.
What services does KuCoin offer?
The choice of the main or auxiliary crypto exchange in the current wide list of offers is not easy. Too many different conditions and variables are offered by companies to their customers. A detailed analysis of the key functions of the KuCoin cryptocurrency exchange will allow you to decide whether it suits your work style at all and in what capacity.
Assortment of cryptocurrencies
This question is not the main one for everyone, but for an impressive part of traders and investors. KuCoin offers 600+ cryptocurrencies for trading with high liquidity. Listings of tokens are constantly updated with new, promising currencies. Such coins, bought during the ICO or at the first drawdowns, give simply huge profits in the future for patient investors.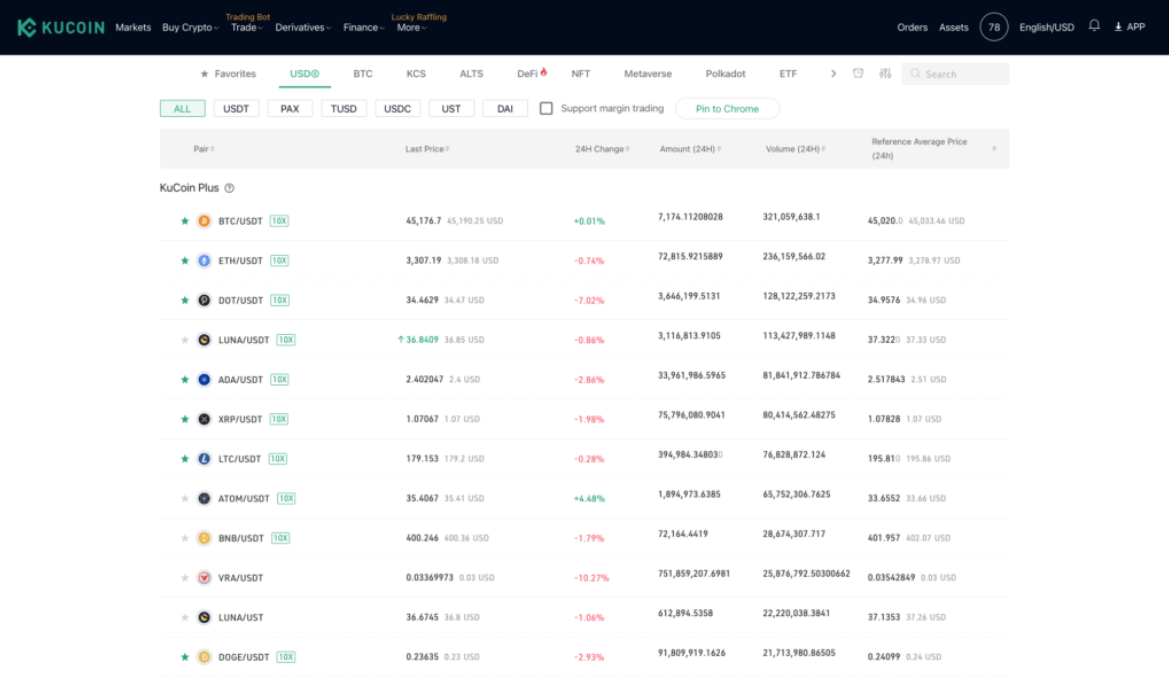 Important point! Those who buy assets with fiat can only expect 60+ coins in pairs with fiat money. To get maximum access to the markets, use the USDT currency. This makes it easier to fix price fluctuations and become attached to a real, price-stable and very liquid asset. Moreover, depositing and withdrawing USDT from the platform is much cheaper than replenishing fiat accounts and the inability to withdraw fiat from the exchange in principle.
Mobile application for iOS and Android
Full-fledged work on the exchange, where everything changes very quickly, is impossible without a reliable mobile application. The KuCoin mobile app interface includes a trading bot that is not available on the desktop version of the exchange. Almost 100,000 reviews of the app with a rating of 4.7 and 5 million downloads is a worthy answer to any competitor.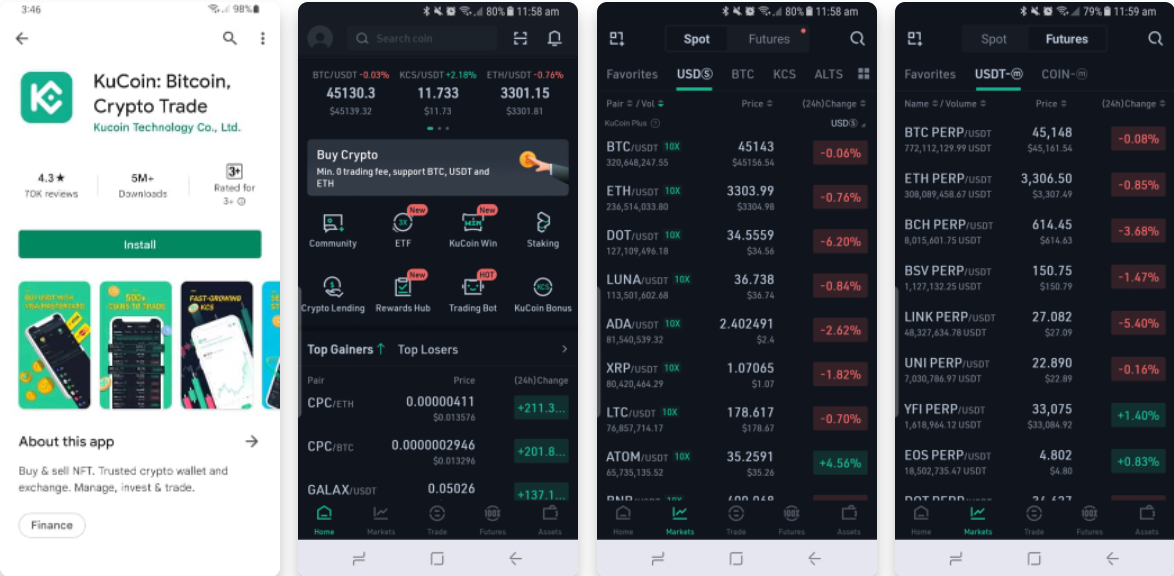 Buying Cryptocurrency with Fiat on KuCoin
This possibility is very controversial for KuCoin, since the additional commission of the platform itself is unreasonably high. In addition to the fees of payment systems, from 3% to 12% is charged on top, depending on the direction from which the payment comes. Another difficulty is the short list of coins available for fiat no more than 60 cryptocurrencies. It is much more profitable to exchange on another crypto-exchange, where there is no commission for fiat, the selected money for USDT and deposit on KuCoin without commissions for full-fledged trading of all 600+ coins.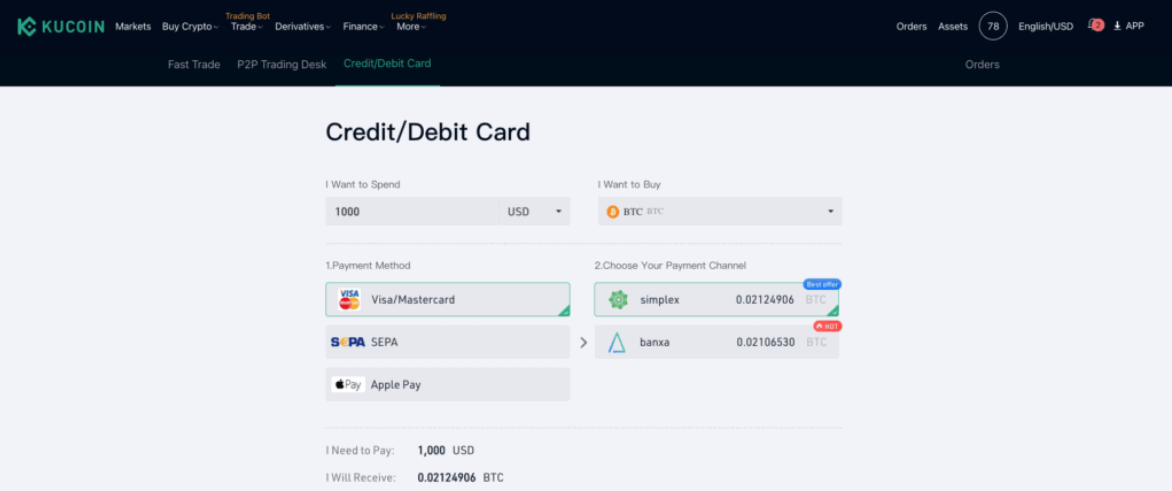 Regarding fiat, there is another difficulty – the inability to withdraw profits in fiat money. All three criteria make working with fiat currencies unprofitable for traders and investors if they do not use third-party services for work.
Only partial KYC verification required
Unlike most cryptocurrency exchanges, which require full-fledged verification, which includes all the new procedures, such as recording a voice or a video with facial expressions, in order to simply get started with the platform, KuCoin makes everything simple. For basic work, only partial verification is needed. A full-fledged procedure occurs in a situation where the transaction exceeds 5 BTC during the day.
P2P marketplace with 0% commission
This feature attracts a large number of fiat users, since the absence of commissions and a wide range of offers allow you to earn even during the day on the hysteria of market participants.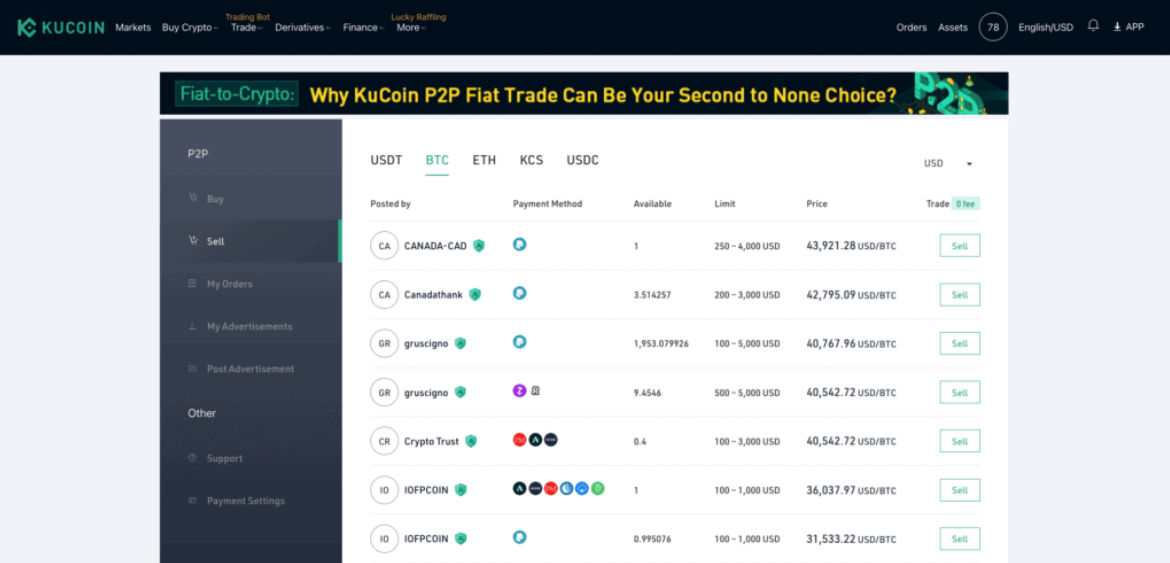 Create your own offers based on other participants or accept those already posted if the price suits you, the exchange does not charge any commission fees for such activities. P2P is a very profitable business if you know exactly what you are doing.
Futures and margin trading
KuCoin futures can be traded with up to 100x leverage, which is a very high offer. To work with this functionality, two interfaces are implemented at once:
Futures Lite is very easy to use, making it the perfect futures trading tool for those who are just starting out in the future;
Futures Pro – has a maximum set of tools and leverage up to 100x.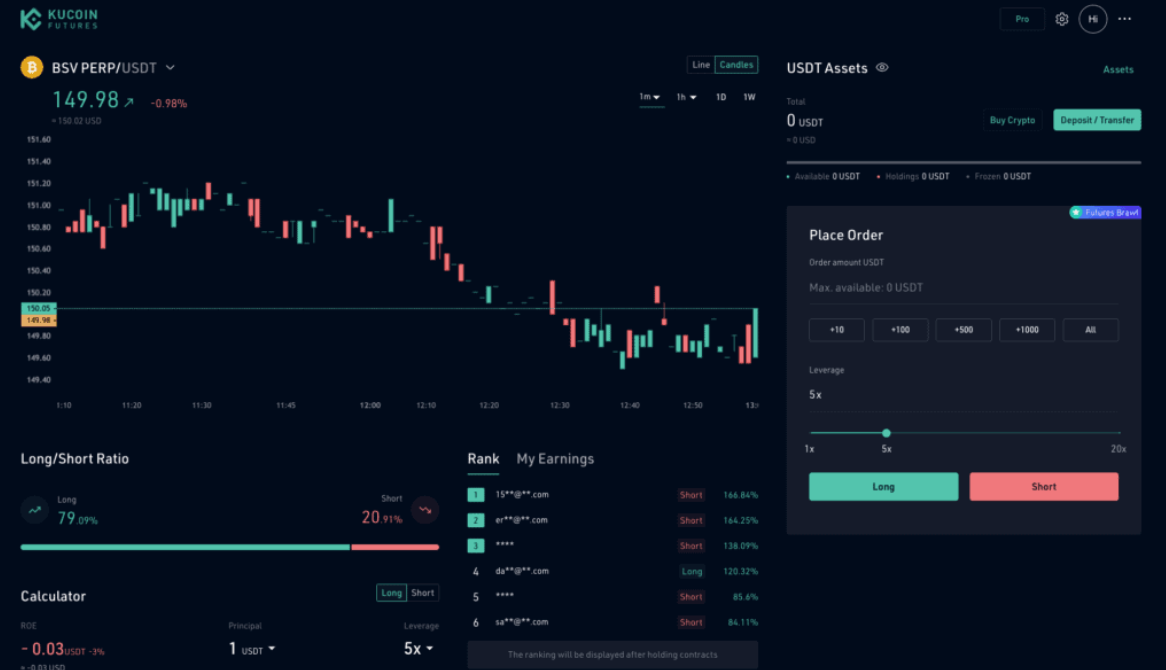 Important! Margin trading is a risky tool for making a profit even without leverage. Increasing the leverage increases the potential profit, but also increases the risk of losing capital, especially in volatile markets. Study the subject in as much detail as possible and do not use leverage until you get enough experience to understand all the mechanisms.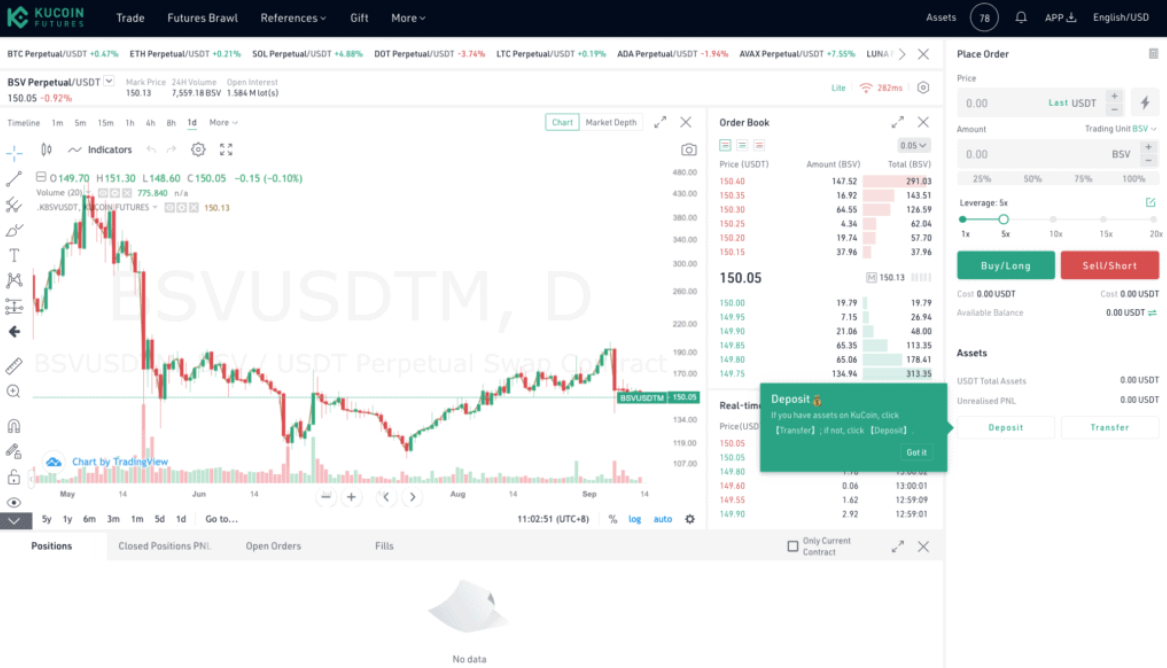 KuCoin Bonus – Earn KCS Daily
Staking KCS coins (native token) in the amount of 6 or more units allows you to earn daily interest at the rate of 22% per annum. The coins remain stationary for the duration of the staking, but if their price rises, then this will be additional profit in addition to accrued interest. Important! Paying trading fees in KCS allows you to reduce transaction fees by 20%. This means that the base fee will be 0.8% instead of the standard 0.1%.
Cryptocurrency lending and borrowing
Increasing the profitability of assets can be achieved by issuing them as a loan at a favorable interest rate for you. KuCoin offers 160+ coins that can be loaned or borrowed. Loan terms are set as 7, 14 and 28 day periods. The interest rate on a loan is set by the issuing party. The lower the percentage for a longer period will be set, the more likely that someone will take this loan. In order to borrow coins, it is enough to accept one of the offers on the market, which seems to you the most profitable.



Important! By issuing or receiving loans in USD or USDT, you will not be bothered by currency exchange rate fluctuations, but the profit from using a stablecoin in transactions with growing cryptocurrencies will significantly increase profitability. For those who buy cryptocurrency for investment purposes for a long time, lending even at a small percentage will allow you to gradually increase the amount of assets without risk.
KuCoin trading bot
Cryptocurrency exchange KuCoin has implemented several AI-based bots to assist in trading. The desktop version offers the Spot Grid Bot. There are three more bots in the mobile app. The tool is useful in matters of increasing profit from investments. The bot conducts independent trading according to the rules set in the settings. He never sleeps, does not get sick, does not make emotional decisions and focuses only on the price of the asset.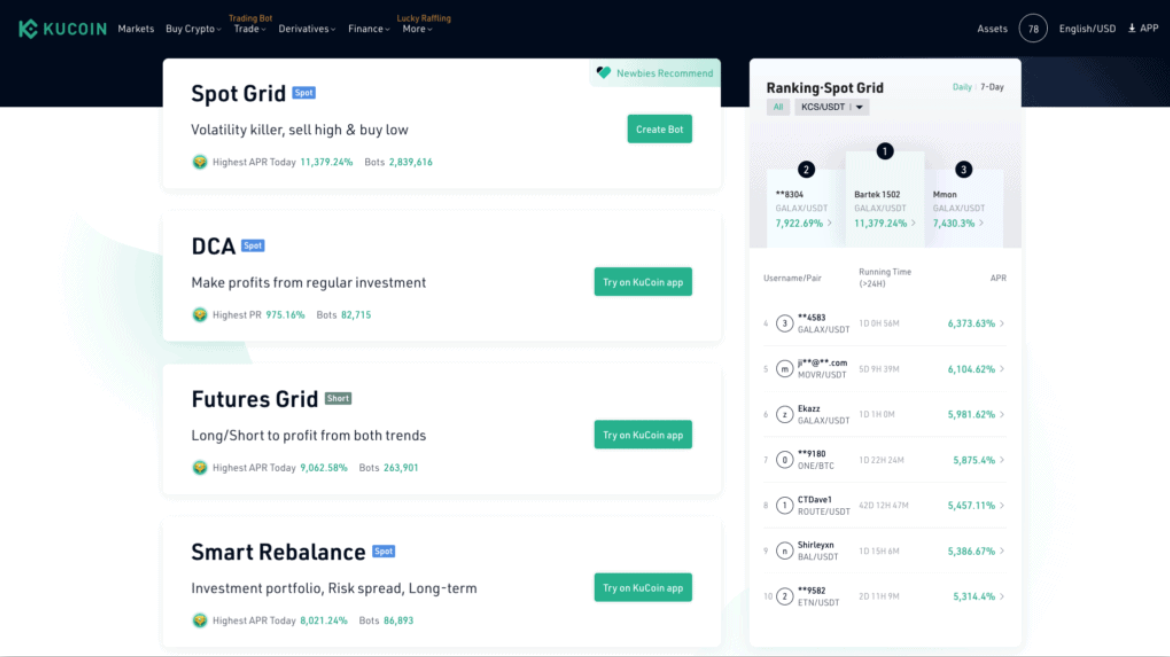 Servers with bots are located in cloud storages, therefore, after launching, they do not require you to keep your computer turned on or the application on your phone active. TOP profitable bots for a day or 7 days are displayed in a comparative list by profitability and everyone can copy the settings of such a bot for their trading strategy.
Asset security at the bank level
The security of assets deposited on KuCoin is at the highest level. Storing cryptocurrencies in cold storage with multi-level authorization and multiple transaction confirmations. Protection against hacking with micropayment settings, employee verification and other aspects of classic banking security protect clients' assets as much as possible in principle. In 2020, the KuCoin exchange was hacked. The exact amount of assets withdrawn as a result of the attack was not disclosed, but most of them were returned. The stolen share was compensated to clients by insurance, which the exchange holds for the entire volume of assets. As a result of this, users have not suffered any losses, except for some experiences.
KuCoin fees
Commissions for operations on the exchange are the main source of income for any cryptocurrency company. Due to high competition and active struggle for each client, companies are forced to reduce current and one-time fees, but it is simply impossible to completely abandon them.
Deposit fees
Cryptocurrency deposits are not subject to fees from KuCoin. Only a fee is charged for conducting a transaction on the selected network. Fiat deposits are not supported by KuCoin at all. But there is still an opportunity to buy a crypt for fiat. The commission, as mentioned above, is very high and can be up to 12%. Check out the fee calculator before making a trade. The minimum when buying USDT with USD is 3.1% through the SEPA system.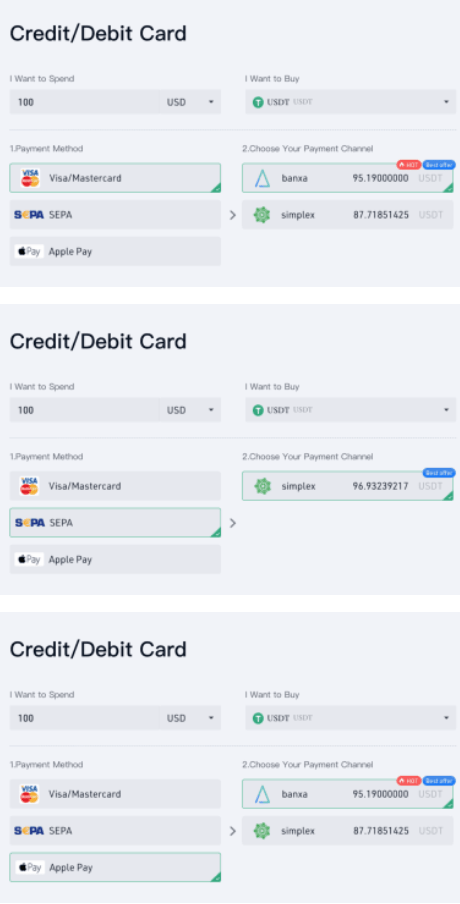 Maximum 12.3% when paying with Visa/MasterCard or Apple Pay via Simplex.
KuCoin Withdrawal Fee
Cryptocurrency withdrawal is subject to a fixed commission, which depends on the name of the coin to be withdrawn. There is a separate list. Withdrawing fiat money from KuCoin is not supported.
KuCoin Transaction Fees
Compared to other cryptocurrency exchanges, KuCoin has one of the lowest fees. The base size is 0.1% for both sides of the transaction. Fees can be further reduced by staking KuCoin KCS. The reduction when staking from 6 coins will be a fixed amount of 20% of the commission. It is also possible to reduce the load by increasing trade turnover. The greater the trading volume at the end of 30 days, the lower the commission fees.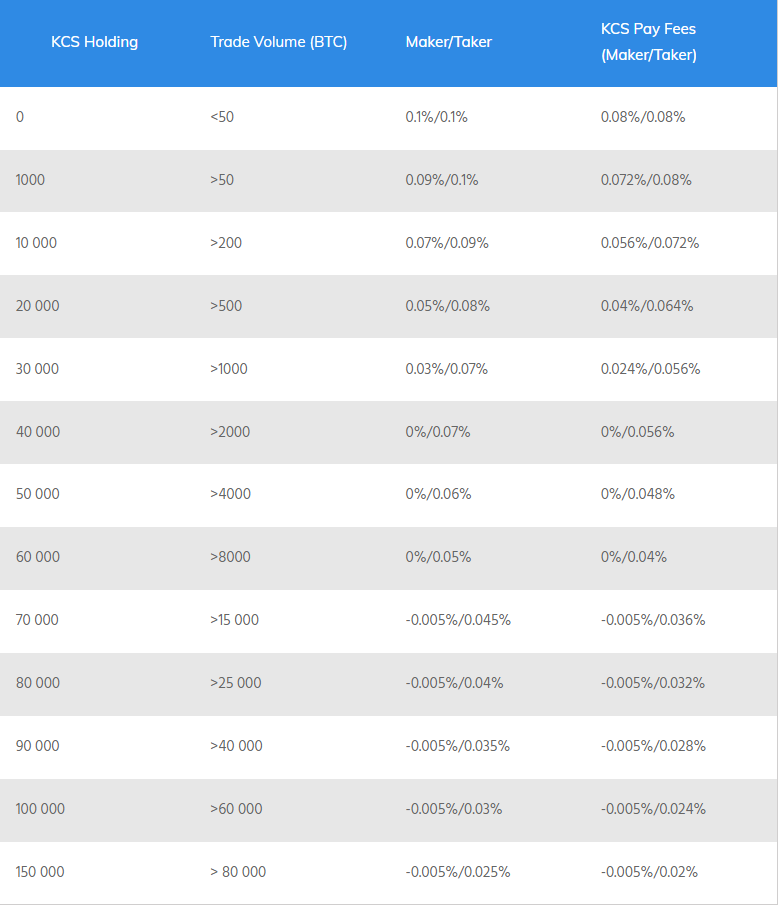 Pros and cons of KuCoin
They are unknown to each company. It is noteworthy that the same conditions can be a disadvantage for some, and an advantage for others.
Pros of Kucoin
11,000,000 active users worldwide;
One of the lowest fees in the industry. Maximum 0.1%;
Fully functional mobile application for iOS and Android;
600+ cryptocurrencies available for work;
Crypto lending;
Margin trading with 100x leverage;
Futures trading;
No complex verification needed;
Trading bots.
Cons
Ultra-high commission fees when buying cryptocurrency for fiat from 3 to 12%;
You cannot withdraw fiat currencies;
Chat support is missing.
Conclusion
KuCoin remains the most popular cryptocurrency exchange in the world. Minimum commission for activity, no fee for p2p transactions, more than 600 instruments for trading. Developed infrastructure for advanced traders. Crypto lending and trading bots. There are also disadvantages in the form of a huge commission for buying coins for fiat, which reaches 13% and the lack of online chat support, as well as the ability to withdraw fiat from the site. For completely novice traders, it may not be easy to work with the platform, but after understanding a little, they will understand that they don't need anything else.
Frequently Asked Questions
Is KuCoin crypto exchange legal?
The platform is completely legal, it has been operating since 2017 and has gained more than 11,000,000 clients, serving one in four crypto asset holders in the world.
Is KuCoin safe?
The exchange is completely safe. Crypto assets are stored in cold storage with multi-level payment control and transaction splitting. A special department controls and verifies each transaction, and also checks the transaction history around the clock. After the hack in 2020, which cost the exchange's clients nothing but turmoil as all assets were recovered, security measures for staff have been stepped up to the level of a bank. So at the moment, KuCoin is one of the safest exchanges for holding assets.
Can I use KuCoin in the US?
Yes, for US residents, KuCoin is fully operational. The only point is that there is no need to pass KYC to be able to work.