What is OKX
OKX is a fairly young cryptocurrency exchange. Founded in 2017, it is focused on taking the trading process to the next level using modern technologies and tools for maximum efficiency. After the launch, an active process of evolution of OKX began, it was added to the functions and directions of trade demanded by users, giving the maximum profit. Payment methods have also been modified through different directions and options. As a result, OKX has become not so much a cryptocurrency exchange as a center of digital financial operations, focused on both trading and investment and mixed areas of work.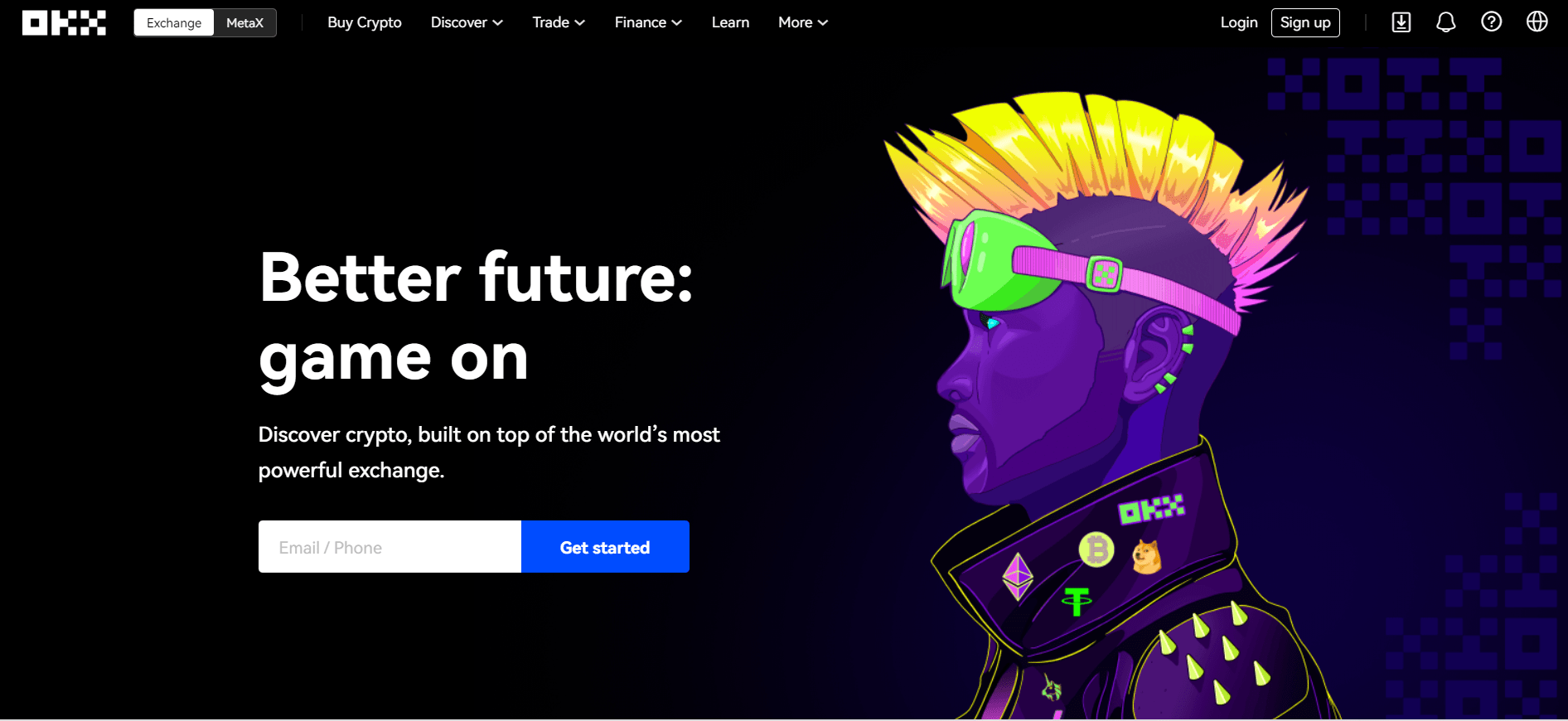 Platform users also have access to the META X universe, where it became possible to check their online assets through general access to them from one decentralized system. The head office of the company is located in the Seychelles. The project team has a little over 1000 people worldwide to ensure perfect functionality and convenience.
How OKX works
OKX is a breakthrough platform and despite its relative youth, it shows excellent results. There are a number of features worth highlighting:
Upholstered coins and markets for their circulation. There are 250+ cryptocurrencies in the listing of OKX, summarized in a large number of trading pairs and popular coins. This is complemented by different markets in which you can work with proper training and knowledge. Even the charts have several levels of customization so that the trader can create a display of the market situation for himself;
Transaction fees on OKX are below the market average. 0.08% for the maker and 0.1% for the taker. The growth of trading volumes automatically reduces commission fees, which is beneficial for large market participants;
Expansion of market presence. OKX offers many possibilities beyond classic trading. There are both investment and trading components and many more interesting offers.
The only moment that partly overshadows the impression of the OKX cryptocurrency exchange is its unavailability in the United States.
Key features and benefits of OKX
The advantages that OKX uses to attract new customers, many platforms still hesitate to realize, and therefore OKX remains one of the leading companies in terms of the number of new users. Main advantages:
Buying and selling cryptocurrency takes place in a couple of clicks. Very fast enrollment;
250+ cryptocurrencies listed on the exchange;
Fully functional mobile application;
Trading commissions below the market average, with the possibility of lowering them even more;
Many ways to deposit and withdraw funds from the platform;
P2P trading;
Cryptocurrencies and swaps are simple and transparent;
Staking a number of coins for passive income;
Market charts with a large number of settings and tools for analytics;
Crypto lending and loans;
Secure DEFI-HUB;
NFT trading service;
Fast and competent support;
An educational section on both working with the stock exchange and the industry in general.
Cons and disadvantages of OKX
The negative aspects of the OKX cryptocurrency exchange are quite small:
Fiat deposits and withdrawals are carried out at very high commissions, since third-party companies are involved in the process;
There is no opportunity for residents of the United States to work.
What services does OKX offer?
Considering the key services in more detail will help form your own opinion about the company and decide whether it is suitable for you as the main platform for operating, additional, or it is worth abandoning the account here altogether.
Instant buying and selling of cryptocurrencies
For those who make decisions quickly and immediately translate them into reality, it is inconvenient to spend time on lengthy processes of buying or selling cryptocurrency. OKX offers a two-click express purchase option. The transaction takes place within a few seconds.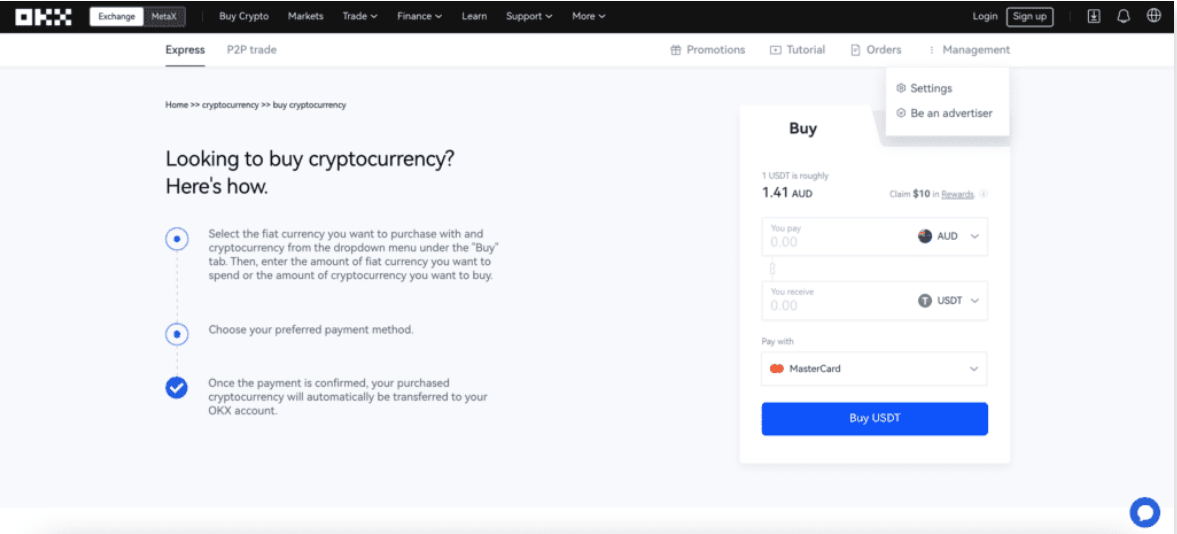 The principle is based on an exchange machine that fixes the current rate when the user contacts it and saves it for several minutes to complete the transaction. There is no easier and more convenient option to buy/sell cryptocurrency quickly and without additional commissions or the participation of a third party in the transaction.
More than 250 cryptocurrencies available
The range of presented coins and tokens will interest even the most sophisticated investors and traders with large capitals. 250 coins is certainly not 1000+, as on some platforms, but each of the OKX listing coins has a stable trading history, sufficient volatility and high liquidity within the exchange, so that even the largest transactions in terms of volume will not cause sharp price movements.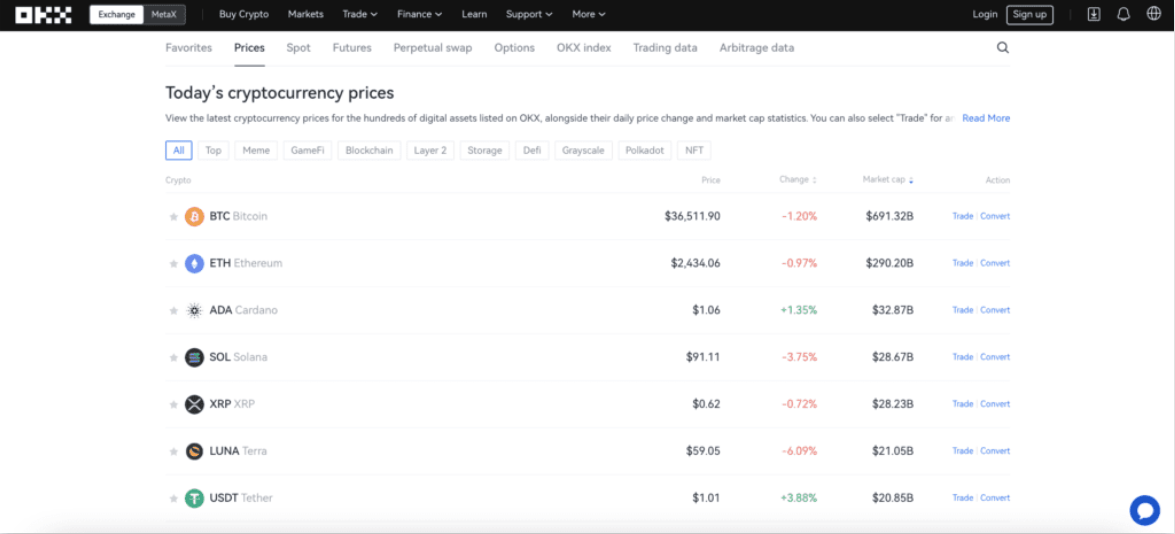 Coins are combined into convenient trading pairs, including those with fiat currencies. Some coins from the presented listing are available for instant purchase, but this does not apply to all assets. The universal solution for converting fiat to crypto is to buy USDT and work with it like fiat, since there are trading pairs with USDT for all active coins, and the stablecoin itself is circulated on every crypto exchange.
Applications for mobile and desktop users
The convenience of mobile phones and the fact that they have become an integral part of modern life cannot be denied. In the rapidly changing world of cryptocurrency trading, the ability to quickly respond to such changes is critical to profitable operation.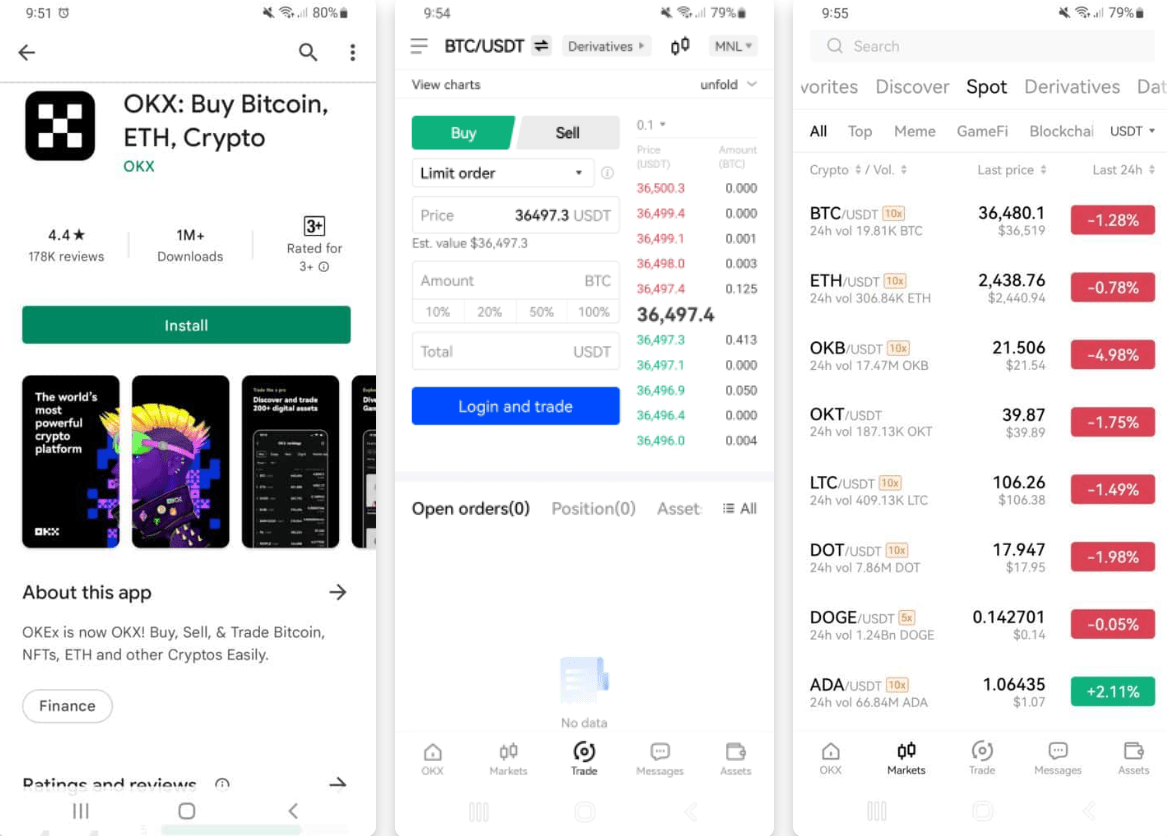 OKX has created apps for Android and iOS with the same functionality as the desktop version. A separate solution for maximum functionality and data update speed is a PC application. The work takes place approximately the same way as FOREX trading terminals used to work, only important information about courses and analytics, without superfluous.
Many deposit and withdrawal methods available
The convenience of the functions of the exchange and its capabilities largely depend on how easy and convenient it is to deposit and withdraw funds for the user. This is not about cryptocurrency, which moves without problems through accounts, most often without additional fees and commissions, but about fiat.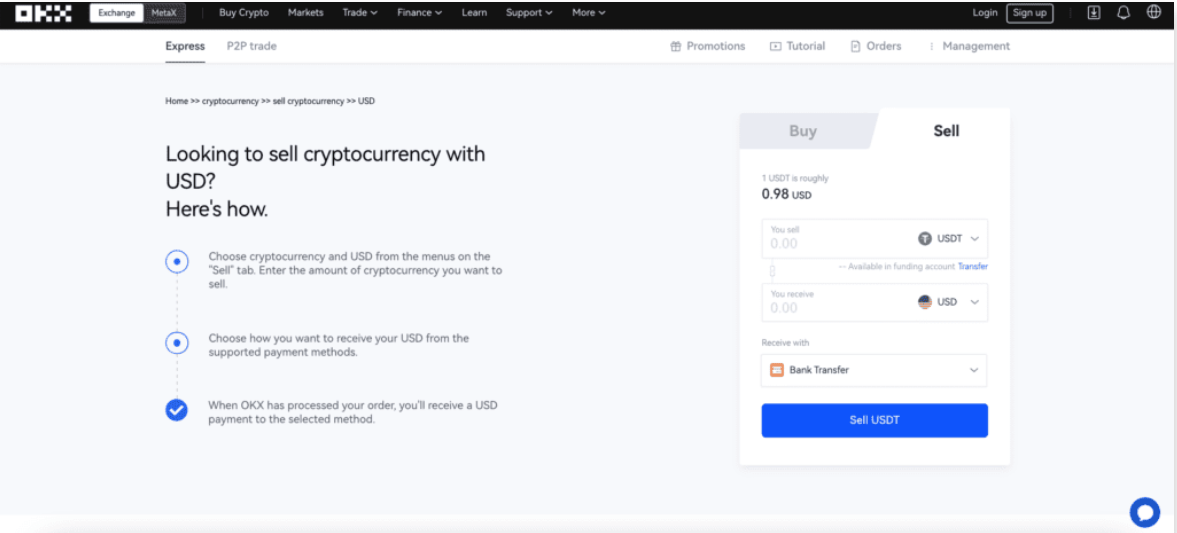 It is with fiat money that novice traders begin their trading history, and they withdraw part of the profit or the entire deposit into it if they leave the market or in other situations. It is very sad at the last stage to find out that the exchange, which everyone liked, does not have the possibility of depositing fiat or the conditions for the transaction are very expensive in terms of commission. OKX works with a large number of fiat I/O directions. In addition to the popular Visa / Mastercard, SEPA, Google Pay, Apple Pay, there are also less popular, but available methods of depositing and withdrawing in a crypto exchange. In addition to a wide range of destinations, all key fiat currencies that are popular in the countries that OKX is focused on are supported. For some regions, it is even possible to make a cash deposit, check out OKX offers in the relevant sections.
P2P trading
The ability to exchange crypto at a rate different from the market one directly between clients of a cryptocurrency exchange, where it becomes a guarantor of the transaction itself, is not new. P2P trading is present on a number of crypto exchanges from the TOP 10 rating. OKX is no exception.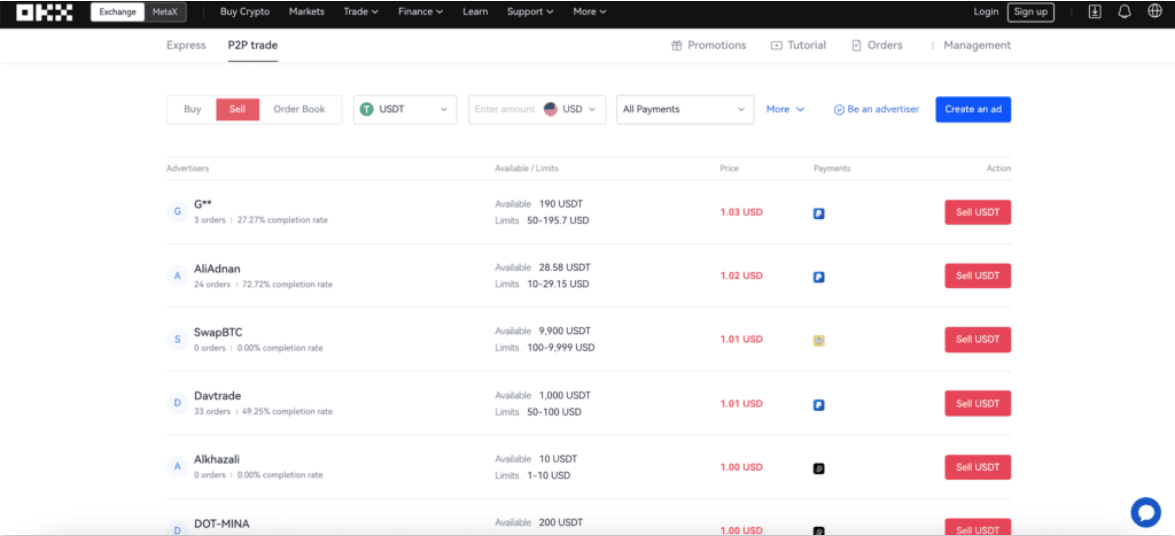 If for some reason you do not want to transfer funds to the company's accounts or want to make a cash deposit, you can place an offer on the stock exchange or accept existing ones from other market participants.
Simple cryptocurrencies or swaps
Exchange machines for instant crypto exchange transactions offer favorable rates and instant access to the desired asset when the price of it suddenly starts to move. OKX does not charge any additional fees or charges for processing such transactions.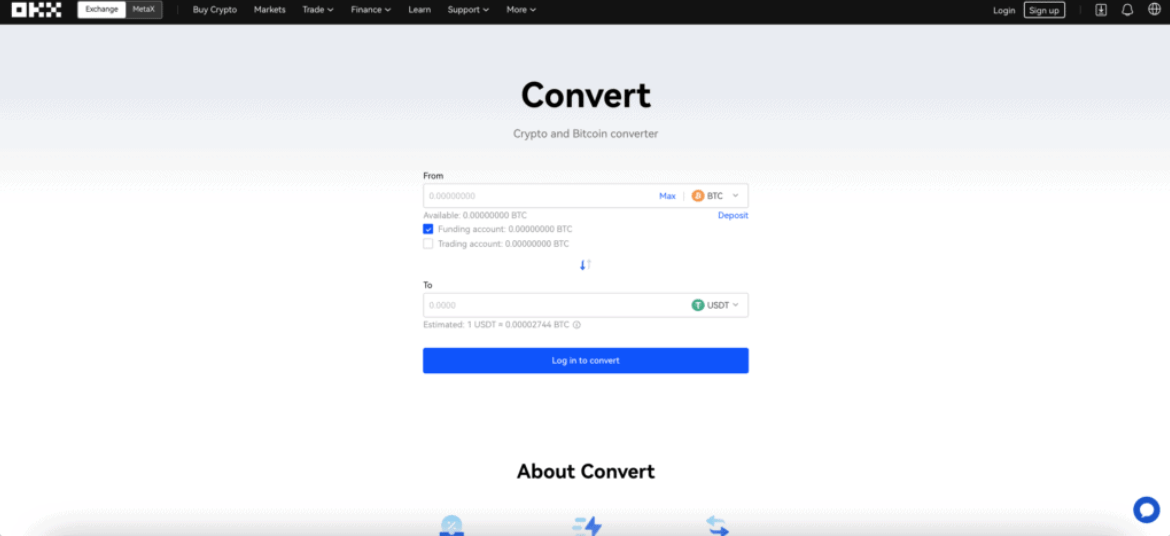 Not all coins may be available for exchange and not all may be accepted for exchange, but this depends on the current market situation. Choose what you want to receive, what you are going to give in return and exchange.
Passive income through HODLing
The word HODL is intentionally written this way, because at one time it became a meme due to a mistake by the author of the message. In the future, it began to mean – "Hold on dear life." For the crypto industry, this has come to mean not just staking or holding coins in order to receive interest, but holding an asset almost forever, as an investment tool, a pledge for something or, so to speak, for old age.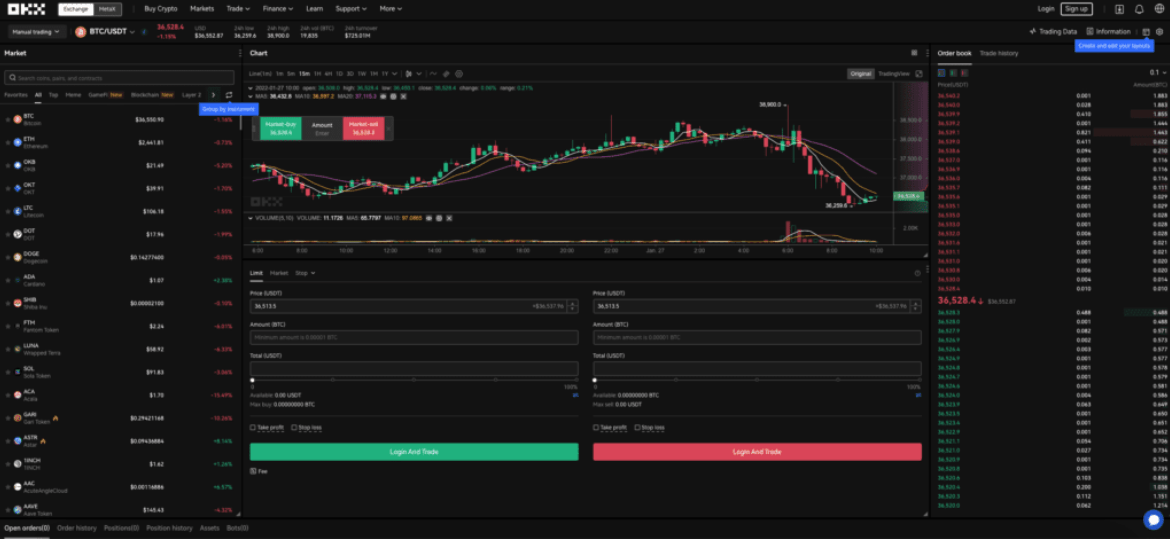 OKX offers different options for storing coins, both with fixed conditions for stable portfolio growth, and with floating ones. The interest rate can be negligible, for example, Wrapped Bitcoin (0.89% per annum) and calculated on the growth of the asset itself in the future. Or unreasonably large for Kadena (332%), to draw attention to the asset and spread it among traders and those who will hold it.
Professional market charts available for traders
Competent analytics of the current market situation is the key to the successful work of a trader. Such analytics is impossible without high-quality trading chart analysis tools. OKX offers a wide range of charts and chart analysis tools. From a simple display of the price curve, to complex, saturated with mutually controlling each other indicators and moving averages for professional traders to make decisions.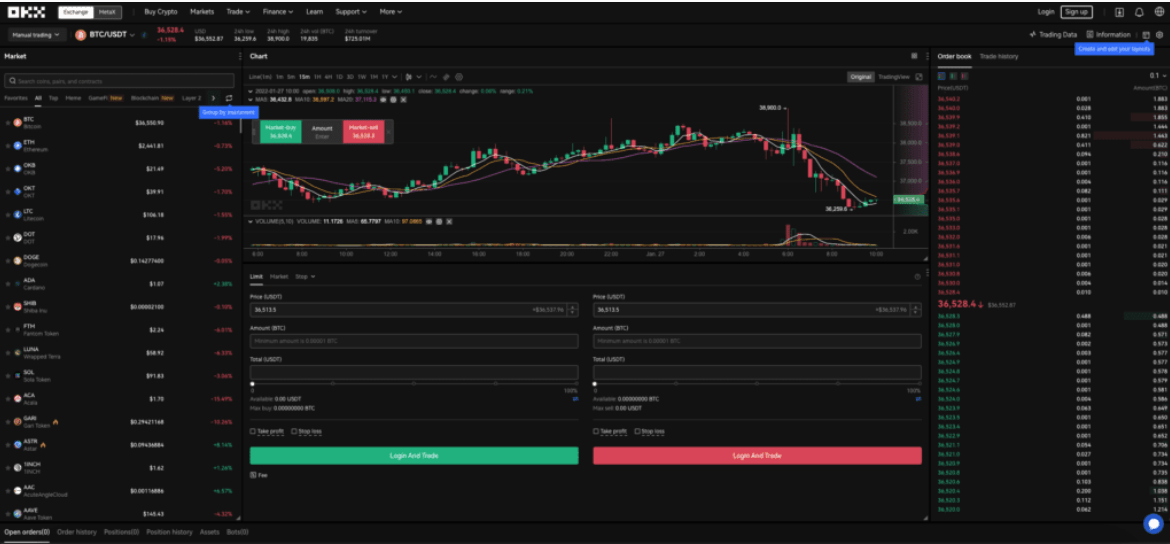 Depending on the trading style, each chart can be set to any timeframe, in any format for displaying price bars, with an individual set of analytical tools for each trading pair. In full-screen mode, you can fit the history of the price chart over a long period into the chart to identify patterns.
Borrow option enabled
This option is provided directly by OKX, therefore, in order to receive new assets for use, a collateral hold of a part of the assets of the trader applying for borrowing is provided.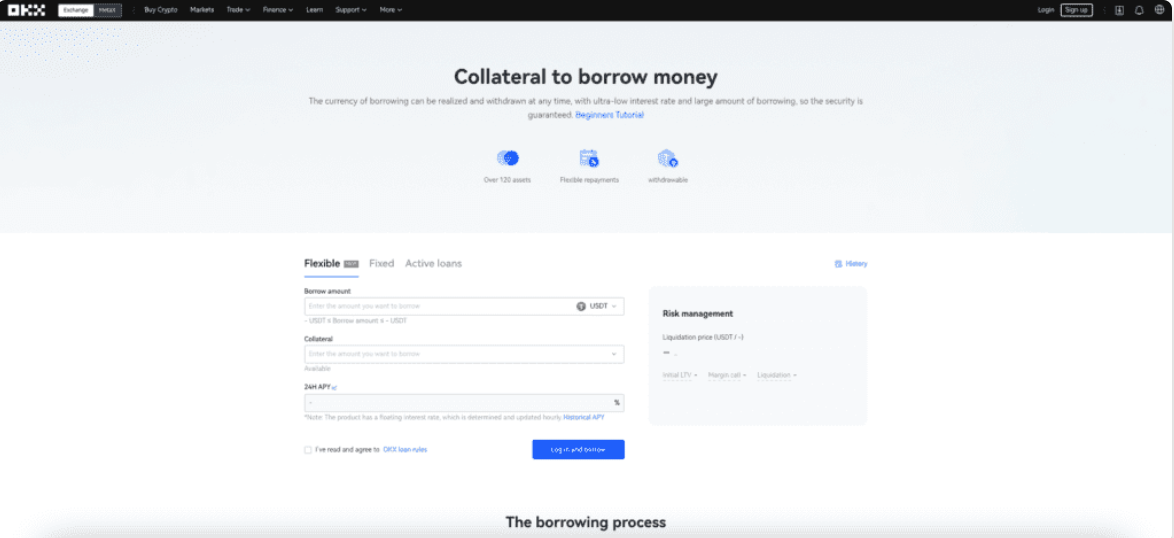 It is important to carefully study the conditions and the trading situation before borrowing funds. Only if the algorithm for placing borrowed funds is very likely to bring a profit higher than the interest on the loan, make a decision. Any attempts to quickly recapture past losses in this way lead to even greater losses. The loan occurs through the submission of an application in a special form with the obligatory reading of the OKX conditions and requirements for the borrower. For completely new accounts, refusals often come until users study the features of the exchange. This is for their own safety.
Safe DEFI HUB
This option helps investors who invest in different assets in different accounts to bring them together for easier display and analysis. You need to connect wallets to the service in a couple of clicks and get a full display of the entire portfolio with changes for each asset and the situation as a whole.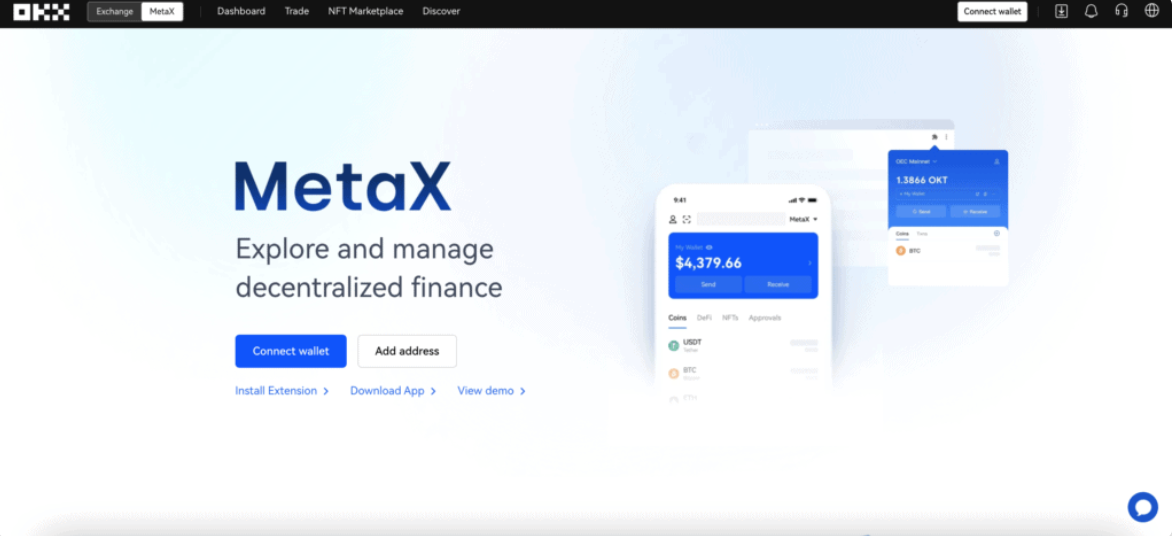 This helps to optimize risks, get rid of unprofitable investments and transfer funds to more profitable instruments.
NFT Marketplace
The boom and popularity of NFTs literally forced the main crypto exchanges to implement platforms for the circulation of tokens, and some platforms even constructors for creating them. Digital artworks, in single or limited quantities, can sell for millions of dollars in crypto at auctions or at fixed prices.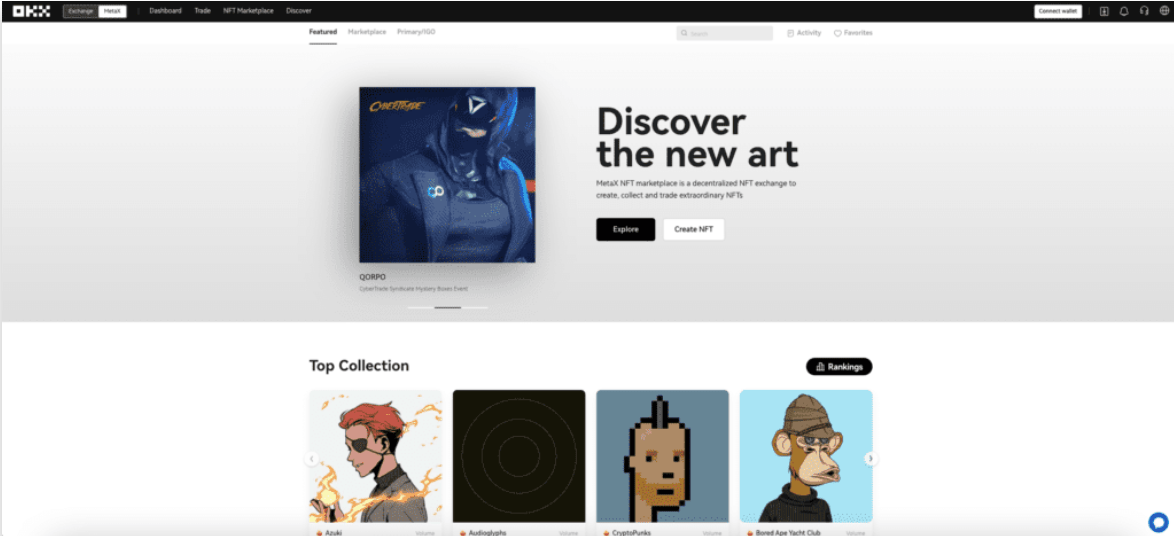 OKX offers a separate section for working with NFTs, which includes not only an asset circulation platform, but also a constructor. Intuitively simple yet empowering to create a digital masterpiece and become a millionaire.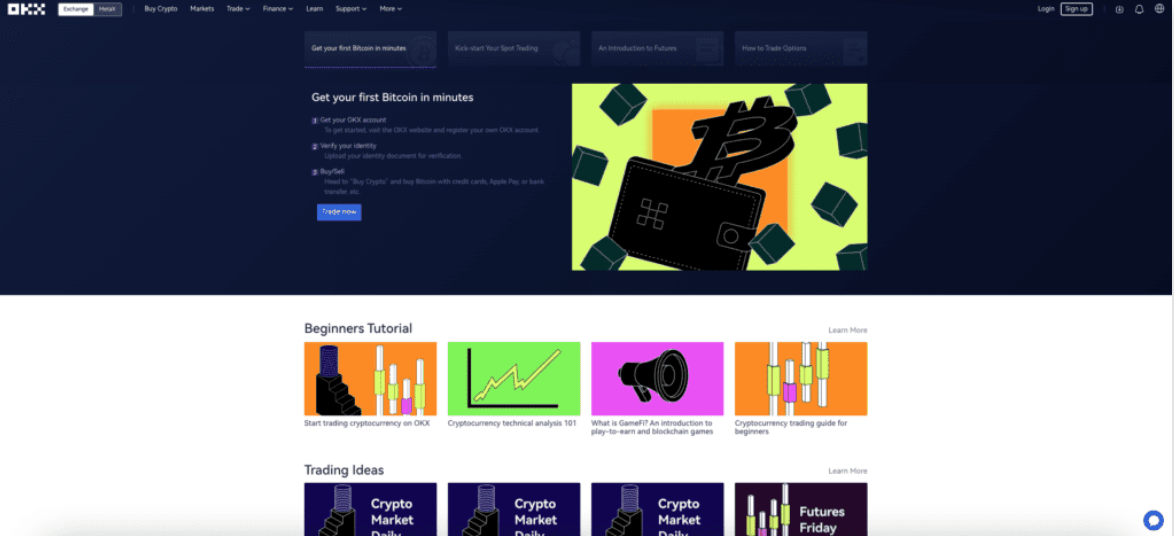 Excellent customer support and educational content
A feature of the OKX crypto exchange in relation to the organization of customer support is the involvement of artificial intelligence in this issue. When contacting the support, the algorithm recognizes the keywords in the request and generates answers that most often lead to the resolution of such difficulties for clients. There are no live employees in the support chat, and if the work of artificial intelligence turns out to be unsatisfactory or the cause of the problem lies in the errors of the exchange itself or a misunderstanding of the algorithms for its work, an appeal should be created only through the feedback form. You can also search the extensive knowledge base for answers.
What I don't like about OKX
A number of critical points that can and should be improved to obtain the most comfortable atmosphere for working with the platform, in our opinion, need to be highlighted in more detail.
High commissions of third-party sellers when depositing or withdrawing fiat
Due to the fact that OKX does not have the ability to operate with fiat currencies through their accounts, they are forced to use the services of intermediary companies. On the one hand, this gives much more opportunities for replenishing the account to the company's customers, but on the other hand, it requires paying inflated commissions for intermediaries. Worst of all, high transaction fees apply not only to fiat deposits, but also to withdrawals. Important! For maximum benefit, it is better to buy stablecoins on exchanges that have free or minimal fiat deposits, and then transfer them to OKX accounts and vice versa.
US residents not supported
The different attitudes of governments of different countries towards cryptocurrencies, as well as complex legislation, especially in the United States, make the process of obtaining a license to work in this country and several others very difficult. Very few companies receive such licenses. OKX is not available to residents of the US, Hong Kong, Malaysia, and North Korea. If you are from the countries on this list, check out our reviews of other exchanges to find the best solution.
Commission Fees OKX
To build a profitable trade, it is important to take into account all additional, one-time and fixed costs and commissions, so that the result of the transaction is not in the red. For institutional traders, transaction fees do not play a special role, but for those who make transactions intraday or use scalping robots for work, current commissions can noticeably reduce profitability.
OKX deposit fees
Cryptocurrency deposits are not subject to any fees from OKX. Only the commission for transactions within the network is paid. Fiat deposits, due to the use of intermediary services for transactions, will cost 2% – 5% of the replenishment amount for Visa or Mastercard and 4% for Advcash, Apple Pay and Google Pay As for bank transfers and SEPA, the price may be higher depending on the country where you live, as well as from the fiat currency of your choice.
OKX transaction fees
Commissions for transactions, as elsewhere, depend on the level of the account and its trading turnover based on the results of the last 30 days. The base rate for makers starts at 0.08%, for takers from 0.1%.



As the activity of the trading account grows, the commission will decrease. It is also possible to reduce the commission additionally by holding OKB tokens.
Withdrawal fee
Fiat withdrawal is subject to an additional commission in the amount of 2% to 5% of the amount, depending on the currency and direction of the withdrawal. Cryptocurrency withdrawals are not subject to additional fees other than the network transaction.
Pros and cons of OKX
In order to correctly evaluate the OKX cryptocurrency exchange, it is important to understand which criteria of your checklist it meets and which it does not.
pros
250+ cryptocurrencies are available for circulation. Many are combined into convenient pairs with fiat currencies;
Low trading fees and no crypto deposit fees;
NFT platform with the ability to buy, sell and create new tokens;
Crypto lending;
Staking of a number of popular coins;
P2P trading.
Minuses
Commissions for fiat money transactions are high due to the use of third-party services;
Does not work in the US and some countries.
Conclusion
The OKX Cryptocurrency Exchange is the ideal solution for those who do not live in the US and are ready to fund their accounts in cryptocurrencies. The functionality is quite simple and multifaceted for both beginners and experienced traders to work. The ability to deposit and withdraw fiat makes the exchange convenient for novice traders, but the high commission in both directions makes you think about an additional step when replenishing.
Frequently Asked Questions
Is OKX a reliable exchange?
OKX is a very reliable company. There is no information that there were even hacking attempts. The company approached security issues very thoroughly and incorporated the most effective methods of protecting clients' assets and their personal information.
Is OKX an expensive platform?
When funding accounts with crypto, OKX is much cheaper than other services, both in transactions and in trading. For those who use fiat, OKX is noticeably more expensive than other companies.